Bell Helicopter, July 10, 2012 - Fort Worth, TX - Bell Helicopter, a Textron Inc. company, announced today the delivery of a Bell 429 helicopter to the Fairfax County Police Department (FCPD). FCPD's second multi-role Bell 429 is configured for both law enforcement and emergency medical service operations.

"We rely on the power, speed, size and accessibility of the cabin, and the exceptional maneuverability that the 429 delivers during police operations," said Paul Schaaf, chief pilot for the FCPD. "Our law enforcement operations include responses to car chases, robberies, missing persons, burglaries, and car theft. We are the eye in the sky to help the officers on the ground. We have to be ready 24/7 and we get off the ground quickly in the 429," Schaaf added.

The FCPD's aviation unit received its first Bell 429 in December of 2011 and has since logged 600 flight hours and executed 900 missions in an effort to protect the 1.2 million people who reside in Fairfax County. FCPD's 429 helicopters are configured for law enforcement operations and emergency medical service. In seven months, the FCPD's first 429 helicopter performed 40 medical evacuations and directly assisted in 34 arrests.

"We are proud to be a part of the Fairfax County Police Department's aviation unit," said Danny Maldonado, executive vice president of Sales and Marketing at Bell Helicopter. "The Bell 429 is an ideal aircraft for law enforcement missions; it is one of the most advanced light twin helicopters ever developed. It's safe, reliable and powerful with exceptional speed, range and hover performance. We are honored to have the Fairfax County Police Department performing their missions in Bell 429s," added Maldonado.

The Bell 429 is not only the most capable product for Fairfax County Police Department's missions; it is backed by Bell Helicopter's industry-leading customer support and service, ranking #1 in Professional Pilot magazine for 18 consecutive years as well as #1 in Aviation International News for six consecutive years.

About Bell Helicopter: Bell Helicopter, a wholly owned subsidiary of Textron Inc., is an industry-leading producer of commercial and military, manned and unmanned vertical-lift aircraft and the pioneer of the revolutionary tiltrotor aircraft. Globally recognized for world-class customer service, innovation and superior quality, Bell's global workforce serves customers flying Bell aircraft in more than 120 countries.

About Textron Inc: Textron Inc. is a multi-industry company that leverages its global network of aircraft, defense, industrial and finance businesses to provide customers with innovative solutions and services. Textron is known around the world for its powerful brands such as Bell Helicopter, Cessna Aircraft Company, Jacobsen, Kautex, Lycoming, E-Z-GO, Greenlee, and Textron Systems.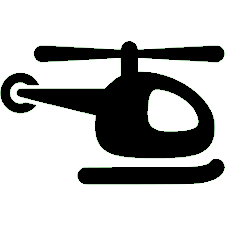 Aircraft mentioned in this article :
429 N212FX ( State of Virginia )


429 in

State of Virginia
FCPD

Fairfax County Police Department
State of Virginia