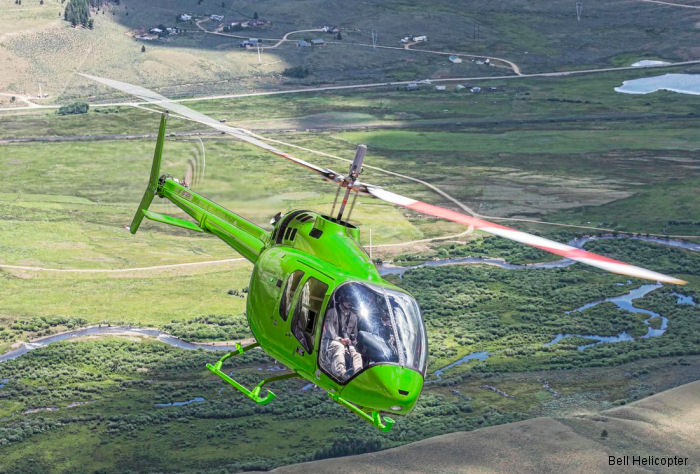 Bell Helicopter, July 18, 2016 - Fort Worth, TX – Bell Helicopter, a Textron Inc. company, announced today it has signed a letter of intent (LOI) with Mr. Rodrigo Gutíerrez for a Bell 505 Jet Ranger X.

The aircraft will be used for personal corporate transport.

The agreement was signed in Bolivia by Mr. Gutíerrez who owns and operates two large cattle ranches, five sugar cane farms and a sugar mill. This aircraft will play an important role in overseeing the management of these operations.

"We are pleased to sign for the Bell 505 and look forward to integrating the aircraft into our operations," said Mr. Gutíerrez. "We believe the aircraft will provide efficient transportation and high levels of visibility to oversee our business."

With more than 800 flight test hours completed, the Bell 505 is nearing certification and is expected to become a production program this year. The aircraft is attracting worldwide attention with 380 LOIs in a range of mission sets including corporate/VIP, utility, tourism, military training and emergency medical services.

"We are extremely proud to see the Bell 505 exceeding customers' expectations in terms of anticipated performance, safety and advanced technology," said Jay Ortiz, Bell Helicopter's vice president of Latin America. "Bolivia is a key market within the Latin American region, and as more of our customers get to experience the aircraft and we near certification, we anticipate continued interest and momentum."

The Bell 505, which first flew November 10, 2014, is a five-seat, single-engine, turbine helicopter leveraging Bell Helicopter's proven technology and nearly half a century of experience. The Bell 505 is equipped with a dual channel FADEC, the first in the short light single weight class, increasing safety through redundant engine controls and lightening pilot workload so they can focus on accomplishing the mission. An integrated glass cockpit as part of the base configuration simplifies the cockpit for the crew, replacing mechanical dials with 10" flat screens, allowing the crew to focus on the information they need for a given flight condition.

About Bell Helicopter: Bell Helicopter, a wholly owned subsidiary of Textron Inc.(NYSE: TXT), is an industry-leading producer of commercial and military, manned and unmanned vertical-lift aircraft and the pioneer of the revolutionary tiltrotor aircraft. Globally recognized for world-class customer service, innovation and superior quality, Bell's global workforce serves customers flying Bell aircraft in more than 120 countries.
Bell 505 Jet Ranger X

Bolivia