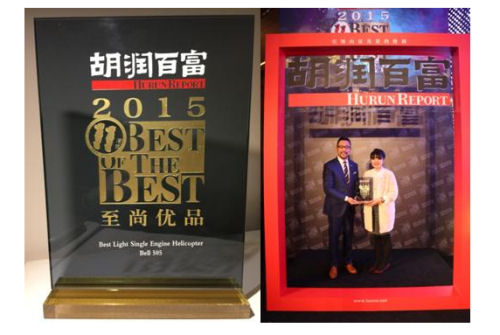 Bell Helicopter, February 06, 2015 - SHANGHAI, CHINA – Bell Helicopter, a Textron Inc. company, announced the Bell 505 Jet Ranger X was awarded "best light single engine helicopter" according to the Hurun Report's survey of China's luxury consumers.

"We are incredibly excited the Bell 505 has been awarded this distinction in China," said Chris Jaran, Vice President for Bell Helicopter in China. "It is a testimony to Bell Helicopter's commitment to deliver the high-performance, high-value aircraft our customers have been asking for and an indicator that we have hit the mark in the luxury market."

The Bell 505 was designed based on extensive input provided by a Customer Advisory Council (CAC). Bell Helicopter unveiled the Jet Ranger X at HELI-Expo in 2014. On November 10, Bell Helicopter announced the successful first flight of the Bell 505 Jet Ranger X helicopter. The maiden flight took place at the Mirabel, Québec, manufacturing facility.

Bell Helicopter has received more than 300 letters of intent for the new model around the world. While at Airshow China in November, Bell Helicopter announced a letter of intent with Reignwood Investment, Ltd. for fifty Bell 505 aircraft alone.

The Bell 505 Jet Ranger X is a five-seat, single-engine, turbine helicopter that is designed to be the safest and easiest aircraft to fly in its category while still remaining affordably priced. With a cruise speed of 125+ knots, range of over 360 nautical miles and useful load of 1,500 pounds, the Bell 505 offers best-in-class performance. The Jet Ranger X is a multi-mission helicopter, designed to meet a wide variety of missions with its fully flat floor, increased cabin volume and clam shell doors that will provide customers the configuration flexibility needed in today's market. It can support a wide variety of operations categories, including the utility segment, corporate and private owners, and training schools. The combination of capabilities, performance characteristics and value will be backed by Bell Helicopter's industry-leading customer service and support.

The Jet Ranger X is one of two new commercial aircraft currently under development at Bell Helicopter. The company is also developing the Bell 525 Relentless, the world's first commercial fly-by-wire helicopter.

About Bell Helicopter: Bell Helicopter, a wholly owned subsidiary of Textron Inc., is an industry-leading producer of commercial and military, manned and unmanned vertical-lift aircraft and the pioneer of the revolutionary tiltrotor aircraft. Globally recognized for world-class customer service, innovation and superior quality, Bell's global workforce serves customers flying Bell aircraft in more than 120 countries.
Bell 505 Jet Ranger X