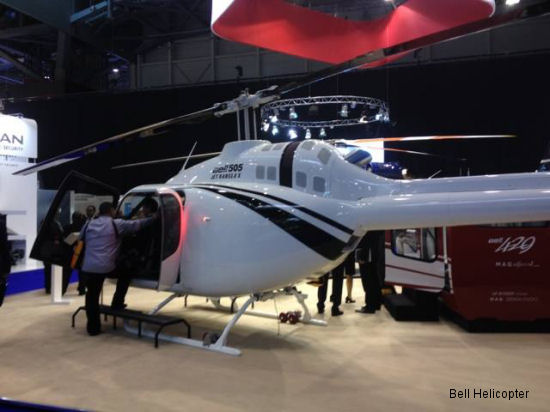 Bell Helicopter, May 19, 2014 - GENEVA, SWITZERLAND – Bell Helicopter, a Textron Inc. company, has announced its plans for the 14th annual European Business Aviation Convention and Exhibition, EBACE, in Geneva, Switzerland, held May 20 to May 22.

The Company will showcase its latest commercial product offerings including the Bell 505 Jet Ranger X aircraft mockup and Macaer's new VVIP Bell 429 cabin mock up. In addition, a customer-owned Bell 429 aircraft in corporate configuration will be on display.

"EBACE is a great opportunity to expand our presence in Europe and connect with our customers," said Patrick Moulay, Bell Helicopter's managing director in Europe. "We have been working with our customers to advance and modernize our commercial product line. The Bell 505 Jet Ranger X on display is designed to specifications our customers told us are most important at a competitive price."

The Bell 505 Jet Ranger X is a customer-driven design, blending proven systems with advanced technology and a sleek, modern design. The Bell 505 places safety, performance and affordability at its forefront. The Garmin G1000H Integrated Avionics Suite provides pilots critical flight information at a glance to maximize situational awareness. Pilot workload is further reduced by the Turbomeca Arrius 2R engine with dual channel Full Authority Digital Engine Control (FADEC). The Bell 505 features a high inertia rotor system delivering superior auto rotation capabilities. With the ideal combination of speed, range and useful load, the Jet Ranger X is designed to deliver best-in-class performance.

The Bell 429 also offers exceptional flight performance with a fully integrated glass cockpit, advanced drive system and best-in-class WAAS navigation and IFR capability. Additional safety features include a collective mounted throttle, damage tolerant hub and rotor system, and energy attenuating seats. It is the first helicopter certified through the MSG-3 process, resulting in reduced maintenance costs for operators. Passengers will take advantage of the Bell 429'spacious cabin and extra large 60 inch side doors, as well as Instrument Flight Rules (IFR) capability certified for single or dual pilot operations to better fulfill their mission.

Macaer Aviation Group has created a state-of-the-art VVIP interior for the Bell 429 that can be customized to accommodate a range of customer desires. With a variety of seating configurations possible, operators can match their own individual taste. Macaer's specialty custom interior incorporates a noise abatement system called SILENS, and an In-Flight Entertainment Enhanced Lounge (I-FEEL), that provides a fully customized interactive touch screen based entertainment management system.

Bell Helicopter remains focused on providing world-class support and service to its European customer base. Currently, Bell has 15 independent representatives and distributors in region and continues to grow. The company's focus on its customers is a key differentiator from the competition, as evidenced by Bell Helicopter's consistent number one ranking in Pro Pilot's service and support rankings for the 20th consecutive year.

About Bell Helicopter: Bell Helicopter, a wholly owned subsidiary of Textron Inc., is an industry-leading producer of commercial and military, manned and unmanned vertical-lift aircraft and the pioneer of the revolutionary tiltrotor aircraft. Globally recognized for world-class customer service, innovation and superior quality, Bell's global workforce serves customers flying Bell aircraft in more than 120 countries.
Bell 505 Jet Ranger X