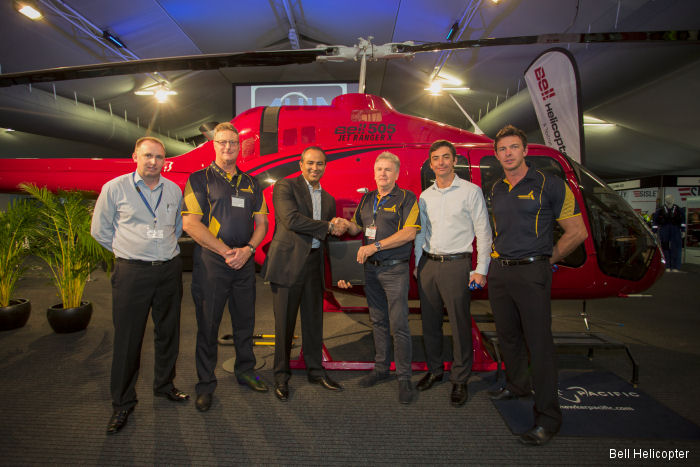 Bell Helicopter, May 27, 2016 - Rotortech 2016, Australia – Bell Helicopter, a Textron Inc. company, announced today a signed letter of intent (LOI) with Professional Helicopter Services (PHS) for three Bell 505 Jet Ranger X helicopters while at the Australian Helicopter Industry Association's Rotortech 2016.

PHS will be the first helicopter training school in the region to operate the Bell 505.

While at the show, Hawker Pacific, the Independent Representative of Bell Helicopter, joined PHS and Bell Helicopter leadership.

"We are thrilled to become the first Australian helicopter training school to integrate the Bell 505 into our program," said the CEO and Managing Director of PHS, Brett Newman. "The value and performance capabilities of the Bell 505 will complement our expanding fleet and tie in nicely to our ongoing commitment to being the most progressive and advanced helicopter company in the country."

PHS is Australia's longest running continually owned helicopter company with vast experience in all aspects of helicopter operations including, corporate charter, pilot training, tourism, sling operations, firefighting, and mining and survey operations.

"We are delighted that Professional Helicopter Services has chosen the Bell 505 and will become the first helicopter training school in Australia to operate the aircraft," said Sameer A. Rehman, Bell Helicopter's managing director of Asia Pacific. "This signing reaffirms the ongoing demand for the Bell 505 with more than 380 letters of intent around the globe, and more than 130 of those in the Asia Pacific region alone."

With a cruise speed of 125 knots (232 km/h), range of 360 nautical miles (667 km) and useful load of 1,500 pounds (608 kg), the Bell 505 is designed to be safe and easy to fly while providing significant value to the operator. The customer-driven design of the aircraft places safety, performance and affordability at the forefront, blending proven systems with advanced technology and a sleek, modern design. The Garmin G1000H Integrated Avionics Suite provides pilots critical flight information at a glance to maximize situational awareness. Pilot workload is further reduced by the Turbomeca Arrius 2R engine with dual channel Full Authority Digital Engine Control (FADEC).

"Since 2001, it has been our honor to work with Bell Helicopter to provide their innovative, state-of-the-art aircraft to the region," said Mat Hardy, General Manager of Helicopter Sales and Support at Hawker Pacific. "We continue to see increased demand for Bell Helicopter aircraft in the region especially with the launch of exciting new products likethe Bell 505."

Every Bell Helicopter is backed by the largest support network in the industry with over one hundred Authorized Customer Service Facilities located around the world. Ranked number one by customers for 22 consecutive years in the Helicopter Product Support Survey from Professional Pilot Magazine, Bell Helicopter has also earned top honors in Vertical Magazine's first-ever comprehensive helicopter manufacturer's survey. Bell Helicopter is committed to having resources where customers operate to speed up delivery of service and support, and give customers access to service professionals that are easy to reach, know the operating environment and understand their needs.

About Bell Helicopter: Bell Helicopter, a wholly owned subsidiary of Textron Inc.(NYSE: TXT), is an industry-leading producer of commercial and military, manned and unmanned vertical-lift aircraft and the pioneer of the revolutionary tiltrotor aircraft. Globally recognized for world-class customer service, innovation and superior quality, Bell's global workforce serves customers flying Bell aircraft in more than 120 countries.
505 Jet Ranger X in

Professional Helicopter Services

Hawker Pacific