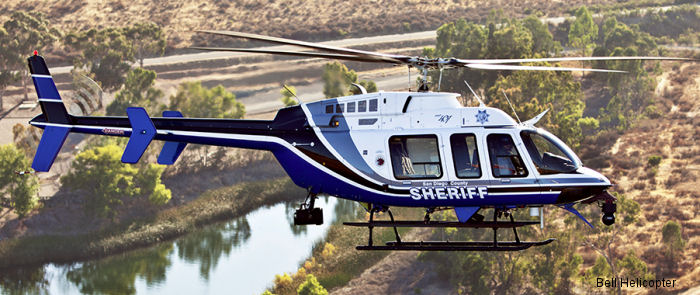 Bell Helicopter, July 30, 2015 - Prague, Czech Republic – Bell Helicopter, a Textron Inc. company and BIRD Aerosystems, announced today the signature of a cooperation agreement to integrate the BIRD Aerosystems Surveillance, Intelligence and Observation (ASIO) package as a complete end-to-end airborne information surveillance and reconnaissance solution (ISR) for the Bell 407GXP.

"Bell Helicopter and BIRD Aerosystems have worked closely together to bring this solution to the market," said Shaul Mazor, VP of marketing and business development, BIRD Aerosystems. "The Bell 407 ASIO, which is now available to our customers, combines the state of the art Bell 407GXP and an advanced mission package that includes a wide range of mission specific sensors and communications systems all integrated together using BIRD's advanced mission management system."

ASIO provides decision makers and field commanders with accurate, real-time terrestrial and maritime information. ASIO is highly-customizable and can be rapidly deployed in a variety of configurations. It has also proven itself ideal for irregular warfare requirements, border surveillance and coastal patrol duties. It is a true force multiplier that enables even small crews to deliver detailed and comprehensive surveillance information about a large geographic area.

"We recognize that our customers need to protect themselves against national security threats," Said Jakub Hoda, regional sales director, Bell Helicopter. "We believe that the Bell 407 ASIO offers the most advanced solution to support our customers with their evolving operational challenges and brings them the improved multi mission capability of the Bell 407GXP which makes it the first optimal platform for integrating the scalable ASIO package."

The Bell 407GXP is the latest upgrade to the best-selling Bell 407 platform, with added value through class leading performance, payload capability and operating economics. With an additional 50 lbs (22.5 kg) of carrying capability, coupled with the new M250 Rolls-Royce engine that boosts power and fuel efficiency, the Bell 407GXP delivers best in class hot and high performance. The aircraft also features avionics improvements in the weight and balance pages, as well as a transmission TBO extension of +500 hours.

About BIRD Aerosystems: BIRD Aerosystems is a privately owned company specializing in developing and deploying of Airborne Surveillance, Information and Observation (ASIO) solutions and Airborne Missile Protection Systems (AMPS). Based on extensive operational experience BIRD's advanced solutions have been developed to meet the most demanding operational scenarios and are in use worldwide by leading customers such as NATO forces, UN air operations, the US Government and others.
Bell 407GXP
407 in

Bell Helicopter Europe