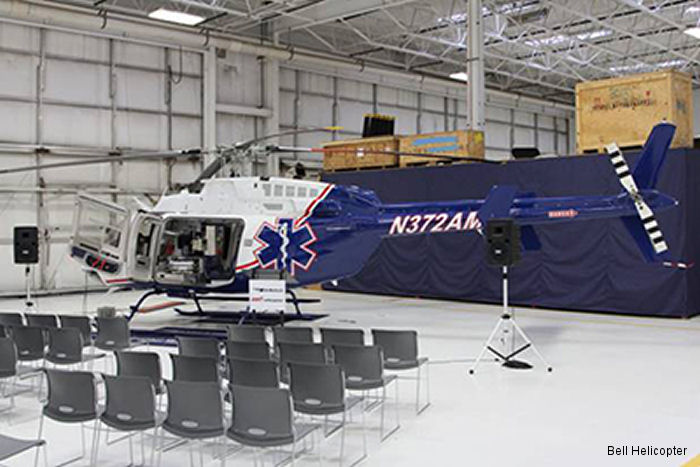 Bell Helicopter, January 18, 2016 - Fort Worth, Texas – Bell Helicopter, a Textron Inc. company, announced today the delivery of the Bell 407GXP configured for Helicopter Emergency Medical Services to Air Methods.

As revealed in March 2015, this is the first of many Bell 407GXPs expected over the next ten years.

Bell Helicopter and Air Methods commemorated the delivery at a special ceremony at Air Methods headquarters in Englewood, Colorado.

"Air Methods is celebrating this historic milestone that supports our mission of giving more tomorrows," said Aaron Todd, chief executive officer, Air Methods. "A lot of hard work went into getting us to this point, and we put a lot of criteria in place when making this very important decision. We look forward to welcoming the new Bell 407GXPs to our fleet."

Air Methods began with a single Bell 206 helicopter and has since grown into the world's largest air medical provider with more than 400 aircraft, 300-plus bases, and eight maintenance centers. The air medical company services 48 states and transports more than 100,000 patients every year.

"We are extremely proud to share in the excitement with Air Methods on the first delivery of the Bell 407GXP into their fleet," said Bell Helicopter's President and CEO Mitch Snyder. "As our launch customer for this aircraft, we take great pride in their ongoing trust in Bell Helicopter and providing them with our reliable aircraft."

All of the Bell 407GXPs will be equipped with United Rotorcraft emergency medical services interior, designed with air critical care operators in mind. The adaptable interior can accommodate a single patient or specialty transport, and includes the articulating loading system for easy patient loading. The United Rotorcraft interior also provides integrated medical systems such as medical oxygen, suction, air, storage, electrical power, and approved provisions for securing medical support equipment during all aspects of flight.

"We have enjoyed a long-standing relationship with Air Methods, and have been proud to support the Bell aircraft in their current fleet," said Anthony Moreland, vice president of North American sales. "The Bell 407GXP will support their life-saving efforts, but also provide the team with the expanded capabilities, safety and flexibility to serve their patients."

Derived from the Bell 407GX platform, the Bell 407GXP has an additional 50 lbs (22.5 kg) of payload capability, coupled with the new M250 Rolls-Royce engine that improves performance and fuel efficiency delivering class leading hot and high performance. The aircraft is also equipped with new avionics features such as a hover performance calculator improvement, as well as a transmission TBO extension of +500 hours that will lower maintenance costs.

About Bell Helicopter: Bell Helicopter, a wholly owned subsidiary of Textron Inc., is an industry-leading producer of commercial and military, manned and unmanned vertical-lift aircraft and the pioneer of the revolutionary tiltrotor aircraft. Globally recognized for world-class customer service, innovation and superior quality, Bell's global workforce serves customers flying Bell aircraft in more than 120 countries.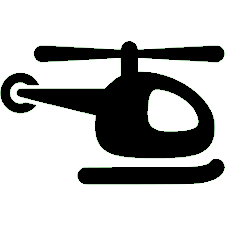 Aircraft mentioned in this article :
407GXP N372AM ( Air Methods )


407GXP in

Air Methods