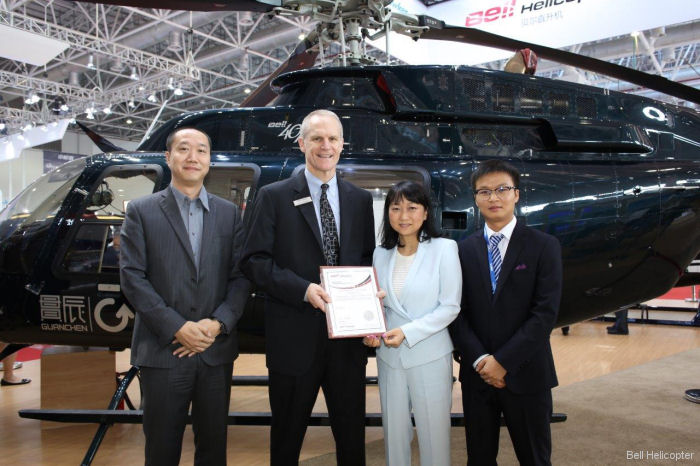 Bell Helicopter, November 02, 2016 - China International Aviation & Aerospace Exhibition – Bell Helicopter, a Textron Inc. company, today announced plans for significant growth in its aftermarket support network in China.

Zhenjiang Aerochine Aviation Limited, located in Zhenjiang City, Jiangsu Province, has been announced as Bell Helicopter's newest Authorized Customer Service Facility (CSF).

Established in October 2015, Zhenjiang Aerochine Aviation Limited is a wholly owned subsidiary of Aerochine Aviation Limited. Aerochine has a 5,200 sq. ft. facility offering non-specialized maintenance capabilities for Bell 407 aircraft. They are additionally a certified Part 145 repair station approved by the Civil Aviation Administration of China (CAAC).

"Bringing on Aerochine Aviation Limited as an authorized CSF reinforces our commitment to enhance the regional support customers need to continue their operations," said Glenn Isbell, Bell Helicopter's executive vice president of Customer Support and Services. "Bell Helicopter continues to place significant interest in expanding our aftermarket support offerings in the Chinese market for our current and future customer base."

Aerochine Aviation Limited was appointed as the official Independent Representative of Bell Helicopter in December 2009 for China, Hong Kong and Macau. Since then, Aerochine has sold more than 70 Bell helicopters to corporate, state-owned enterprises and general aviation startups. In addition to Aerochine, Bell Helicopter now has three Authorized CSFs located in China including Shanghai KingWing General Aviation and Chongqing General Aviation.

Diana Chou, chairwoman of Aerochine companies, receives the certificate of Authorized Customer Service Facility from Bell Helicopter.

"Aerochine is very excited to be part of the Bell Helicopter CSF family," said Diana Chou, chairman of Aerochine companies. "We are excited to bring the Chinese market additional value through Bell Helicopter's support network. Aerochine's professional team is passionate and experienced in the aviation industry from sales and marketing to operations and customer service, as well as maintenance."

Bell Helicopter's Customer Service Facilities enhances customer satisfaction by providing a direct, personal link between Bell Helicopter and its customers. With services ranging from state-of-the-art customization, aircraft refurbishment and accessory options to maintenance, repair and overhaul solutions, combined with personalized service offerings, Bell Helicopter provides complete and seamless support - offering its customers the advantages of a one-stop service experience worldwide.

"At Bell Helicopter, we know the importance of maintaining the readiness of our customers' aircraft. We have a robust aftermarket support network and we continue to make sure our customers have the service, parts and support needed to be mission ready anywhere on the globe," said Neil Jones, manager of the Bell Helicopter Customer Service Facility Network.

Known for its industry-leading customer support, Bell Helicopter provides its customers with local support in every corner of the world and has the largest support network in the industry with more than 100 Authorized Customer Service Facilities in 34 countries. Bell Helicopter is committed to having resources where customers operate to speed up delivery of service and support, and gives customers access to service professionals that are easy to reach, know the operating environment and understand their needs.

About Able Aerospace Services: Able Aerospace Services is a leading supplier of component and MRO services. With headquarters and maintenance facilities on the Phoenix-Mesa Gateway Airport (KIWA) in Mesa, Arizona, Able's products and services support commercial and military fixed- and rotor-wing aviation. Able combines 32 years of aviation experience with a staff of more than 500 employees to accomplish its mission: To safely reduce aircraft operating costs by providing resourceful component repair, overhaul and approved replacement parts solutions. Able is certified by numerous airworthiness authorities including the FAA, EASA, ANAC, CAAC, JCAB and others.

Zhenjiang Aerochine Aviation Ltd

Able Aerospace
State of Arizona
Bell 407GXP to be Assembled in China

Bell Helicopter China
Shaanxi Helicopter Signs for 100 Bell 407GXP