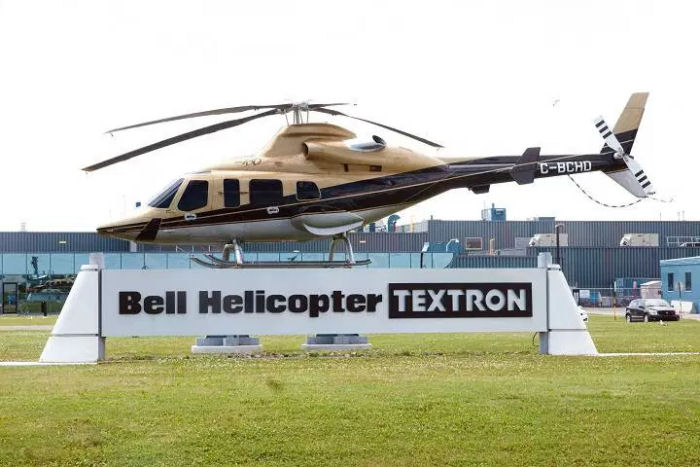 Bell Helicopter, May 19, 2016 - Fort Worth, TX - Bell Helicopter, a Textron Inc. company, announces plans to relocate several programs in order to optimize manufacturing capabilities across multiple Bell Helicopter facilities.

Effective immediately, the Bell 505 Jet Ranger X final assembly in Lafayette, LA, will relocate to the company's Mirabel Assembly and Delivery Center in Canada.

In addition, the Lafayette facility will receive the Bell 525 Relentless cabin subassembly, relocating from the Amarillo, TX, facility, and the Northrop Grumman MQ-8C Fire Scout unmanned aerial vehicle (UAV) modification work relocating from the Bell Helicopter facility in Ozark, AL. Neither move is expected to impact the certification of the Bell 525 or Bell 505.

"The relocation of these programs will enable the company to optimize its manufacturing footprint across multiple sites, while maximizing the core capabilities of each facility," said president and CEO of Bell Helicopter Mitch Snyder. "Mirabel is a vital part of Bell Helicopter's long term growth strategy and this move confirms our commitment to our Mirabel workforce and infrastructure. We also remain committed to Louisiana, where we have received tremendous support from the state and local government."

Bell Helicopter built the first three Bell 505 flight test vehicles at the Mirabel facility and is working closely with Transport Canada to achieve type certification and production certification this year. Once certification is completed, Bell Helicopter will begin production and deliveries out of the Mirabel facility.

"Today's announcement is a good news story of jobs and future growth in the Canadian aerospace sector and of an innovative R&D legacy that will last far beyond the manufacture of this helicopter," said the Honourable Navdeep Bains, Canada's Minister of Innovation, Science and Economic Development.

"We are very pleased the work for the Bell 525 and the MQ-8C Fire Scout is moving to the Lafayette facility," said Governor of Louisiana John Bel Edwards. "Bell Helicopter has played a significant role in boosting the Lafayette economy, and they have proven themselves to be valuable partners in Louisiana. We are proud to continue our relationship with them and look forward to the future success of the new work moving to the Lafayette facility."

"We're excited to see the first 525 cabin subassembly and work on the MQ-8C Fire Scout coming to the facility built for Bell Helicopter's Louisiana operations located at Lafayette Regional Airport. We are fully invested in the paProgrtnership we've created and look for great things for our community, the company and Bell Helicopter employees," said Lafayette City Mayor-President Joel Robideaux.

The Bell 505 Jet Ranger X continues to make terrific progress and achieve testing milestones. The flight test vehicles 1-3 have accumulated more than 700 flight test hours. To date, Bell Helicopter has received more than 380 letters of intent from around the globe for the Bell 505. The five-seat, single-engine, turbine helicopter leverages Bell Helicopter's proven technology and nearly half a century of experience defining the short light single market with the original Bell JetRanger.

The Bell 525 is designed to bring a new level of safety and reliability in the most demanding environments through the innovation of the first commercially certified fly-by-wire flight control system and triplex systems. The aircraft integrates critical systems data to be easily accessible at a glance with the Garmin G5000H® suite, reducing pilot workload in a state-of-the-art cockpit environment. Best-in-class payload, range, cabin, cargo volumes, speed, and ride quality complement the technological advancements on the aircraft. The first flight of the Bell 525 was achieved on 1 July 2015 and certification of the aircraft is anticipated in 2017.

Fire Scout is an operationally tested, field proven, fully autonomous tactical Intelligence, Surveillance and Reconnaissance (ISR) system. The MQ-8C provides the U.S. Navy with twice the endurance and three times more payload capacity over the existing MQ-8B variant. Fire Scout provides critical mission support capabilities not achievable with fixed wing UAVs. It can provide target-acquisition, laser designation, and battle management to tactical users without relying on manned aircraft or space-based assets. Fire Scout has the ability to operate from any air-capable ship or land base in support of persistent ISR requirements.

About Bell Helicopter: Bell Helicopter, a wholly owned subsidiary of Textron Inc. (NYSE: TXT) , is an industry-leading producer of commercial and military, manned and unmanned vertical-lift aircraft and the pioneer of the revolutionary tiltrotor aircraft. Globally recognized for world-class customer service, innovation and superior quality, Bell's global workforce serves customers flying Bell aircraft in more than 120 countries.
Location :

Amarillo
525 Relentless in

Bell Helicopter
505 Jet Ranger X in

Bell Helicopter Canada
407 in

Northrop Grumman