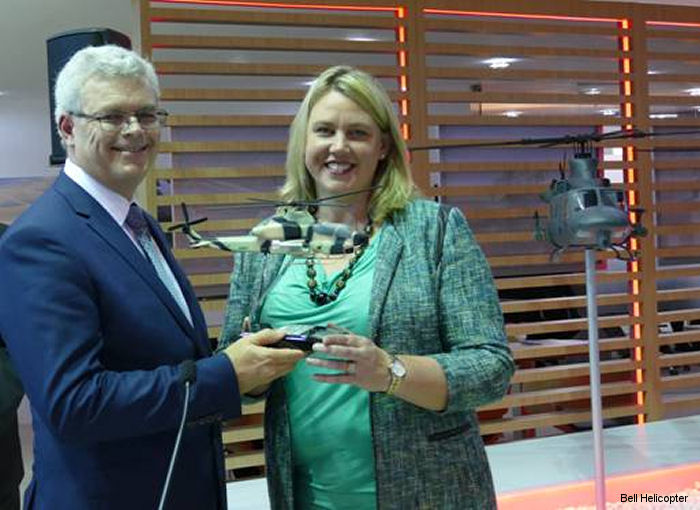 Bell Helicopter, February 16, 2016 - SINGAPORE – Bell Helicopter, a Textron Inc. company, announced today it has signed an agreement with BAE Systems Australia to pursue military rotorcraft opportunities in Australia.

"The signing today with BAE Systems establishes the groundwork for what will be the premier provider of service and support for future customers of Bell Helicopter military rotorcraft in Australia," said Lisa Atherton, executive vice president of Military Business for Bell Helicopter. "BAE Systems is an Australian aerospace leader with unmatched technical knowledge and expertise. This relationship aligns our interests and pursuits as we work together to pursue opportunities to strengthen and support the capability and posture of the Australian Defence Force."

Under the teaming agreement, BAE Systems will play a significant role in providing support for Bell Helicopter AH-1Z Viper attack rotorcraft. This will include overseeing helicopter maintenance and sustainment, and supporting training for future customers.

"We are looking forward to working closely on opportunities with Bell Helicopter as its sustainment and support partner in Australia," said Steve Drury, BAE Systems Australia Aerospace Director. "We are one of Australia's leading, total aircraft sustainment providers, committed to maximising defence capability for least cost. We have been maintaining rotary wing aircraft for more than 20 years and this long-term strategic partnership with Bell Helicopter offers a superior end-to-end military rotorcraft solution."

The AH-1Z Viper is the world's most advanced attack helicopter. It shares 85% commonality of major components with Bell Helicopter's UH-1Y Venom utility rotorcraft, enhancing deployability and maintainability, while reducing training requirements and the logistical footprint between the two platforms.

The AH-1Z Viper and UH-1Y Venom are marinized aircraft, designed specifically for sustained high performance when operating on ship and shore bases, in the open seas, littoral zones, and in desert and tropical environments. The airframes are manufactured to resist corrosion present in coastal and humid environments, making these aircraft mission-capable in practically every environment on the planet.

About BAE Systems Australia: BAE Systems is Australia's most versatile defence company. For over 20 years, it has managed complex modifications and upgrades on a range of Australian Defence Force aircraft. The company's support includes being assigned as the F-35 Airframe Regional Depot sustainment provider; total sustainment of the Hawk 127 Lead-In Fighter fleet; and maintenance and upgrades for Seahawk, Black Hawk and Chinook rotary wing aircraft. It also provides commercial aircraft maintenance solutions.

BAe Systems Australia
Bell UH-1Y Venom
Bell AH-1Z Viper