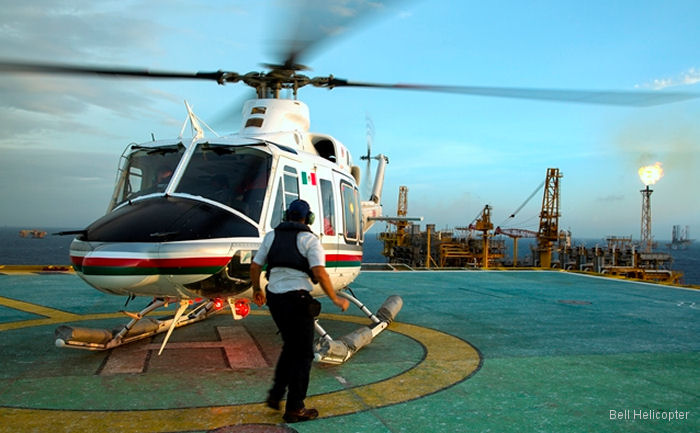 Bell Helicopter, January 17, 2017
- Fort Worth, TX – Bell Helicopter, a Textron Inc. company, today announced significant progress with its customer service – continuing to provide the best customer support in the industry.
"In 2016 we launched a brand new support solution, our Customer Advantage Plans (CAP), and strengthened our support network, adding four new service centers across the globe," said Glenn Isbell, executive vice president, Customer Support and Services for Bell Helicopter. "We will continue to enhance our customer support capabilities, and I am excited to carry this momentum into the New Year."
Bell Helicopter's CAP provides customers with comprehensive coverage solutions for their daily operations. Since its launch, the innovative support solution has gained traction across the globe – with current customers represented in regions including North America, Latin America, Asia Pacific and Europe. The plans have additionally been adopted by customers in mission segments ranging from emergency medical, corporate/VIP to oil and gas operators. Multiple large fleets have also adopted the plans, including the most recent announced customer,
Heliservicio
, signing its large fleet of 20 Bell 412EPs.
"We will continue to support our customers' success with products and services that provide the most value, responsiveness and cost competiveness for their operations," added Isbell.
Recently, Bell Helicopter signed its first CAP customer in
India
. The corporate customer operates a Bell 429 and was signed through Dubai-based aircraft management company, Titan Aviation Group.
"With predictable maintenance costs, priority access to parts and assemblies and increased aircraft availability, Bell Helicopter's Customer Advantage Plan provides peace of mind, knowing my investment is protected," said Sakeer Sheik, a Bell 429 customer.
In addition to the support plans, Bell Helicopter continues to strengthen its support network, adding four newly authorized Customer Service Facilities just last year:
- Zhenjiang Aerochine Aviation Limited, Zhenjiang City, Jiangsu Province, PRC
-
Eagle Copters Australasia
, Coffs Harbour, NSW, Australia
- Genel Havacilik A.S. Turkey, Istanbul
-
Petroleum Air Services
, Nasr City, Cairo, Egypt
"The addition of our newly authorized Customer Service Facilities reinforces our commitment to enhancing the regional support customers need to continue their operations," said Mike Reagan, director, Global Services at Bell Helicopter.
Bell Helicopter's Customer Service Facilities aim to enhance customer satisfaction by providing a personal link between Bell Helicopter and its customers. With services ranging from aircraft refurbishment and accessory options to maintenance, repair and overhaul solutions, combined with personalized service offerings, Bell Helicopter's service facilities provides complete and seamless support - offering Bell Helicopter customers the advantages of a one-stop service experience worldwide.
Known for its industry-leading customer support, Bell Helicopter provides its customers with local support in virtually every corner of the world and has the largest support network in the industry with more than 100 Authorized Customer Service Facilities in 34 countries. Bell Helicopter is committed to having resources where customers operate to speed up delivery of service and support, and gives customers access to service professionals that are easy to reach, know the operating environment and understand their needs.
About Bell Helicopter: Bell Helicopter, a wholly owned subsidiary of Textron Inc. (NYSE: TXT), is an industry-leading producer of commercial and military, manned and unmanned vertical-lift aircraft and the pioneer of the revolutionary tiltrotor aircraft. Globally recognized for world-class customer service, innovation and superior quality, Bell's global workforce serves customers flying Bell aircraft in more than 120 countries.

Bell Helicopter
Bell Helicopter Customer Advantage Plans