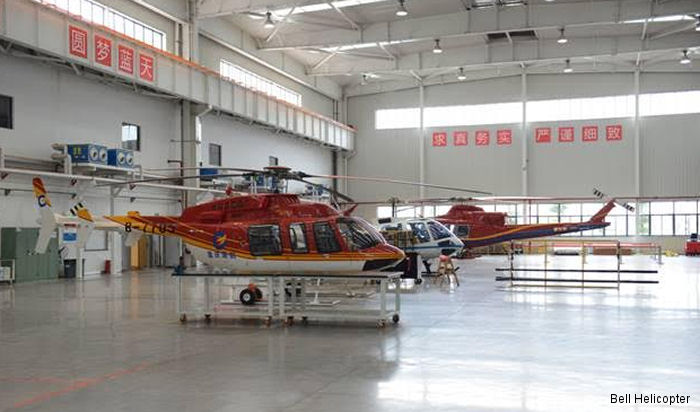 Bell Helicopter, December 17, 2015 - Fort Worth, Texas – Bell Helicopter, a Textron Inc. company, today announced Chongqing General Aviation (CQGA), located in China's Chongqing Provence, as Bell Helicopter's newest authorized Customer Service Facility (CSF).

CQGA has a 43,700 sq. ft. Civil Aviation Administration of China (CAAC) part 145 certified maintenance facility and offers non-specialized maintenance capabilities for Bell 407 aircraft. CQGA is an established operator, and has two Bell 407GXs and recently the company received the first certified Bell 412 aircraft to be operated in China and used for fire-fighting missions.

"Bringing on Chongqing General Aviation as an authorized CSF reinforces our commitment to enhancing the regional support customers need to continue their operations," said Chris Jaran, Bell Helicopter's vice president of China. "As a long-time Bell aircraft operator, Chongqing General Aviation delivers exceptional customer service, which made them the right fit to join the CSF network."

Established in April 2012 by the Chongqing General Aviation Group, CQGA's business scope includes aircraft maintenance, tourism, air ambulance, forestry support, aerial advertising, agriculture support, aerial photography, VIP flights, law enforcement support, firefighting and charters.

Bell Helicopter provides its customers with local support in every corner of the world and has the largest support network in the industry with over one hundred Authorized Customer Service Facilities in 34 countries. Ranked number one by customers for 21 consecutive years, Bell Helicopter is committed to having resources where customers operate to speed up delivery of service and support, and give customers access to service professionals that are easy to reach, know the operating environment and understand their needs.

"We have a robust aftermarket support network, and we continue to listen to our customers and make decisions that align with our business direction and bring our customer base enhanced value," said Neil Jones, manager of the Bell Helicopter Customer Service Facility Network.

About Bell Helicopter: Bell Helicopter, a wholly owned subsidiary of Textron Inc., is an industry-leading producer of commercial and military, manned and unmanned vertical-lift aircraft and the pioneer of the revolutionary tiltrotor aircraft. Globally recognized for world-class customer service, innovation and superior quality, Bell's global workforce serves customers flying Bell aircraft in more than 120 countries.

Chongqing General Aviation Co
CQGA

Bell Helicopter China