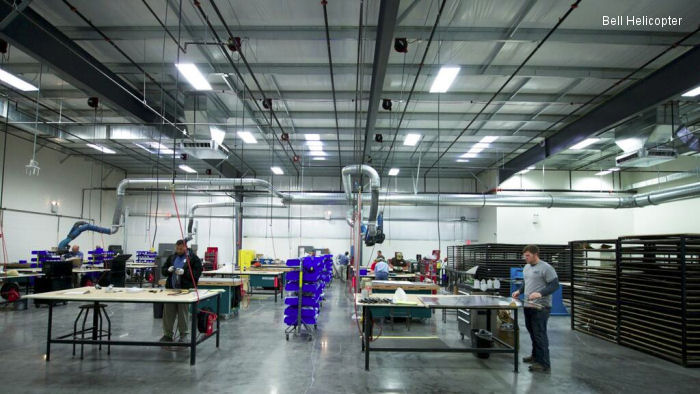 Bell Helicopter, March 27, 2014 - LAFAYETTE, LA – Bell Helicopter, a Textron Inc. company, celebrated a ribbon-cutting ceremony yesterday announcing its newly-constructed composite facility in Broussard, LA.

The new facility represents a $4.5 million investment by Bell Helicopter and was achieved through collaboration with the Lafayette Economic Development Authority (LEDA).

"At Bell Helicopter, we are committed to providing exceptional value throughout the aircraft's lifecycle," said Eric Cardinali, executive vice president, Bell Helicopter Customer Support and Services. "To do this, we need to have the right talent and resources in place to meet our customer's aftermarket requirements and to accommodate the future growth and capabilities we consider to be core to our customer support and services offerings."

The new 28,000 sq. ft. facility was specifically designed for Bell Helicopter's composite manufacturing capabilities, which include manufacturing new composite panels, as well as repair and overhaul of existing panels for much of Bell Helicopter's current and legacy fleet. The company implemented lean manufacturing processes throughout the facility to improve efficiencies and reduce lead times.

"We were pleased to work with the Louisiana Economic Development Authority on this project," said Cardinali. "LEDA was very involved, and we appreciate their support and collaboration."

"I appreciate the opportunity to be here today and to share in the grand opening of Bell Helicopter's new composite building in Broussard," said Gregg Gothreaux, president & CEO, Lafayette Economic Development Authority. "This is the result of a team effort on the part of Bell Helicopter, LEDA, and the Lafayette and Acadiana parishes and their commitment to growth in the region."

About Bell Helicopter: Bell Helicopter, a wholly owned subsidiary of Textron Inc., is an industry-leading producer of commercial and military, manned and unmanned vertical-lift aircraft and the pioneer of the revolutionary tiltrotor aircraft. Globally recognized for world-class customer service, innovation and superior quality, Bell's global workforce serves customers flying Bell aircraft in more than 120 countries.

Bell Helicopter