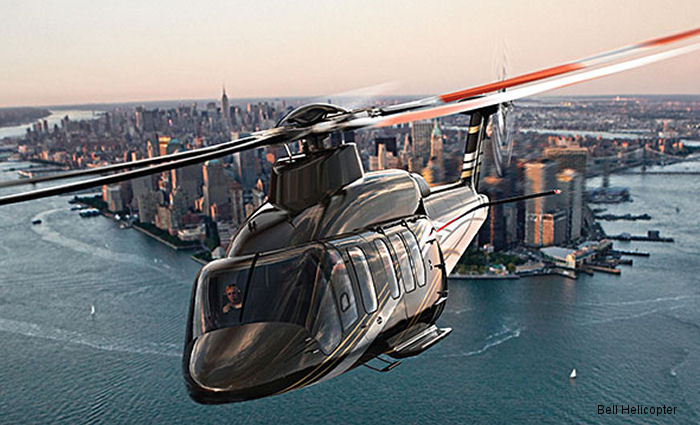 Bell Helicopter, March 26, 2015 - Fort Worth, TX – Bell Helicopter, a Textron Inc. company, announced multiple letters of intent (LOIs) with three Middle Eastern operators.

The company received a LOI from BBM Inc. for a Bell 505 Jet Ranger X and Bell 525 Relentless, K Aircraft Leasing for two Bell 525s and Wallan Aviation for a Bell 525.

"These two aircraft have continued to impress our customers in the Middle East with their highly advanced technology and multi-mission capabilities," said Steve Suttles, Bell Helicopter's vice president and managing director of Middle East and African sales. "These aircraft will be a perfect addition to their fleet and will give their customers the support their operators are looking for."

BBM Inc.'s Bell 505 will be used to perform training missions while the Bell 525 will be outfitted to perform head of state transport throughout the region.

"The Bell 505 is the perfect low cost training solution for our austere environments. With proven new technology that enhances capability and visibility, we will integrate and set the stage for successive training of future aviators across two continents and multiple Bell platforms," said Fred Hees, CEO of BBM Inc. "The Bell 525 Relentless is a marvel of modern technology that will provide our customers capability beyond expectations."

K Aircraft Leasing is a US based helicopter charter service. The organization provides VIP charter and sightseeing as well as flight instruction and industrial solutions. The company's two Bell 525s will be configured to perform oil and gas missions in the Middle Eastern region.

"Our industrial solutions require an aircraft that can withstand some of the most extreme environments, and can quickly adapt to a variety of situations," said Cash. "The Bell 525 will provide us with exactly what our customers are looking for, and we look forward to a continued relationship with Bell Helicopter."

Saudi Arabian aircraft operator and authorized Independent Representative (IR), Wallan Aviation, plans to have its Bell 525 configured for general/utility missions.

"We decided to add a Bell 525 to our fleet because of our very successful experience with other Bell helicopters," said Saad Wallan, chairman of Wallan Aviation. "The Bell 525 provides us with an ideal aircraft suited for extreme weather conditions in the super medium aircraft class, which is critical in the Middle East."

"We are delighted our aircraft has been selected to make a positive impact and anticipate many more entering the region," added Suttles.

The Bell 525 is the world's first fly-by-wire commercial helicopter, designed to operate safely and reliably in austere environments with decreased pilot workload. The aircraft integrates critical systems data to be easily accessible at-a-glance with the first fully-integrated touch screen flight deck designed for helicopters, the Garmin G5000H®. Best-in-class payload, cabin, cargo volumes, comfort and egress complement the technological advancements on the aircraft. The Bell 525 is being tested in Bell Helicopter's fully integrated System Integration Lab (SIL), allowing for virtual flight testing of the Bell 525 before first flight, which is scheduled for spring 2015.

The Bell 505, which first flew November 10, 2014, is a five-seat, single-engine, turbine helicopter leveraging Bell Helicopter's proven technology and nearly half a century of experience. Its fully flat floor, increased cabin volume and clam shell doors provide the configuration flexibility needed in today's market. The customer-driven design of the aircraft places safety, performance and affordability at its forefront, blending proven systems with advanced technology and a sleek, modern design. Pilot workload is further reduced by the Turbomeca Arrius 2R engine with dual channel Full Authority Digital Engine Control (FADEC). The Bell 505 features a high inertia rotor system delivering superior auto rotation capabilities. With the ideal combination of speed, range and useful load, the Jet Ranger X is designed to deliver best-in-class performance.

Bell Helicopter UAE
Bell 505 Jet Ranger X
Bell 525 Relentless