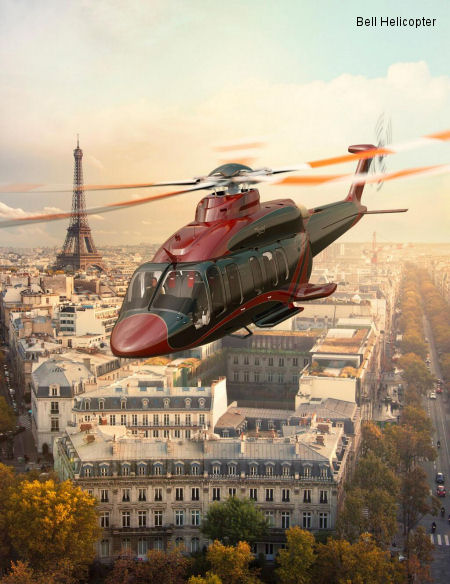 Bell Helicopter, June 12, 2013
- Forth Worth, TX - Bell Helicopter, a Textron Inc. company, will display a number of aircraft and share program updates at the 2013 Paris Air Show, one of the largest aviation trade shows in the world, held at Le Bourget Exhibition Centre June 17-23. Demonstration flights will highlight two industry-leading Bell aircraft, the Bell 429 and Bell 407GX, and showcase their outstanding capabilities to meet customer demands.
"The Paris Air Show is a key event in the aviation industry and an opportunity for us to show our customers from around the world the progress we are making on our programs," said John Garrison, Bell Helicopter's president and CEO. "In addition to providing updates on our industry-leading products and demonstrating several aircraft, we look forward to making several major announcements at the show."
Bell Helicopter will provide new updates on the
Bell 525 Relentless
program, guided by continued customer input and engagement, and also demonstrate the Bell 525's cockpit and flight control system. The Bell 525 cockpit simulator highlights the capabilities of the Bell 525 ARC Horizon flight deck allowing pilots to operate in specific mission conditions, including Category A takeoffs and landings, and fly-by-wire augmentation.
Air Zermatt's Bell 429
, the first emergency medical services (EMS) configured Bell 429 to be operated in Europe, will be part of Bell Helicopter's aircraft display at the Paris Air Show. The Bell 429 is the world's newest and most advanced light twin-engine helicopter with excellent flight performance and passenger/cargo capacity. The Bell 429 sets the standard for light twins with 155 knot speed, a fully-integrated glass cockpit with single pilot IFR and WAAS precision approach capability, and extra large 60-in. side doors for ease of loading and unloading.
The
Bell 407GT
, the new armed version of the Bell 407GX, will also be displayed in Bell Helicopter's booth. The commercially qualified helicopter features a fully-integrated Garmin G1000H™ flight deck and armament options ranging from light munitions to laser guided weapon systems. The Bell 407GT offers exceptional value for parapublic and military operators by combining superior payload and range capabilities with Bell Helicopter's industry-leading training and product support.
Bell Helicopter will provide demonstration flights of the Bell 429 and the Bell 407GX throughout the show. The Bell 407GX combines the proven performance of the Bell 407 platform with a Garmin G1000H™ flight deck, equipped with twin 10.4" high-resolution LCD screens hosting primary flight display and multi-function display information in an easy to scan layout. Enhanced situational awareness is provided by a multitude of advanced features, including a Traffic Information System (TIS), Helicopter Terrain Awareness and Warning System (HTWAS) and Helicopter Synthetic Vision Technology™ (HSVT).
The Paris Air Show is organized by Salon International de l'Aeronautique et de l'Espace (SIAE), a subsidiary of Groupement des Industries Francaises Aeronautiques et Spatiales (GIFAS). The event brings together aviation industry experts from around the globe to showcase the latest technological innovations. At the last show in 2011, 2,113 exhibitors from 45 countries, 151,000 trade visitors and 204,000 general public visitors attended. A variety of aircraft will be on display and perform flight demonstrations.
About Bell Helicopter: Bell Helicopter, a wholly owned subsidiary of Textron Inc., is an industry-leading producer of commercial and military, manned and unmanned vertical-lift aircraft and the pioneer of the revolutionary tiltrotor aircraft. Globally recognized for world-class customer service, innovation and superior quality, Bell's global workforce serves customers flying Bell aircraft in more than 120 countries.

Bell Helicopter