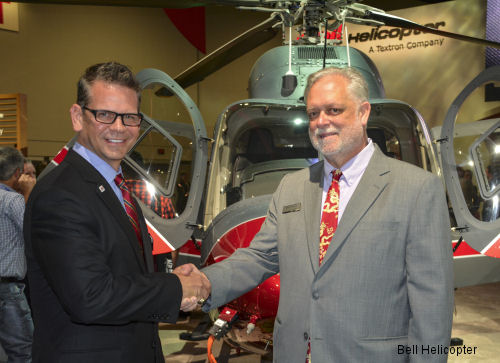 Bell Helicopter, March 05, 2015 - ORLANDO, FL - Bell Helicopter, a Textron Inc. company, has contracted Hughes Aerospace Corporation to develop performance based navigation (PBN) procedures for use by operators flying Bell helicopters with advanced onboard navigation systems in China.

The selection process for the first location in China is underway.

"Performance based navigation is a real win for our operators in China," said Chris Jaran, vice president and managing director for Bell Helicopter in China. "PBN allows our customers safer and optimized access to airspace, allowing them to fly more direct approaches and departures helicopters are suited for, rather than having to fly circuitous IFR-based or fixed wing aircraft patterns."

Performance-based navigation (PBN) is a general term that defines navigation performance requirements for an air traffic route, instrument procedure, or defined portion of airspace. PBN provides safer and improved access to airspace, reducing the possibility of Controlled Flight into Terrain (CFIT), and improves all-weather helicopter navigation. Satellite-based navigation delivers lower approach minima resulting in fewer weather-related delays and diversions, fuel savings due to less flight time through optimized routing and more reliable, repeatable flight paths.

"The flexibility PBN delivers to operators translates into less fuel burned and time in the air, effectively increasing the number of flights a helicopter can perform before requiring maintenance," said Hughes Aerospace President and CEO Chris Baur. "We look forward to working with Bell Helicopter and their customers in China to provide safety and reliability enhancing PBN products and services."

About Hughes Aerospace: Houston based Hughes Aerospace Corporation is comprised of industry subject-matter experts providing solutions for a Communications, Navigation and Surveillance (CNS) systems-based approach for Regulators, Operators, Facilities and Air Traffic Management organizations throughout the global aerospace supply chain.

Hughes Aerospace is authorized by the FAA and ICAO as a Third-Party Instrument Flight Procedure Service Provider and is also authorized to conduct Instrument Flight Procedure Validation activities. Hughes Aerospace has participated in landmark Performance-Based Navigation (PBN) projects throughout North America, Latin America, Asia, Europe and the Middle East.

Hughes Aerospace offers complete solutions that are unique and tailored to our customer's specifications. Our emphasis is on PBN technologies and their inter-relationship with Air Traffic Control Engineering, Safety Management Systems and Flight Operations, Hughes Aerospace is unique in supporting Air Carrier, Business/Commercial Operators, Vertical Flight and Unmanned Aerial Systems with world-class PBN solutions.

Bell Helicopter

Reignwood