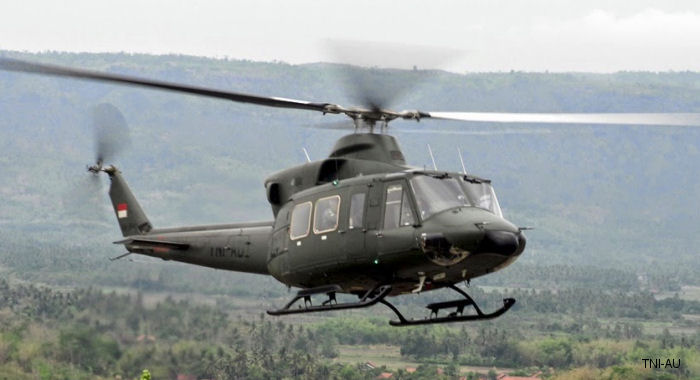 Bell Helicopter, February 29, 2016 - Louisville, Kentucky – Bell Helicopter, a Textron Inc. company, announced today an expanded Industrial and Commercial Agreement with PT Dirgantara Indonesia (Persero) (PTDI) that will enable the two companies to expand their support and services in Indonesia to Bell Helicopter operators.

Both companies signed the agreement at Bell Helicopter headquarters in Fort Worth, Texas, USA on November 30, 2015:

Bell Helicopter and PTDI had an agreement in place from 2012 and this extension further solidifies PTDI's customization and delivery work for Bell 412 platforms and allows PTDI to enhance its relationship with other Bell Helicopter customers and for additional Bell commercial aircraft models. Indonesia's armed forces have long been served through the Bell Helicopter and PTDI relationship and this agreement will allow Bell Helicopter and PTDI to continue to meet the defense and parapublic needs of the nation and its citizens.

"We are very pleased to continue this agreement with PTDI and expand our operational capabilities in Indonesia," said Bell Helicopter's President and CEO Mitch Snyder. "The region represents a significant growth opportunity for sales and operations, and we are pleased to continue our investment in the Asia Pacific market."

"PTDI and Bell Helicopter have been maintaining its cooperation for a longtime; nowadays both companies see growth with the Bell 412 market in Indonesia, so this cooperation is mutually beneficial to both companies," said Mr. Budi Santoso, president director PTDI.

Bell Helicopter has had a presence in Indonesia for more than 50 years and currently fields over a hundred aircraft which are supported by a Bell-authorized customer service facility and two dedicated full-time customer service engineers located in Jakarta, as well as through our Singapore service facility that supports regional customers.

PTDI is one of the indigenous aerospace companies in Asia with core competencies in aircraft design and development, aircraft structure manufacturing, aircraft assembly and aircraft services for both civilian and military aircraft. Since 1976, in addition to producing PTDI's owned products (for example CN235 series, NC212 series), PTDI has established cooperation with several leading aircraft companies, including Bell Helicopter. By having an Industrial and Commercial Agreement, the two companies have agreed to extend the cooperation for the next 5 years that allows PTDI to conduct joint sales and marketing, customization, aircraft delivery, aircraft component manufacturing and aircraft maintenance.

About Bell Helicopter: Bell Helicopter, a wholly owned subsidiary of Textron Inc., is an industry-leading producer of commercial and military, manned and unmanned vertical-lift aircraft and the pioneer of the revolutionary tiltrotor aircraft. Globally recognized for world-class customer service, innovation and superior quality, Bell's global workforce serves customers flying Bell aircraft in more than 120 countries.

PT Dirgantara Indonesia
Indonesian Aerospace

Bell Helicopter