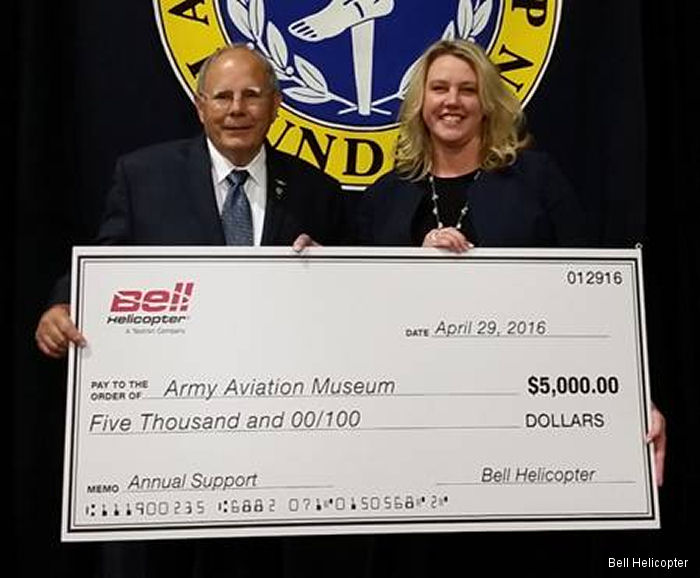 Bell Helicopter, May 05, 2016 - Atlanta, Georgia – Bell Helicopter, a Textron Inc. company, has donated $5,000 in support of the Army Aviation Museum.

Lisa Atherton, Bell Helicopter's executive vice president of Military Business Development, presented the ceremonial check to LTG (Retired) Daniel J. Petrosky, Chairman of the Army Aviation Museum Foundation Board of Directors at the 2016 Army Aviation Association of America's Mission Solutions Summit at the Georgia World Congress Center in Atlanta, Georgia.

"Bell Helicopter has been an important part of Army Aviation dating back to 1948 with the first Army helicopter, the Bell H-13B Sioux," said Atherton. "We consider it a great honor to continue that tradition by supporting the Army Aviation Museum Foundation and help them bring the history of Army Aviation to life for everyone to learn and experience."

The U.S. Army Aviation Museum maintains a collection of over 160 military aircraft, including several Bell Helicopter aircraft, in what is one of the largest collections of military helicopters in the world. The Museum provides an opportunity for the public to interact with and understand history while also capturing the human spirit and proud heritage of Army Aviation.

"On behalf of the Army Aviation Museum Foundation (AAMF), we thank Bell Helicopter for their continued support of the Foundation and its ongoing projects that help to preserve aviation history," said Petrosky. "Donations like this go toward projects like painting and restoration of our historic aircraft. None of this would be possible without your support, and that of the many others, who appreciate and respect our Army Aviation heritage."

About Bell Helicopter: Bell Helicopter, a wholly owned subsidiary of Textron Inc. (NYSE: TXT), is an industry-leading producer of commercial and military, manned and unmanned vertical-lift aircraft and the pioneer of the revolutionary tiltrotor aircraft. Globally recognized for world-class customer service, innovation and superior quality, Bell's global workforce serves customers flying Bell aircraft in more than 120 countries.

Bell Helicopter

US Army Aviation