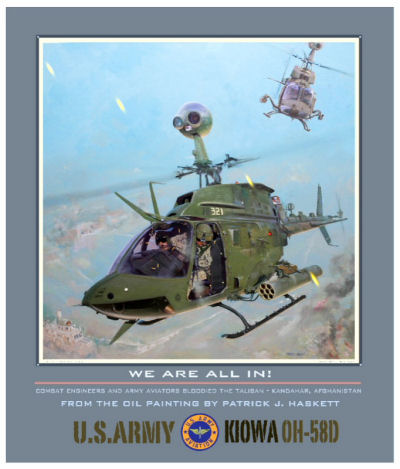 Bell Helicopter, April 19, 2011 - Fort Worth, TX - Bell Helicopter, a Textron Inc. company, announced the Bell Helicopter "Heroes of Aviation" Series which pays tribute to the men and women who preserve freedom and save lives while using Bell Helicopters.

The first painting of the Bell Helicopter Heroes of Aviation Series was unveiled at a ceremony at the 2011 Army Aviation Association of America (AAAA) professional forum and exposition, held in Nashville TN. The work of art, painted by world renowned combat artist, Patrick Haskett, depicts an OH-58D Kiowa Warrior in combat operations in Afghanistan. The painting pays tribute to Col. Mike Morgan and his unit who were called to help rescue a group of American soldiers who were pinned down by the Taliban in Afghanistan.

Col. Morgan was air mission commander of a team of Kiowa Warriors with the 82nd Airborne Division in Kandahar, Afghanistan. He earned recognition for his part in repelling an insurgent ambush directed at a U.S. Army Engineer unit performing a route clearance patrol. Accounts of the actions on Aug. 24, 2009, indicate 30 U.S. ground troops faced about 100 enemy insurgents armed with heavy machine guns, small arms fire and rocket-propelled grenades.

Col. Morgan repeatedly maneuvered his aircraft in close proximity to rocket propelled grenade fire and heavy machine gun fire, enabling him to engage and destroy the enemy positions, saving the engineers' lives. Twice, during the six-hour battle, Col. Morgan's team of two helicopters refueled, re-armed and returned to the fight. The team stayed in the battle even after running out of rockets and .50-caliber ammunition twice. As lead pilot, he and a trailing Kiowa Warrior made two additional passes directly over the insurgents, drawing fire away from the ground forces.

For his actions Col. Morgan was awarded the Silver Star, which is the third highest wartime medal awarded for valor in the line of duty. The medal was presented to Col. Morgan by Secretary of Defense Robert Gates at Kandahar Airfield in March 2010. In addition to the Silver Star, Col. Morgan also earned two Distinguished Flying Crosses and an Army Commendation Medal with Valor.

"The 10,500 men and women of Bell Helicopter are proud to dedicate the first painting of our "Heroes of Aviation" Series to Col. Morgan and his team," said John L. Garrison, president and CEO of Bell Helicopter. At the unveiling ceremony Garrison told Col. Morgan, "You may refuse to think of yourself as a hero - but your soldiers who all made it out alive and your team agree, you truly are an American Hero!"

"I am humbled and touched by the attention that I have been given, "said Col. Mike Morgan. "This honor rightfully belongs to the men and woman who work tirelessly behind the scenes to support the troops. It is a total team effort from aviators, to maintainers, to supply and with our industry partners; everyone is part of this team."

The original painting has been donated to the 82nd Airborne museum in Ft. Bragg, North Carolina for display and was received at the ceremony by Col. T.J. Jamison. Signed and numbered lithographs will be presented to members of Col. Morgan's squadron, with the balance being given members of the unit and attendees at AAAA.

With more than 750,000 fleet combat hours, the OH-58D Kiowa Warrior is a combat-proven aircraft that is safe, rugged and reliable, maintaining the highest readiness rate of any Army helicopter operating in Afghanistan while simultaneously having the highest operational tempo.

The OH-58 Block II under development by Bell Helicopter at no cost to the US government, provides a cost efficient alternative for the U.S. Army and U.S. taxpayer, and will demonstrate Bell Helicopter's ability to meet or exceed all performance requirements for the Army's Armed Aerial Scout.

About Bell Helicopter
Bell Helicopter, a wholly owned subsidiary of Textron Inc., is an industry-leading producer of commercial and military, manned and unmanned vertical lift aircraft and the pioneer of the revolutionary tiltrotor aircraft. Globally recognized for world-class customer service, innovation and superior quality, Bell's global workforce serves customers flying Bell aircraft in more than 120 countries. More information is available at www.bellhelicopter.com.

About Textron Inc.
Textron Inc. is a multi-industry company that leverages its global network of aircraft, defense, industrial and finance businesses to provide customers with innovative solutions and services. Textron in known around the world for its powerful brands such as Bell Helicopter, Cessna Aircraft Company, Jacobsen, Kautex, Lycoming, E-Z-GO, Greenlee, and Textron Systems.

Bell Helicopter
OH-58 in

US Army Aviation
Bell OH-58D Kiowa Warrior
First U.S. Female Military Pilot Killed in Action