New Avionics for Brazilian Army Fennec and Panther


Rockwell Collins signed a 3-year contract to deliver multi-function displays and digital radios for the Brazilian Army Fennec and Panther fleet
FIDAE 2018

Rockwell Collins, April 04, 2018 - SANTIAGO, Chile - Rockwell Collins has signed a contract with the Brazilian Army Aviation Command to service avionics equipment for the country's fleet of Fennec and Panther helicopters.

The three year agreement includes local support for Rockwell Collins' MFD-255EF Multi-Function Displays, HF-9087D High Frequency (HF) Receiver and Transmitters, as well as Talon RT-8200 digital radios that are part of a modernization program currently underway.

"With this agreement, the Brazilian Army will see quicker repair times since equipment won't have to be sent abroad," said Marcelo Vaz, managing director for Rockwell Collins in Brazil. "Providing service locally is ideal to meet the needs of our customers in Brazil, especially as we continue to increase our presence in the region."

Rockwell Collins has been providing service to Brazil for more than 40 years, supporting Brazilian military and civil aircraft operators and manufacturers through the company's São José dos Campos facility.

About Rockwell Collins: Rockwell Collins (NYSE: COL) is a leader in aviation and high-integrity solutions for commercial and military customers around the world. Every day we help pilots safely and reliably navigate to the far corners of the earth; keep warfighters aware and informed in battle; deliver millions of messages for airlines and airports; and help passengers stay connected and comfortable throughout their journey.

As experts in flight deck avionics, cabin electronics, cabin interiors, information management, mission communications, and simulation and training, we offer a comprehensive portfolio of products and services that can transform our customers' futures.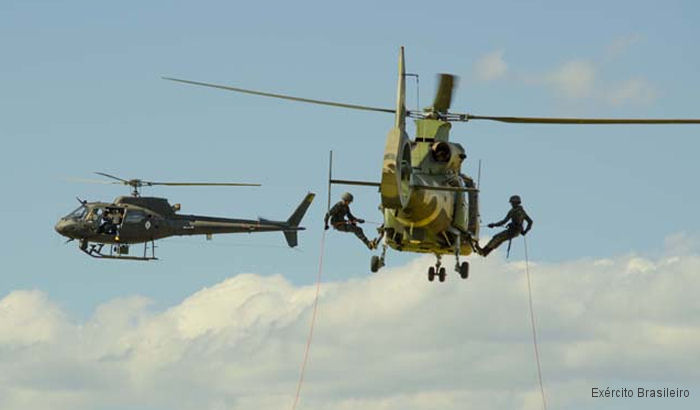 This article is listed in :
Aerospatiale AS565AA Panther in

Comando de Aviação do Exército
Eurocopter HB350BA Esquilo in

Comando de Aviação do Exército
Aerospatiale HB350B Esquilo in

Comando de Aviação do Exército

Rockwell Collins
--Helicopters Avionics