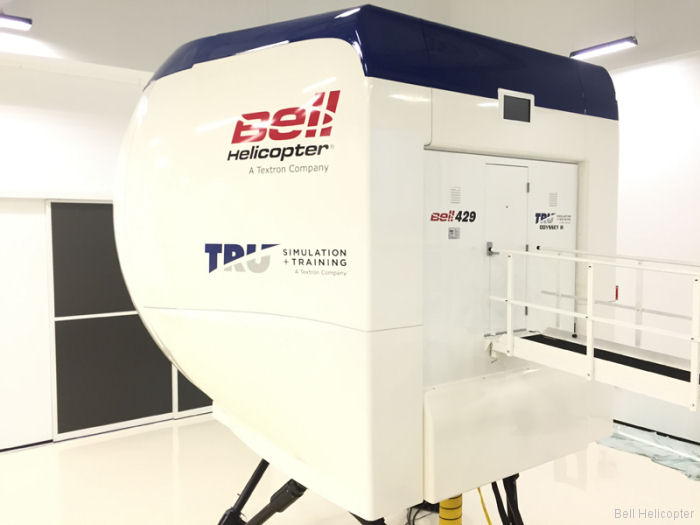 Bell Helicopter, October 12, 2016 - Helitech, Amsterdam – Bell Helicopter and TRU Simulation + Training Inc., both Textron Inc. companies, today announced new updates in their continued progress with their training center in Valencia, Spain - continuing to meet commitments to bring a regional training solution to Europe.

The Bell Helicopter Training Academy (BTA) – Valencia, Powered by TRU Simulation + Training is designed to serve the training needs of European customers, beginning with pilot training on the Bell 429. Training will be conducted through a full flight simulator (FFS) designed and produced by TRU Simulation + Training.

BTA-Valencia is on track to be operational by the end of the year. The Bell 429 simulator has arrived in Spain and is currently undergoing reassembly and final preparations for its certification by the European Aviation Safety Agency (EASA). Additionally, BTA-Valencia instructors have completed their necessary training for the 429 with both the Bell Helicopter Training Academy and EASA.

"We are extremely pleased with the progress we are making with our training academy in Valencia. We have received a significant amount of interest from a variety of world-wide operators, with training contracts in process in Europe, the Middle East and Latin America," said Ray Lamas, general manager, Global Customer Training at Bell Helicopter.

BTA-Valencia instructors each have more than 5,000 hours of helicopter experience across multiple platforms. The instructors additionally bring English, French, Spanish and Italian language capabilities to the facility.

"Our instructors are currently onsite in Spain preparing the training center for our customers," added Lamas. "We are preparing for completion by year-end with regularly scheduled classes starting in January 2017."

"TRU and Bell Helicopter are hard at work qualifying the world's first Bell 429 full flight simulator to bring true-to-life training closer to home for worldwide 429 customers, especially those in Europe, the Middle East and Africa," said David Smith, vice president of TRU's Training Centers.

With more than 70 Bell 429 aircraft operating across Europe, the platform continues to demonstrate superior performance. The Bell 429 is one of the most advanced light twin helicopters developed, offering a fully integrated glass cockpit with advanced drive system and best-in-class WAAS navigation and IFR capability.

The Bell 429 FFS will be the first-ever Bell 429 Level D simulator with FAA and EASA qualifications for pilot training. TRU Simulation + Training will employ its new ODYSSEY™ H FFS design, developed especially for the unique training requirements and needs of the helicopter pilot. The ODYSSEY H utilizes TRU Simulation + Training's state-of-the-art, ultra high definition visual system with a 240-degree horizontal by 80-degree vertical field of view and 41 megapixel total system resolution visual display. The ODYSSEY H also utilizes primary and secondary motion systems, and features a roll-on/roll-off capability, which allows the simulator to be reconfigurable for other helicopters.

The simulator flight compartment is an exact replica of the Bell 429 cockpit, from forward of the pilot's anti-torque pedals to aft of the pilot seats. All controls, panels, instruments, avionics, equipment and furnishings will be identical in appearance, feel, location and operation to those of the actual aircraft. It will respond exactly like the aircraft in all flight conditions (day, night, VFR, IFR and NVG) as well as accurately simulate malfunctions and emergency procedures.

Training has been an integral part of Bell Helicopter's customer support and services program for more than 65 years. The company has trained more than 140,000 customers from every market segment in more than 135 countries throughout the world.

Known for its industry-leading customer support, Bell Helicopter provides its customers with local support in every corner of the world and has the largest support network in the industry with more than 100 Authorized Customer Service Facilities in 34 countries. Bell Helicopter is committed to having resources where customers operate to speed up delivery of service and support, and gives customers access to service professionals that are easy to reach, know the operating environment and understand their needs.

About TRU Simulation + Training: TRU Simulation + Training Inc., a Textron Inc. (NYSE: TXT) company, delivers innovative, total aviation training solutions to the commercial and military markets while providing superior technical support and customer service. Headquartered in Goose Creek, S.C., the company is known for its high-fidelity training devices, pilot and maintenance training, military mission training, and aviation training services and support.

BTA

Bell Helicopter Training Academy
Bell Helicopter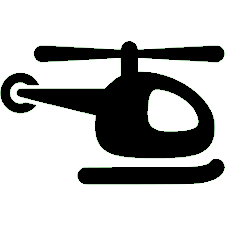 Helicopters Flight School - Training Civilian
Bell 429