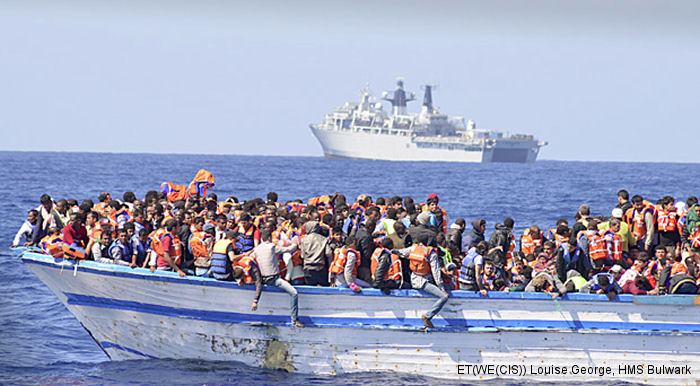 Royal Navy, May 29, 2015 - Nearly 370 people – 50 of them children – were saved by HMS Bulwark in her third rescue of migrants in the Mediterranean.

The lifesaving incident was one of five being played out at the same time off the Libyan coast as Europe's navies responded to the humanitarian crisis.

JOSTLING for space in their dangerously-overcrowded wooden craft, 369 refugees await imminent rescue by HMS Bulwark – the first of five boatloads of migrants saved in an international effort yesterday.

The assault ship put five of her eight landing craft – each converted into a rescue boat, loaded with lifejackets, medical facilities and emergency supplies – to save one group of migrants, including 50 children, from one boat located off the Libyan coast.

Once they were safely aboard the amphibious assault ship – whose cavernous vehicle deck has been turned into a 'survivor reception facility' where food, water, medical assistance, clean clothes and bedding are available – Bulwark prepared to receive 378 more migrants picked up by German frigate FGS Hessen and the Irish Navy corvette LÉ Eithne.

In all, there were five 'Safety of Life at Sea' (SOLAS) incidents running at the same time yesterday in the Mediterranean, involving British, Italian, German and Irish naval forces who are committed to the international lifesaving mission, codenamed Operation Weald by the UK.

"Just seeing the young children being rescued from such a dangerously-overcrowded boat is quite shocking," said Cdre Martin Connell, Commander of the UK Amphibious Task Group, whose staff are directing Operation Weald.

"Their wooden boat was sitting so low in the water as to be almost invisible to passing ships – they are lucky we found them."

"The co-operation between British, Italian, German and Irish warships was exceptional."

Bulwark's Commanding Officer Capt Nick Cooke-Priest said yesterday's rescue presented "a very different challenge" from the previous ones his ship had carried out.

"It required very careful consideration for the nature of the vessel, the prevailing sea conditions, and that she was severely overloaded."

"My sailors and Royal Marines have once again demonstrated great skill, sense and adaptability, and have carried out the task with complete success.

"I have no doubt that we have again saved hundreds of lives, some horrifyingly young."

With 747 migrants aboard, his ship is now heading north to a port designated by the Italian authorities so those rescued can be safely disembarked.
Location :

Central Mediterranean

HMS Bulwark ( L15, Albion class )


Fleet Air Arm
Royal Navy
Operation Weald