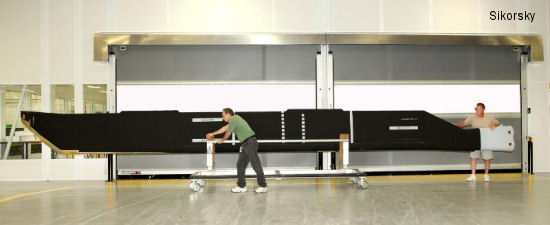 Sikorsky, October 31, 2013 - STRATFORD, Conn. - Sikorsky Aircraft has successfully completed the initial phase of testing for the first-ever main and tail rotor blades manufactured for the U.S. Marine Corps' CH-53K heavy lift helicopter program.

Designed specially to help meet the Marine Corps requirement to lift the aircraft's maximum gross weight of 88,000 pounds, the all-composite blades are the largest and most technologically advanced ever produced by Sikorsky, a subsidiary of United Technologies Corp.

"These new blades are an important feature of the CH-53K helicopter's ability to lift almost three times the payload compared to the CH-53E Super Stallion™ aircraft it will replace later this decade," said Mike Torok Sikorsky's CH-53K Program Vice President. "Advanced geometric shaping, high strength composite materials and a flaw tolerant design all come into play to provide unmatched performance, reliability, and survivability."

At 35 feet span length, and almost three feet chord width, the CH-53K main rotor blade has 12 percent more surface area than the CH-53E blade. A 4th generation aerodynamic design developed by Sikorsky adds unique airfoils, twist and taper to the new blade so as to accommodate 71 percent greater power generated by the CH-53K aircraft's three 7,500-shaft-horsepower GE38-1B engines.

Included in the span length is an advanced blade tip to improve hover performance, and a composite cuff attachment feature that will allow maintainers to quickly attach each of the seven CH-53K blades directly to an elastomerically-articulated titanium rotor head without the need for specialized tools or multiple redundant fasteners. When attached to the nearly nine-foot-diameter main rotor hub, the blade radius extends to 39.5 feet.

The four 10 ft. long CH-53K tail rotor blades have 15 percent more surface area compared to the same tail rotor blades on the CH-53E helicopter. On the CH-53K aircraft, the tail rotor blades collectively produce as much thrust as the main rotor blades on Sikorsky's 11,000-pound S-76™ helicopter.

Both main rotor blades and tail rotor blades are now undergoing qualification testing at Sikorsky's Stratford, Conn., headquarters. Tests completed to date include spinning of the blades on whirl towers to measure balance, and initial fatigue tests to determine structural strength. Blade qualification testing will continue over several years to include stress and fatigue tests, and additional whirl tower testing to validate aerodynamic stability, tip deflection, and rotational twist along each blade's length.

This first set of blades will be attached to the CH-53K Ground Test Vehicle at Sikorsky's Developmental Flight Center in West Palm Beach, Fla. Marine Corps pilots and Sikorsky test engineers will spin the blades on the GTV as part of the Shakedown Light-Off, a term used to describe the test of engines, transmissions, and blades running together for the first time.

Sikorsky began fabricating composite rotor blades in the early 1970s for the UH-60 BLACK HAWK helicopter. Composite blades made by Sikorsky are flaw tolerant to ensure that any small anomalies present in the blade during its initial fabrication will not grow into larger problematic anomalies.

The 4th generation blade design is part of a long chain of Sikorsky rotor systems innovations and investment to improve blade aerodynamics.

Sikorsky Aircraft Corp., based in Stratford, Conn., is a world leader in helicopter design, manufacture, and service. United Technologies Corp., based in Hartford, Conn., provides a broad range of high technology products and support services to the aerospace and building systems industries.
CH-53K King Stallion in

Sikorsky Helicopters