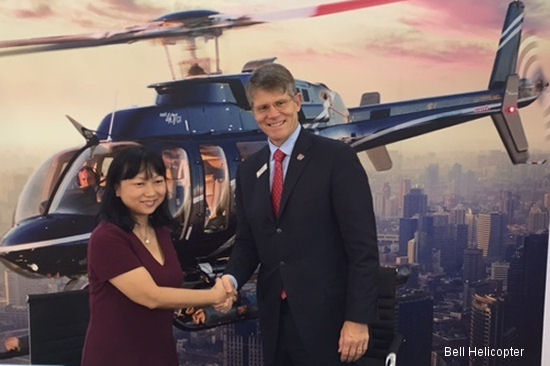 Bell Helicopter, November 26, 2014 - FORT WORTH, TEXAS – Bell Helicopter, a Textron Inc. company, continues to expand its regional presence in China, announcing it secured purchase agreements for the sale of 61 new helicopters at Airshow China in Zhuhai, China.

"The energy at the airshow was palpable," said Chris Jaran, Bell Helicopter's managing director and vice president, China. "Customers were clamoring to get a look at the Bell 505 and the Bell 525 mock ups, which made their debut here in China at the show. However, the interest didn't stop there — customers signed purchase agreements for 53 Bell 505 aircraft as well as eight Bell 407GX aircraft."

In addition to showcasing the Bell 505 Jet Ranger X™ and Bell 525 mock ups in the booth, Bell Helicopter also had the popular Bell 407GX on static display.

During the course of the show, the company also introduced Mr. Dean Ashton, as the company's newest member of the Customer Support and Services team in China and provided updates on their efforts to develop pilot and technician training in the region.

The full recap of signings Bell Helicopter completed during the show includes:


Hunan Jiucheng General Aviation Corporation – (1) 407GX

Guangdong Daohe General Aviation – (1) 407GX

General Aviation Services of Hunan – (2) 407GX

Aerochine Aviation, Ltd. – (2) 407GX

Reignwood Investment, Co., Ltd. – (50) Bell 505

Shenzhen Xingmei New Energy Vehicle Co., Ltd – (1) Bell 407GX

Gansu Ruilan – (1) Bell 407GX

Harbin Haotian General Aviation – (1) Bell 505

Ya Meng Capital Management – (1) Bell 505

Hubei Hayoi – (1) Bell 505

Prior to Airshow China, current Bell Helicopter customers had the opportunity to learn more about the Customer Support and Services offerings and to meet representatives from Turbomeca, Garmin and Rolls-Royce at the Maintainers and Operators Conference.

"Attending the Maintainers and Operators Conference is always a beneficial experience," said Steve Woolston, director Product Support. "We have the opportunity to hear from our customers first-hand about how the aircraft is performing, what we are doing well in terms of support and service and how we can better support them. These conferences provide a great opportunity for us to listen to our customers and better understand their needs."

"Bell Helicopter's success at the airshow is reflective of our growing presence in the region," continued Jaran. "That success is due, in part, to the versatility of our aircraft, which allow our customers to complete multiple missions with the same aircraft, and our ongoing commitment to service and support after the sale."

About Bell Helicopter: Bell Helicopter, a wholly owned subsidiary of Textron Inc., is an industry-leading producer of commercial and military, manned and unmanned vertical-lift aircraft and the pioneer of the revolutionary tiltrotor aircraft. Globally recognized for world-class customer service, innovation and superior quality, Bell's global workforce serves customers flying Bell aircraft in more than 120 countries.

Bell Helicopter

Reignwood