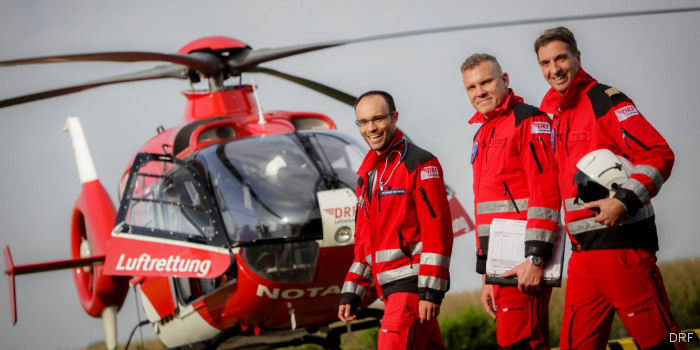 DRF Luftrettung, April 21, 2021 - 2006 was a special year for most Germans: while football fans were looking forward to the World Cup with friends, the DRF Luftrettung took over the operation of the air rescue station in the city on the Elbe.

Christoph 36 has now been red and white for 15 years and during this time has made a decisive contribution to saving the lives of numerous people .

"We are often called to traffic accidents on the A2 and A14," explains station manager Marco Cramme, "but it also happens time and again that we fly to the Brocken to help." The pilot has been on duty in Magdeburg since 2010 and is pleased about the wide acceptance in the population . "We are repeatedly told that the people of Magdeburg see the Christoph 36 as 'their' helicopter and that's exactly how it should be. That people know: If necessary, our crews are there for them," says Marco Cramme.

The corona pandemic also makes everyday work more difficult for the three pilots and the medical crew, but: "Our hygiene regulations were already very strict before Corona, and dealing with potentially infectious patients was nothing new for us. So we didn't have to change much internally," explains station manager Cramme,

"but of course we very much regret that nobody has been able to visit us for more than a year. Before Corona, groups from schools and kindergartens came to us regularly. And the children's hospital concert, which we are very happy to support, has not been able to take place since 2020."

Since no celebration can take place on site this year due to Corona, Marco Cramme came up with something special. "If nobody can come to us, then we meet digitally with those who want to talk to us," says Marco Cramme. This means that interested parties can exchange information live with the pilot on April 22 from 7 pm on the Facebook and YouTube channels of the DRF Luftrettung.

"We welcome every question, comment and suggestion," says the 52-year-old station manager. "Exchange is fundamentally important to us and fortunately we also experience many positive stories that we are happy to share with the public."

The Magdeburg rescue helicopter is primarily requested for medical and surgical emergencies . Due to the proximity to the A2 and A14 motorways, but also to the various federal highways, traffic accidents are often part of the range of applications.

Between 1992 and 2006, the Federal Police provided air rescue services in Magdeburg with different types of helicopters, most recently with a Bell UH 1 D and a BO 105. Commissioned by the Saxony-Anhalt Ministry of Labor and Social Affairs, the DRF Luftrettung took over the operation of the station in April 2006 . First, an EC135 was put into service. An H135 helicopter has been used since 2017.
Location :


Klinikum Magdeburg


List of Air Medical Ambulance Services


Christoph 36 (DRF)
DRF Luftrettung
German air rescue
EC135 in

DRF Luftrettung