Devon Air Ambulance Safety Measures Against COVID-19


Devon Air Ambulance two EC135 helicopters resuming air operations after introduction protection measures for patients and aircrew against Coronavirus (COVID-19)

Devon Air Ambulance, May 06, 2020 - Devon Air Ambulance is resuming air operations after the successful introduction of several innovative new aviation solutions, which means we can now provide greater protection for our patients and aircrew against Coronavirus.

A new separation screen has been installed between the front and rear sections of the aircraft, which partitions-off the pilot cockpit from the patient treatment/paramedic area. Our aircrew will also now be able to use newly designed throat microphones when they need to wear Level 3 PPE respirator masks in-flight which will improve internal and external communication.

Lastly, a new bracket has been designed which will enable a full-face visor to be worn on our aviation safety helmets. This will provide the ability for our clinicians to wear the required Level 3 PPE when carrying out medical procedures which carry a greater risk of transmitting Coronavirus.

"Today marks the culmination of lots of hard work by our teams to address the challenges that led us to ground the aircraft at the end of March, said Ian Payne, Flight Operations Director at Devon Air Ambulance. These new modifications have been rapidly developed in collaboration with industry partners and approved for use by EU and UK aviation authorities, which demonstrates how we are all working together to collaborate and innovate during these difficult times."

Ian went on to add: "We would like to extend our thanks to Babcock Marine at Devonport Dockyard, Babcock Mission Critical Services Onshore in Gloucester and Headset Services Limited for all their support in getting these modifications in place in our EC135 helicopters that will help us and other Air Ambulances better meet the challenges of operating during Coronavirus."

From today, the Exeter-based aircraft will once again be taking to the skies over Devon responding to patients from 7am to dusk every day. As a first step, we will be deploying to patients by air, treating them on scene and then assisting local crews to convey patients to hospital by land ambulance.

Nigel Hare, Operations Director said: "It's clearly great news for Devon that we can restart our air operations and over the coming days and weeks we will carry out a phased reintroduction of our service. It's important that we do this in a measured way, as our clinicians reinstate more advanced medical treatments whilst operating with new aircraft modifications and wearing in flight the PPE necessary to safeguard our patients and themselves from Coronavirus.

Even as we start to resume air operations, our paramedics will still be responding to patients by Critical Care car, with at least one car operational throughout the day in addition to the aircraft. As the Exeter-based aircraft goes offline at dusk, that crew will move into a Critical Care car ensuring we can still deliver our full critical care capabilities until 2am every day.

You may also see our Eaglescott aircraft flying as we use this time to carry out more training and simulation so that all our teams are well-prepared to continue moving forward to meet the challenges of operating at this time."


Helicopter ambulance new equipment

May 4, 2020 - This week marks the culmination of several weeks of very hard work and collaboration as we begin training flights and simulation with new equipment which will enable our helicopters to respond to emergency calls whilst fully safeguarding our patients and aircrew.

Our new separation barrier is now fully fitted enabling us to separate the cockpit from the patient treatment area, therefore protecting patients, pilots and clinicians. In addition, new microphone kits are also being tested enabling clear communication for everyone on board. This microphone is worn around the neck (above the larynx) and picks up sound which in turn feeds into the helicopter comms system.

The final vital new piece of Personal Protective Equipment is our full face visors - Babcock Marine (in Plymouth) have designed a bracket to be secured to aviation helmets allowing full-face visors to be fitted and worn. This means our aircrew will be protected when undertaking AGPs such as CPR, intubation and other procedures to safeguard a patient's airway, as recommended by Public Health England.


Devon Air Ambulance stands down aircraft

March 30, 2020 - Devon Air Ambulance will temporarily be responding to patients solely by critical care car, but its critical care paramedics will still be able to respond to patients with their specialist skills and equipment.

Heléna Holt, CEO, explains: Standing down our aircraft has been a very difficult decision for us to make but one we have had to take in order to protect all of our crew.

She added: "Whilst the paramedics can wear personal protective equipment (PPE) when treating and conveying patients, our pilots cannot operate the aircraft wearing PPE. They also cannot maintain a 2-metre distance between them and the patient. As we have no way of knowing whether a patient has Coronavirus, this leaves them completely exposed within a small, confined space of the helicopter. We hope our community will understand that this is an unacceptable risk.

"Please be assured that this is a temporary measure and subject to continual review. We are working with colleagues in the NHS to identify other ways in which we can support patient care as the response to the pandemic develops.

"I would like to thank all of our supporters not just for the donations, but also for their messages of support during this extremely challenging time. Despite the pandemic, we will do our best to continue delivering lifesaving care to patients, albeit by road not air."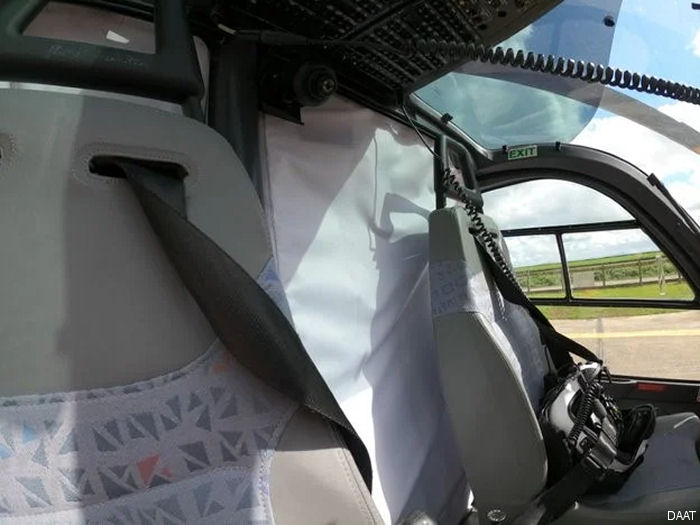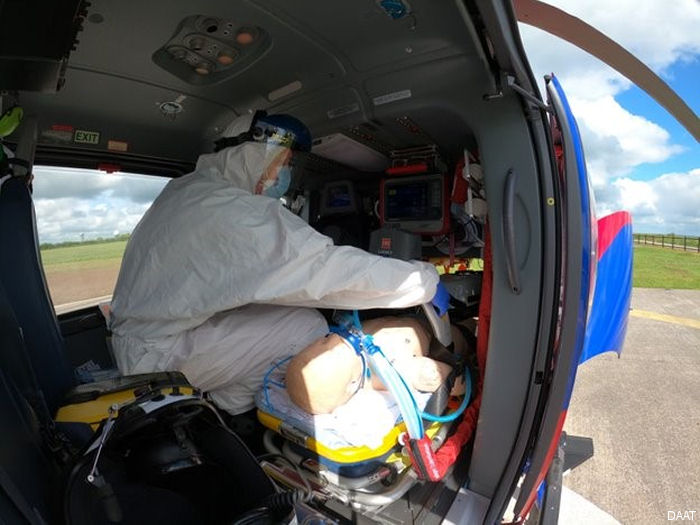 This article is listed in :
List of Coronavirus outbreak
DAAT

Devon Air Ambulance
UK Air Ambulances
Eurocopter EC135 in

UK Air Ambulances

Exeter