Cyclone Idai Relief Flights in Mozambique


The Airbus Foundation provided helicopters for relief flights in Mozambique after Cyclone Idai hit. French Navy helicopter carrier Tonnerre deployed to the region

Airbus Helicopters, March 30, 2019 - In support to Mozambique dramatically hit by the Cyclone Idai in March 15th, the Airbus Foundation supported their partner IFRC ( International Federation of Red Cross and Red Crescent Societies, the world's largest humanitarian organization ) to transport relief items and people from Disaster and Crisis Department.

Savannah provided 10 helicopter flight hours donation with an AS350B3.

Mercy Air provided 90 flight hours to transport food and humanitarian goods and for emergency distribution with an AS350B2.

An estimated 483,000 people have been displaced in central Mozambique by cyclone Idai.

The cyclone made landfall on the evening of 14/15 March near the city of Beira, Mozambique's fourth largest city with a population of over 500,000. Aid workers are worried about the health risks with pools of stagnant water that could become perfect breeding grounds for mosquitoes.


---
Toulouse, France - The Airbus Foundation and IRFC have sent 26 tonnes of emergency goods from Geneva, Switzerland, to Maputo, Mozambique, using an Airbus A330neo test aircraft.
The relief equipment, provided by the Swiss Red Cross and the Swiss Agency for Development and Cooperation, consists of water, sanitation and hygiene equipment as well as shelters. The goods will be transported to Beira, Mozambique, taking much needed relief to the survivors of cyclone Idai.
"We are very saddened by the devastation and losses caused by the cyclone Idai and stand with the people of Mozambique during these incredibly difficult times," said Guillaume Faury, President Airbus Commercial Aircraft and member of the Airbus Foundation Board of Directors. "Providing humanitarian support in the delivery of critical assistance is at the core of the Airbus Foundation's mission and we hope that our contribution helps in bringing faster relief to the affected families and communities."
The aircraft departed from Geneva on the evening of 25 March and landed at Maputo International Airport on the morning of 26 March. The relief items will be distributed through the Mozambican Red Cross supported by IFRC relief teams on the ground.
About the Airbus Foundation: The Airbus Foundation, chaired by Tom Enders, CEO of Airbus, includes Airbus, Airbus Helicopters and Airbus Defence and Space as founding and contributing members. It is the company's vehicle for corporate philanthropy, using the group's resources, aeronautics and space products, competencies, diverse workforce and culture for driving innovation to address societal issues. In particular, the Foundation supports the global humanitarian community and inspires and prepares young people for the challenges of tomorrow. Since its launch in May 2008, the Airbus Foundation has facilitated more than 60 relief or goodwill flights to numerous destinations around the globe.
The French Navy desployed amphibiuous assault helicopter carrier Tonnerre to transport humanitarian aid to Mozambique.
Mozambique Cyclone Idai Mercy Air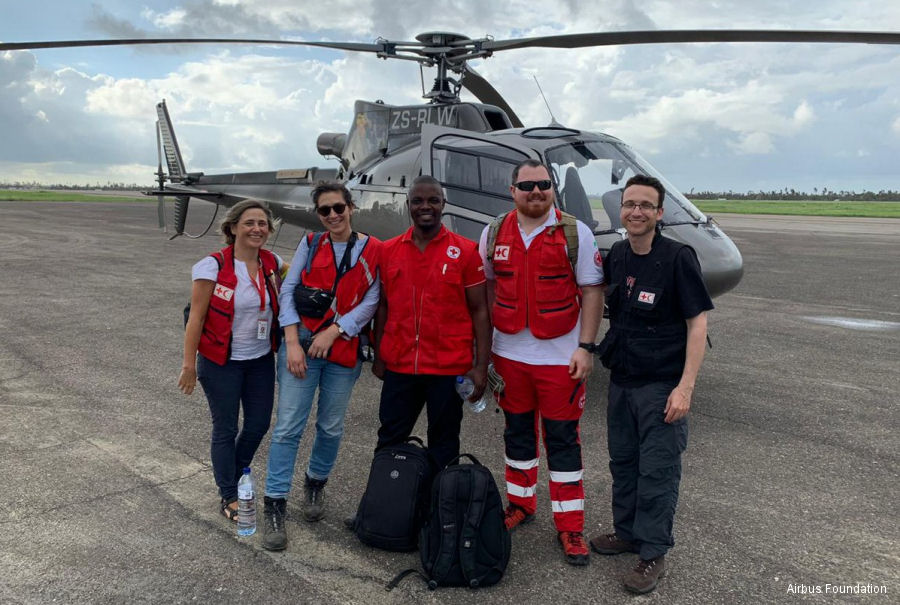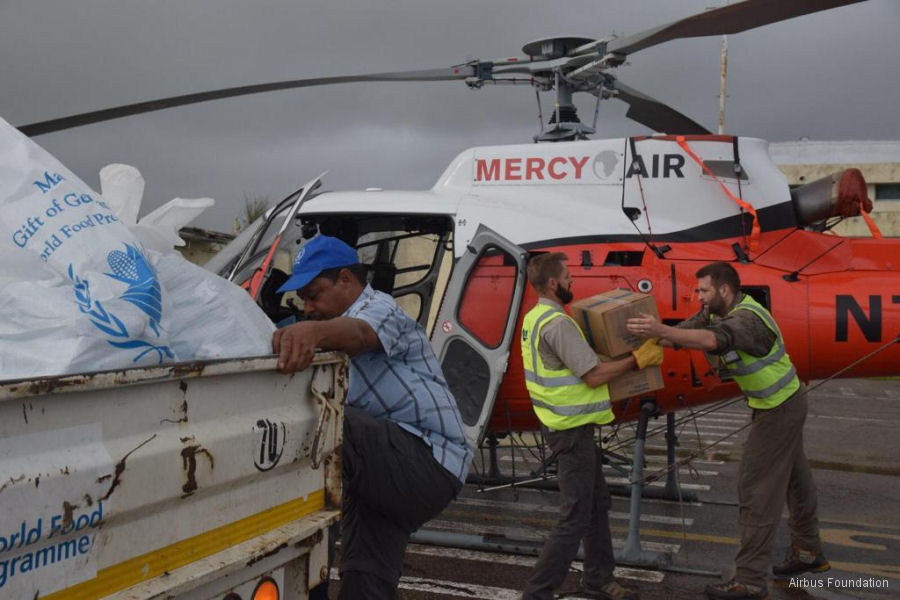 Aircraft mentioned in this article :
Eurocopter AS350B3 Ecureuil ZS-RLW Aerospatiale AS350B Ecureuil N775MA Aerospatiale SA342M Gazelle 3548

This article is listed in :
AHF

Airbus Foundation
Airbus Helicopters France

Mercy Air

Tonnerre ( L9014, Mistral class )


Maputo Intl