AW169 Pegasus Naming Ceremony


Leonardo Helicopters in Yeovil host January 11 the Pegasus Naming Ceremony of new AW169 for the Dorset and Somerset Air Ambulance

Dorset and Somerset Ambulance, January 16, 2018 - Having announced that our AW169 helicopter was to be named 'Pegasus' following a competition last year, we were delighted to be able to hold an event last week, where the name of the aircraft was formally unveiled.

Kindly hosted by Leonardo Helicopters in Yeovil, the event gave the Charity an opportunity to showcase the aircraft and inform guests of its vision and mission both from a clinical and aviation point of view.

Geoff Munday, Managing Director of Leonardo Helicopters began proceedings by welcoming the audience, before Roger Morgan, Chairman of Trustees for Dorset and Somerset Air Ambulance responded by thanking all those who support the Charity and have helped make it so successful.

The 'unveiling' was handed to the Charity's Patrons, Annie Maw (Lord Lieutenant of Somerset) and Angus Campbell (Lord Lieutenant of Dorset). They were joined by Angela Andrews, Deborah Fear and Poppy Holt who were three of the winners of a competition which was launched to find a suitable name.

Also in attendance were the young winners of an art competition which the Charity ran alongside the naming competition. Each of them were extremely proud and excited to have their photograph taken standing next to an enlarged version of their winning entry.

Bill Sivewright, Dorset and Somerset Air Ambulance Chief Executive Officer took to the stage and congratulated the winners before giving a review of the Charity's vision and the key milestones reached since our formation in 2000.

Clinical Lead, Dr. Phil Hyde continued proceedings and talked about the Charity's clinical mission. Phil was then joined by Paul Jelley and Jennifer Molloy; both patients who needed the services of Dorset and Somerset Air Ambulance after being involved in a cycle and horse riding incident respectively.

Finally, Unit Chief Pilot, Mario Carretta spoke about the aviation side of the service, highlighting some of the key facts and differences between flying during the day and at night and commenting on the pilots' appreciation of the new aircraft. The audience then congregated and watched 'Pegasus' lift and fly off into a fantastic sunset, back to its Henstridge airbase.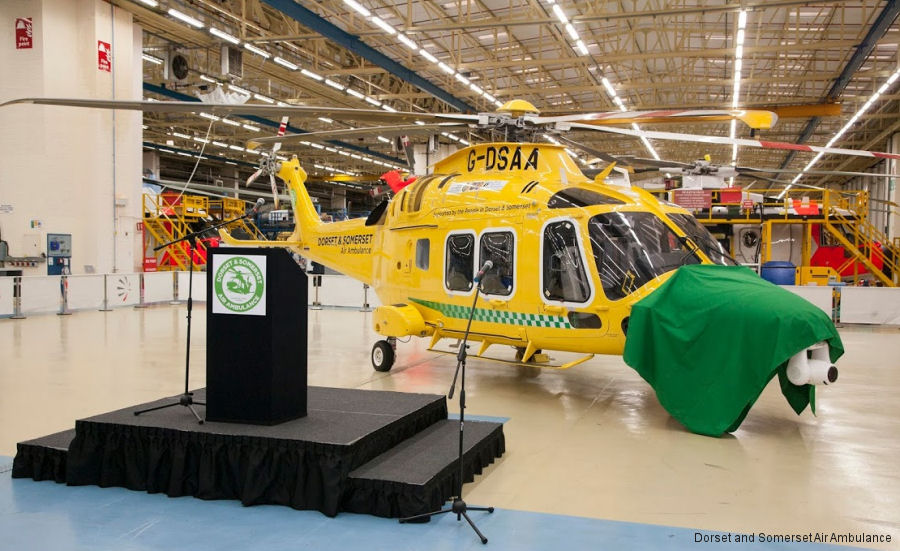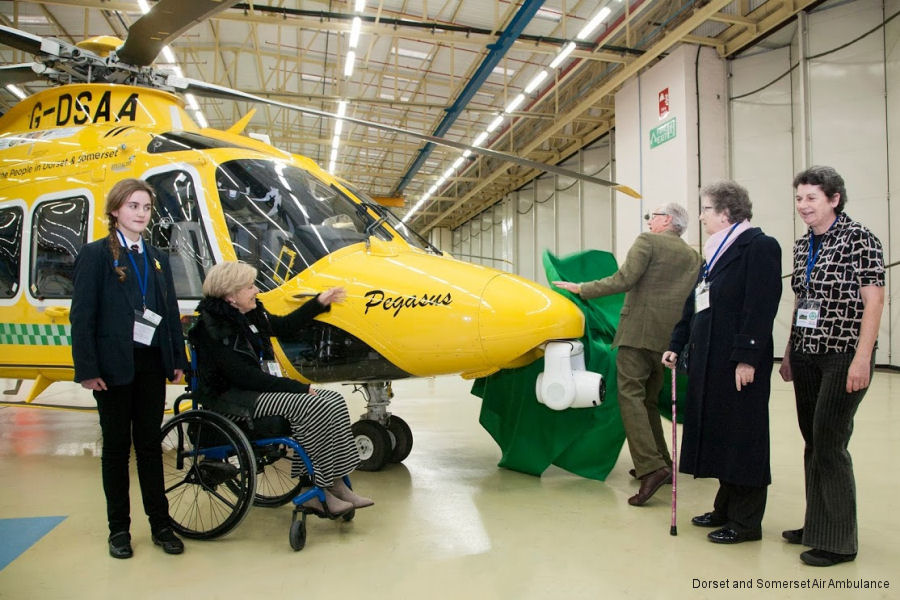 Aircraft mentioned in this article :
AgustaWestland AW169 G-DSAA ( UK Air Ambulances )

This article is listed in :
DSAA

Dorset and Somerset Air Ambulance
UK Air Ambulances
AgustaWestland AW169 in

UK Air Ambulances
AgustaWestland AW169 in

Specialist Aviation Services

Yeovil