DRF Luftrettung flies 95 missions per day in 2013

* Traffic accidents, heart attacks or injured tourists: DRF Luftrettung is alerted every day to provide patients with medical care.



DRF Luftrettung, February 06, 2014 - In 2013 its crews flew a total of 38,180 missions (in 2012: 38,748) from its 31 HEMS bases in Germany, Austria and Denmark and through worldwide repatriations with its ambulance aircrafts.

Approximately 700 emergency physicians, 300 paramedics, 160 pilots and 80 technicians are on duty for DRF Luftrettung. To date the non-profit air rescue organization has flown a total of over 700,000 missions.

Within Germany DRF Luftrettung flew a total of 34,832 HEMS missions. About one third of all emergency missions at its 28 German HEMS bases comprised traffic as well as work or leisure accidents. In addition the crews provided medical care to patients suffering from heart attack or apoplexies (altogether 10% of all emergency missions). The chances of survival espe-cially for patients with the latter disease patterns are greatest if they receive care within the golden hour, the important period of time after a patient's severe injury and its arrival in a clinic. Across Germany, clinics are increas-ingly specializing in treating specific types of illnesses. Since the distances between the patients and clinics are becoming larger, the use of helicopters has a crucial advantage: The helicopters are not only the fastest way to bring an emergency physician to the site, they are also unbeatably fast in transporting emergency patients to specialized hospitals.

Apart from emergency rescue alerts, 24% of German-wide missions in-volved intensive care transports between clinics, e.g. caring for patients with respiratory distress syndrome or patients suffering from specific heart ill-nesses.

At its two HEMS bases in Austria ARA Flugrettung, which belongs to DRF Luftrettung, flew 1,858 missions: Especially in the touristic high seasons in summer and winter, operations in mountaineous areas were frequent. The helicopters based in Tyrol and Carinthia are the only ones in Austria equipped with an installed cable winch which is essential for rescue opera-tions in alpine terrain.

The Danish HEMS base, which had been operated by Falck DRF Luftambu-lance A/S (a joint venture of DRF Luftrettung and the Danish ambulance operator Falck A/S) until the end of 2013, was alerted to 813 missions. At the beginning of 2014 DRF Luftrettung's withdrawal from Denmark was complete, after having laid the groundwork for Danish air rescue. Denmark will now further develop air rescue under its own auspices. The cooperation with Falck A/S at the HEMS base of Niebüll in Northern Germany will re-main unaffected. "Christoph Europa 5" will continue flying cross-border mis-sions to Denmark (in 2013: 69 missions).

Ambulance flights

In the field of world-wide ambulance flights, under the name of EAA (Euro-pean Air Ambulance) DRF Luftrettung together with the LAA (Luxembourg Air Ambulance) repatriated 677 injured or seriously ill patients to their home countries. With their seven ambulance aircraft they flew to 94 countries world-wide. In July 2013 DRF Luftrettung put another aircraft, type Lear 45, into service. Its distinctive feature is a larger cabin, so that two patients can be transported at the same time.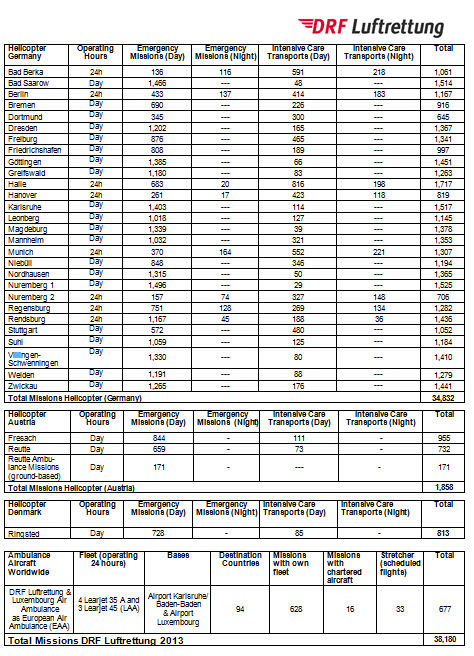 This article is listed in :


DRF Luftrettung
German air rescue