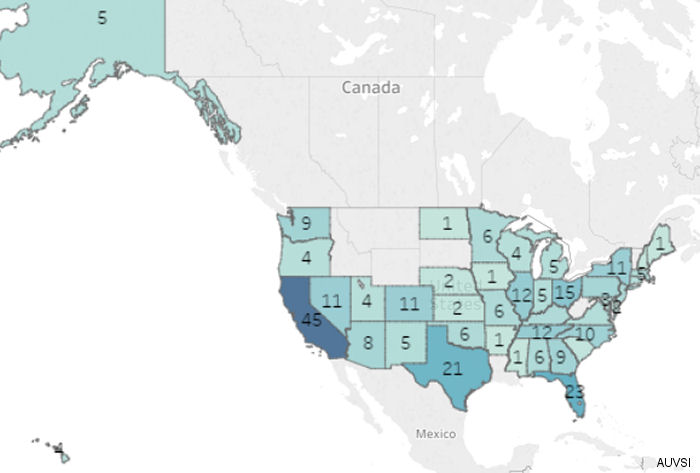 AUVSI, March 23, 2017
- ARLINGTON, Va. – The Association for Unmanned Vehicle Systems International (AUVSI) today released a report that finds nearly 90 percent of the waivers granted by the Federal Aviation Administration (FAA) under Part 107 went to small businesses.
According to the report, most of the waivers allow businesses to operate unmanned aircraft systems (UAS) at night, which is not permitted under the current rule. The report also finds that businesses in 44 states received waivers in the first six months since the rule took effect.
"Whether inspecting infrastructure or surveying crop yields, there is clear evidence that America's small businesses are leading the way in embracing the capabilities and benefits of UAS," said Brian Wynne, president and CEO of AUVSI. "At the same time, UAS regulations can, and should, allow for more expanded operations, such as operations at night or beyond line of sight. This would open up a whole new world for UAS that may one day include package delivery and internet services."
Part 107, also known as the small UAS rule, went into effect on August 29, 2016, creating a uniform regulatory framework for civil and commercial UAS operations. Among the rule's requirements, operators must fly below 400 feet, within visual line of sight and during daylight hours. Additionally, Part 107 established a waiver process to allow businesses to request the FAA to allow them to fly outside the permitted operating standards, if they demonstrate it can be done safely.
So far, the FAA has granted 314 waivers for commercial UAS operators to fly outside the parameters of Part 107. In addition to nighttime operations, the FAA has granted waivers to fly beyond line of sight, use multiple UAS at a single time and conduct flights over people.
The most popular UAS application for the waivers is for aerial photography, representing 84 percent of the granted waivers; followed by real estate (58 percent), aerial inspection (58 percent), construction (52 percent) and infrastructure (51 percent).
"The industry projects to create more than 100,000 jobs and provide more than $82 billion in economic impact once UAS are fully integrated into the airspace. With an expanded regulatory environment, there's no question these numbers could go even higher," Wynne said. "But this can only happen if the government puts in place a true, holistic plan for full UAS integration that allows for nighttime operations as well as flights over people, beyond line of sight operations, access to higher altitudes and platforms above 55 pounds. By allowing these expanded operations, UAS stand to have an even bigger economic impact."
The complete analysis can be found
here
.
The future of commercial UAS operations, including expanded operations, will be discussed at the second annual FAA UAS symposium, co-hosted by the FAA and AUVSI at the Hyatt Regency in Reston, Virginia from March 27 to 29. The symposium will feature discussion on a wide range of issues to help the FAA develop long-term policy on UAS integration.
About AUVSI: The Association for Unmanned Vehicle Systems International (AUVSI) — the world's largest non-profit organization dedicated to the advancement of unmanned systems and robotics — represents more than 7,500 members from more than 60 countries involved in the fields of government, industry and academia. AUVSI members work in the defense, civil and commercial markets.
AUVSI

FAA
Federal Aviation Administration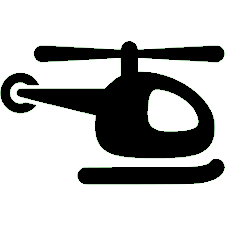 Helicopters UAV & Drones