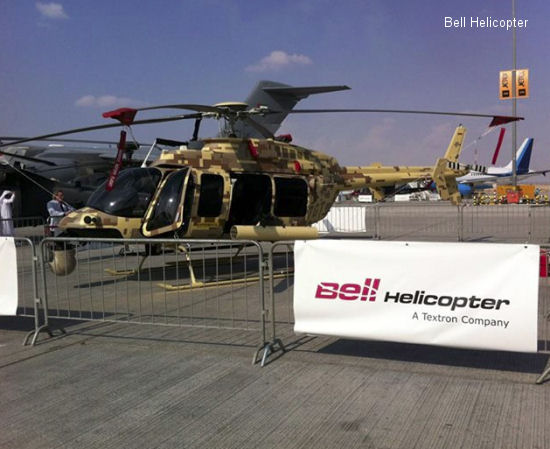 Bell Helicopter, November 13, 2013 - Fort Worth, TX - Bell Helicopter, a Textron Inc. company, will have a strong presence at the 2013 Dubai Airshow, the Middle East's leading aerospace event, held at Dubai World Central November 17-21.

Bell Helicopter will feature a number of commercial and military aircraft on static display, showcasing their outstanding capabilities to meet the unique mission requirements in the Middle East.

"We have spent more than half a century serving the Middle East and this region continues to represent a very important part of Bell Helicopter's balanced business strategy," said John Garrison, Bell Helicopter's president and CEO. "We are looking forward to showing our current and potential customers at the Dubai Airshow what our upgraded and next generation aircraft can do for them."

Six Bell products will be prominently featured at the Dubai Airshow, each uniquely suited for the challenging environment, geography and diverse missions of the region, including three newly upgraded and enhanced commercial aircraft - the Bell 412EPI, Bell 407GT and Bell 429WLG. Also scheduled for static display are three of the world's most advanced military rotorcraft - the Bell AH-1Z, Bell UH-1Y and the Bell-Boeing V-22 Osprey. 2013 marks the debut of the Bell AH-1Z and Bell UH-1Y at the Dubai Airshow.

Bell Helicopter continues to invest in new products and upgrades to chart the future of rotorcraft. At the Dubai Airshow, the company will provide program updates for both commercial and military products, including its two next generation aircraft, the Bell 525 Relentless and Bell SLS.

Bell Helicopter has had a significant presence in the Middle East for more than fifty years, offering its top ranked customer support and service, which has consistently been ranked #1 in leading aviation customer support rankings. At the Dubai Airshow, the company will also share plans for its continued investment in region.

The Dubai Airshow is a biennial event hosting aerospace exhibitors, visitors and media from all over the world. This year, 1,000 exhibitors, 60,000 visitors and up to 1,500 international and regional media are expected to attend. Up to 150 aircraft will be on display at the show, some appearing for the first time in the Middle East.

About Bell Helicopter: Bell Helicopter, a wholly owned subsidiary of Textron Inc., is an industry-leading producer of commercial and military, manned and unmanned vertical-lift aircraft and the pioneer of the revolutionary tiltrotor aircraft. Globally recognized for world-class customer service, innovation and superior quality, Bell's global workforce serves customers flying Bell aircraft in more than 120 countries.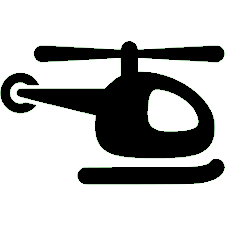 Aircraft mentioned in this article :
UH-1Y Venom 168412 407GX N407GT 412HP HZ-RC08 AH-1Z Viper 168418




Bell Helicopter
VMM-166 Ospreys at 2013 Dubai Airshow
VMM-166 Ospreys at 2013 Dubai Airshow