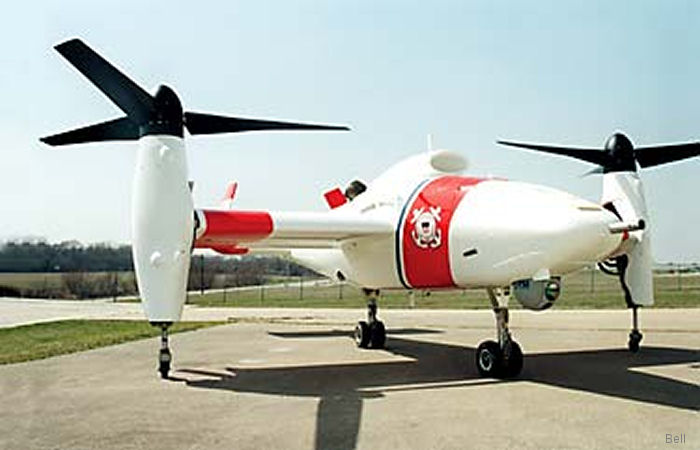 Bell Helicopter, March 08, 2004 - FORT WORTH, TX - The Bell Helicopter Eagle Eye Vertical Take Off and Landing (VTOL) Unmanned Aerial Vehicle (UAV) passed a critical milestone recently within the U.S. Coast Guard s Integrated Deepwater System program, with the highly successful completion of its Preliminary Design Review (PDR), a required deliverable to proceed to the next stage of the contract.

The PDR demonstrated that Eagle Eye will successfully fulfill the U. S. Coast Guard missions. In meeting these mission requirements, the system is well within margins for risk, performance, supportability and cost allocations. The preliminary design of the Eagle Eye is based on the successful demonstrator that flew over 90 hours, and achieved 200 knots in level cruise while carrying 210 pounds of payload at 7/8 the scale of the planned production version.

"This team, and especially Bell Helicopter, met this significant milestone efficiently and with excellent results for the Coast Guard and Integrated Coast Guard Systems," said Gerry Moorman, President of ICGS. "This is a very important milestone within the Deepwater program and we are pleased to be able to turn the page to the next step needed to bring this new capability to reality."

Bell Helicopter is a subcontractor to Lockheed Martin, a partner in Integrated Coast Guard Systems (ICGS), a joint venture of Lockheed Martin (NYSE: LMT) and Northrop Grumman (NYSE: NOC). In June 2002, the U.S. Coast Guard awarded the Integrated Deepwater System contract to ICGS. Deepwater is a critical multi-year program to modernize and replace aging ships and aircraft, and improve or replace command and control and logistics systems. ICGS announced a year ago the Bell Eagle Eye was selected for the VUAV portion of the U.S. Coast Guard s Integrated Deepwater System contract.

The Bell Eagle Eye tiltrotor Tactical VTOL unmanned aerial vehicle is a quantum leap in UAV technology. Traditionally, UAVs have been small fixed wing aircraft requiring either a runway or netting for retrieval. Runways are normally unavailable in the field, and netting has proven to be a very hazardous form of UAV retrieval aboard ship often resulting in serious damage to or destruction of the aircraft and therefore very expensive.

Helicopters have the advantage of being able to takeoff and land nearly anywhere. However, helicopter UAVs do not have the speed and range of fixed-wing UAV aircraft. Further, small, short-coupled tail rotor aircraft may not be stable when going through the landing experience on ships. The Bell Eagle Eye is the perfect solution. With its rotors in the vertical position, the Bell Eagle Eye can takeoff, hover and land like a traditional rotary wing aircraft. By tilting its rotors to the horizontal position the Bell Eagle Eye can fly with the high speed and range of a turbo-prop fixed wing airplane. Also, the counter rotating design provides improved stability through the burble.

Bell, a leader in Systems Integration developed the state-of-the-art, fully integrated redundant flight control system which boasts of highly automated flight control and built-in test software, as well as fully integrated surface mount circuitry.

Using tiltrotor technology, the Bell Eagle Eye System also adds the dimension of speed flexibility to the usual UAV performance parameters. With its rotors tilted forward it can cruise at speeds over 200 knots reducing time to get to an operational area, find moving targets 80-110 nautical miles away in minutes and be easily in-flight re-tasked for another mission. Alternately, it can loiter over a target 100 nautical miles away for four hours. In the hover mode the Bell Eagle Eye can operate from confined spaces, launch and recover automatically from small ships.

About Bell Helicopter: Bell Helicopter Textron, a subsidiary of Textron Inc., is a $2.2 billion, leading producer of commercial and military helicopters, and the pioneer of the revolutionary tiltrotor aircraft. Globally recognized for customer service, innovation and superior quality, Bell's global workforce of over 7,500 employees serves customers flying Bell aircraft in over 120 countries

Textron Inc. is a $10 billion multi-industry company with 44,000 employees in 40 countries. The company leverages its global network of businesses to provide customers with innovative solutions and services in industries such as aircraft, fastening systems, industrial products and components and finance. Textron is known around the world for its powerful brands such as Bell Helicopter, Cessna Aircraft, Kautex, Lycoming, E-Z-GO and Greenlee, among others.
Helicopters UAV & Drones

US Coast Guard

Bell