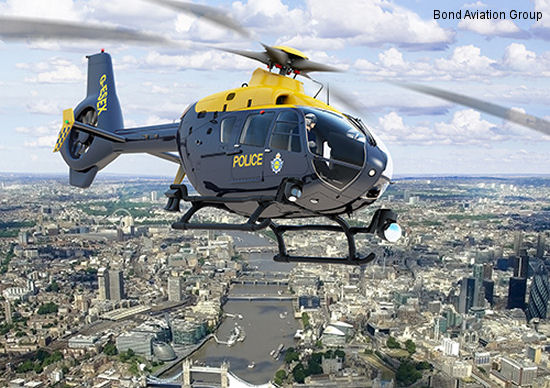 Bond, June 03, 2014 - Bond Helicopters Europe, part of the Avincis Group, has been awarded a multi- million pound contract to install the next generation of missions system equipment into the National Police Air Service (NPAS) fleet.

The work, valued at between £5m and £10m, will see seven EC135T2 helicopters equipped with state of the art camera and mission system technology.

The interior of each aircraft will also be redesigned with touch screen displays and an ergonomic layout, giving the crew more space to work in.

The existing communications systems will be replaced with new integrated technologies, giving enhanced capability to relay crime-fighting information to police officers in the sky, on the ground and at headquarters.

Other new equipment, including powerful search lights and public address systems will also be integrated, ensuring the helicopters remain at the cutting-edge in their roles of supporting critical policing operations across the country.

Avincis CEO for Northern Europe and Asia Pacific, Richard Mintern, said: "This is an important business for Avincis and we are delighted that Bond has been chosen by UK NPAS for this complex upgrade. Our experienced team took an innovative approach to designing and integrating the very best mission systems, which we believe will make a real difference to the helicopters' crime-fighting capabilities.

"We are looking forward to working with NPAS to deliver seven world-class police air assets, supported into the future."

NPAS Accountable Manager, Chief Superintendent Ian Whitehouse, said: "The tendering process was lengthy. This is not just about putting a new camera in an aircraft. It is an entire mission systems upgrade providing a slick and efficient service delivery at value to the taxpayer. I look forward to working with Bond to ensure NPAS is recognised as a world leader in police aviation."

The work will be carried out at Bond's facilities in Staverton, and through NPAS' fleet management it will not impact on the coverage of police helicopters across the country. The upgrades will mean the full NPAS fleet of 22 helicopters operates with the very latest technology, putting criminals on the back foot.

About Bond: Bond is the UK's largest independent emergency and mission critical helicopter operator providing air ambulance helicopter services, police and marine support to offshore wind farms and lighthouses as well as mission critical, search and rescue and energy support services in the North Sea to blue chip oil companies. It is part of the Avincis Group which is the world's leading provider of mission critical aviation services.

Avincis has a global footprint which includes the UK, Spain, Italy, France, Portugal, Ireland, Norway, Australia, Chile and Peru. The Group operates around 350 rotary and 50 fixed-wing aircraft, from 295 bases in ten countries. Avincis employs almost 3,000 people worldwide. The Group is headquartered in London.
EC135 in

UK Police Forces
NPAS

NPAS
UK Police Forces