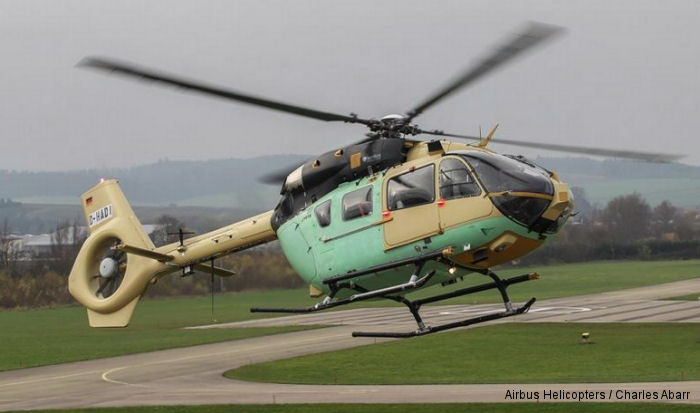 Airbus Helicopters, November 27, 2014
- Donauwörth, Germany - Airbus Helicopters' newest lightweight military multi-role helicopter, the EC645 T2 (LUH SOF), has successfully completed its first flight.
In the presence of representatives of the German Armed Forces (Bundeswehr), which has ordered the first of this new helicopter type, the EC645 T2 demonstrated its capacities at the company's Donauwörth location in Bavaria.
"This first flight is a milestone in the EC645 T2 program and we're thrilled to be able to celebrate this event with our customer," said Ralf Barnscheidt, Head of the German Military Support Center. "We're right on schedule to deliver the first EC645 T2 helicopters in the coming year. This is also a product of the close-knit collaboration between the Airbus Helicopters and Bundeswehr project teams."
The EC645 T2 is the military version of the civil
EC145 T2
that entered into service this past summer. With a maximum takeoff weight of 3.7 tons, the EC645 T2 can be used for a wide range of military operations including transportation, reconnaissance, search and rescue, fire support, and evacuations of wounded personnel. The Bundeswehr has ordered 15 of these helicopters for the German Air Force. The EC645 T2 represents a significant addition to the German Air Force's capabilities and offers a host of features that make it particularly well suited to missions carried out by the Special Forces Command (KSK).
Building on the robustness, low operating costs and the especially high operational availability of the EC145 family, the new EC645 T2 is equipped with the Helionix® digital avionics suite, including the 4-axis autopilot developed by Airbus Helicopters. This aircraft has been optimized for day and night missions as well as for those carried out in treacherous weather conditions. Its mission equipment range also includes a fast roping system for troops, cargo hooks, hoists, various weapons and electro-optical sensors. Ballistic protective equipment and an electronic countermeasures system that detects threats help protect the helicopter and crew. Powered by two Turbomeca Arriel 2E engines, the EC645 T2 is equipped with full authority digital engine control (FADEC). What's more, noise emissions significantly below international limits make the EC645 T2 the quietest helicopter in its class.
The military version of the EC145 has proven its worth to customers around the world. For instance, the US Armed Forces operates more than 300 of this helicopter type, which Airbus Helicopters delivered on time and on budget. These aircraft achieve an operational availability of over 90 percent on average. The Royal Thai Armed Forces recently also ordered five EC645 T2 helicopters.
About Airbus Helicopters: Airbus Helicopters, formerly Eurocopter, is a division of Airbus Group, a global pioneer in aerospace and defense related services. Airbus Helicopters is the world's No. 1 helicopter manufacturer and employs more than 23,000 people worldwide. With 46 percent market share in civil and parapublic sectors, the company's fleet in service includes some 12,000 helicopters operated by more than 3,000 customers in approximately 150 countries. Airbus Helicopters' international presence is marked by its customer centers and participations in 21 countries, and its worldwide network of service centers, training facilities, distributors and certified agents. Airbus Helicopters' range of civil and military helicopters is the world's largest; its aircraft account for one third of the worldwide civil and parapublic fleet. The company's chief priority is to ensure the safe operation of its aircraft for the thousands of people who fly more than 3 million hours per year.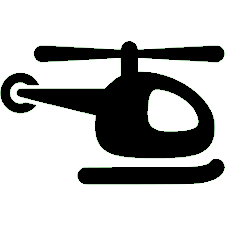 Aircraft mentioned in this article :
H145M D-HADI ( Airbus Helicopters Deutschland GmbH )



Location :

Donauworth
H145M LUH SOF in

Luftwaffe