10,000 Flight Hours for Brazilian Air Force' Caracal


The Força Aérea Brasileira 10 Helibras EC725BR / H225M helicopters, called H-36 Caracal, reaches 10,000 flight hours in 6 years of operations. Eight more are scheduled to be delivered to the FAB

Helibras, September 27, 2017 - São Paulo - Helibras / Airbus Helicopters have reached another milestone in their history.

In just six years of operation with the H225M (H-36) Caracal, the Brazilian Air Force (FAB) completed 10,000 flight hours with the aircraft.

The model is part of the H-XBR contract, signed in 2008, with the Ministry of Defense to supply 50 state-of-the-art helicopters to the Brazilian Armed Forces. 18 aircraft will be assigned to the FAB of which 2 are for the Special Transport Group (GTE, presidential aircraft).

The 10,000-hour mark achieved by the FAB was also made possible due the strong investment of Helibras in the expansion of its Support & Service capabilities in order to keep the helicopters in constant availability.

The aircraft is the second of the Basic Plus version (CSAR).

"We are very happy to reach this milestone. This is an important achievement as a result of the long partnership between Helibras, the Armed Forces and the Ministry of Defense", said Richard Marelli, president of Helibras.

The H225M, configured in the C-SAR version, is equipped with the EWS (Electronic Warfare System) system, as well as a set of auxiliary defense equipment against different threats.

In addition to the night-time capability, is equipped with FLIR and also features the unique PLS (Personnel Locator System) system for precise geo location during rescues, with encrypted information that provides mission-critical security and with in-flight refueling capability to operate at great distances.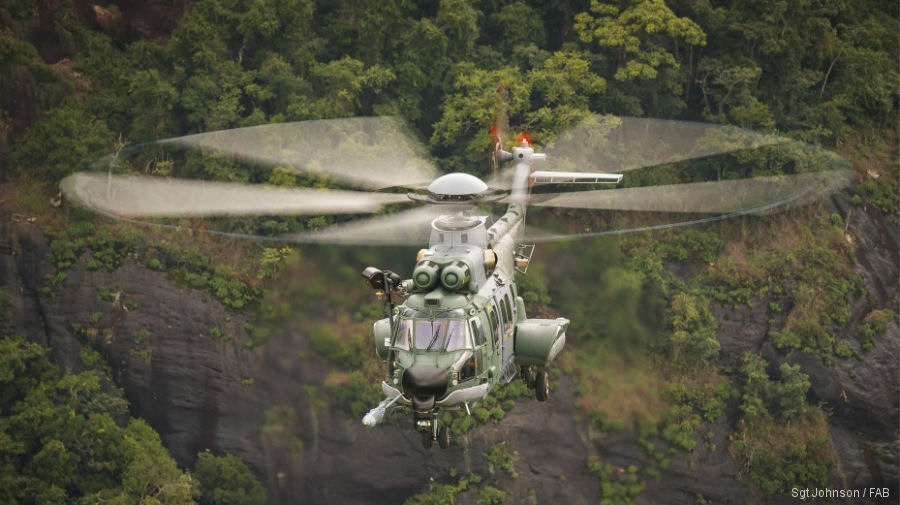 This article is listed in :
Eurocopter EC725 Caracal in

Força Aérea Brasileira
Eurocopter Super Puma/Cougar in

Helibras