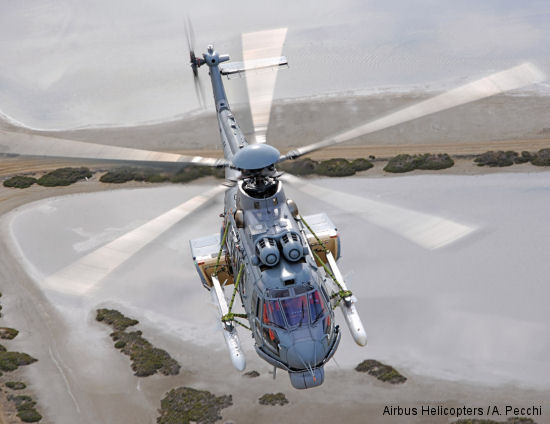 Airbus Helicopters, June 04, 2014 - A specialized team of Helibras and Airbus Helicopters experts tested the Exocet missiles installation on a prototype of the EC725.

These tests evaluated the behavior of the aircraft in critical phases of flight with anti-surface missiles installed on each side of the aircraft.

The performance, quality of flight parameters, and vibration levels were registered and the structural and aerodynamic loads verified.

The helicopter flew with instrumentation sensors and accelerometers installed to capture and record the results that will help engineering teams at Helibras and Airbus Helicopters move to the next steps of systems integration and development on the naval version.
EC725 Super Cougar in

Força Aeronaval da Marinha do Brasil
Super Puma/Cougar in

Helibras
First Stage of Exocet / H225M Integration in Brazil