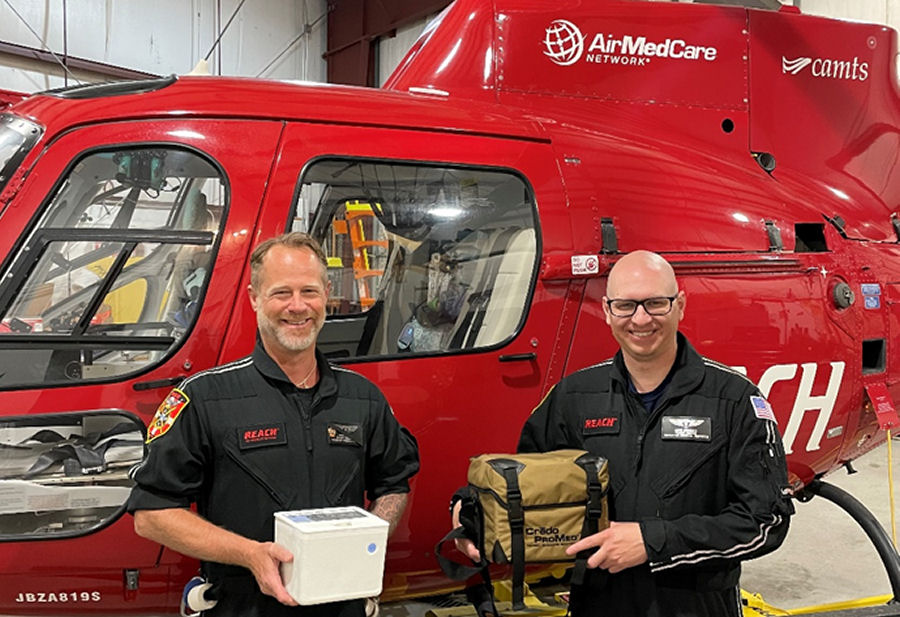 Global Medical Response, May 26, 2023
- ELKO, NV — REACH Air Medical Services today announced that it has made another investment to help save lives in Elko County.
The air medical provider will now carry blood products on its Elko-based air medical helicopter.
Stacey Ingram, Program Director for REACH, said packed red blood cells are now available to the medical crews to provide to patients who may be suffering from severe blood loss and require aggressive fluid resuscitation under their care.
"The addition of blood products to our aircraft is an important step in providing care at a moment's notice to critically ill and injured patients," said Ingram. "Early administration of blood products can help provide important stabilization for patients being transported to a higher level of care."
Ingram also said she is grateful for the investments REACH has made to provide these blood products and that the announcement comes during National EMS Week.
"It is fitting that during National EMS Week, we share the news of another investment REACH has made into the communities of Northern Nevada," said Ingram. "This is a testament to REACH's dedication to providing the highest levels of care and to continuous improvement."
REACH operates four air medical bases in Northern Nevada in Elko, Ely and Reno.
About REACH Air Medical Services : REACH Air Medical Services, headquartered in Sacramento, CA, provides critical care air and ground emergency medical services to communities throughout California, Oregon, Nevada, Alaska, Texas, Colorado and Hawaii.
REACH employs hundreds of highly trained nurses, paramedics, pilots and aircraft maintenance technicians to provide service to patients using their fleet of medically equipped helicopters, airplanes and ground ambulances.
REACH is accredited by the Commission on Accreditation of Medical Transport Systems (
CAMTS
), which is the gold standard for patient care and safety in the medical transport industry.
REACH is part of the Global Medical Response family. With nearly 38,000 team members, Global Medical Response delivers compassionate, quality medical care, primarily in the areas of emergency medical and patient relocation services in the United States and around the world. GMR was formed by combining the industry leaders in air, ground, mobile healthcare services, and community, industrial/specialty and wildland fire services.

List of Air Medical Ambulance Services


REACH Air Medical
State of California

State of Nevada