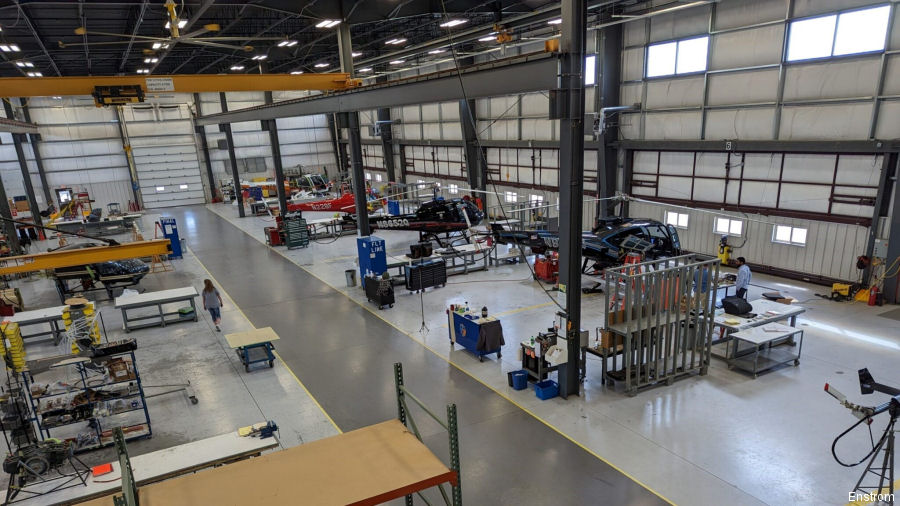 Enstrom, May 23, 2023
- Menominee, MI – On May 13, 2022, Chuck Surack, founder of Surack Enterprises, announced the purchase of Enstrom Helicopter Corporation in Menominee, Michigan. To say that a lot has happened at Enstrom in the 12 months since then would be an understatement.
"The factory is buzzing with excitement not felt in many years," said Vice President of Sales and Marketing Dennis Martin. "There is no doubt that Enstrom is back and better than ever."
To celebrate the anniversary of Chuck's acquisition, we at Enstrom want to take a look back at how our employees and leadership team have helped rebuild the company into the thriving business and industry icon it once was.
Back in Business

Reenergizing the production lines wasn't as simple as flipping a switch. It took time. Before we could begin producing new helicopters again, we knew we would need to cement our customers' trust. That meant working to provide existing Enstrom owners with the replacement parts and consistent technical support they deserved. Fortunately, we were able to rehire dozens of former employees as engineers, product planners, administrators, shipping personnel, and more, allowing us to restart operations quickly.

But Chuck wasn't satisfied with just helping Enstrom survive. He saw great potential and did not want the company to stagnate. He said at the time, "I bought this company because of the people and what they have done in the past – and I intend to take Enstrom to new heights."

Enstrom's workforce has only grown since then. Today, our Menominee facility boasts more than 125 employees!

We spent much of 2022 working to reestablish past business relationships and seeking out new opportunities. The first international sales representative to sign with the new Enstrom was Aero Facility Co, Ltd. In Japan. Aero Facility was a long-time representative of the previous Enstrom and supports the Japan Ground Self-Defense Force's fleet of 30 TH-480B training helicopters.


Letting the World Know

Enstrom made a splash at several major trade shows in the following months, demonstrating to the world that Enstrom was back in business. We witnessed a fantastic response at EAA Airventure in Oshkosh, WI, where Chuck spent the better part of a week interacting with and reassuring customers that Enstrom was in good hands.

A few months later, Enstrom welcomed Adam Richardson as Chief Operating Officer to help oversee day-to-day business operations.

Up until this point in the months following the acquisition, Enstrom had been manufacturing parts under our Type Certificate authority with approval from the FAA. But in late 2022, just six months separated from our reopening, Enstrom received a FAA Production Certificate, which allowed us to start approving parts under our normal processes. Together with the FAA, Enstrom remains dedicated to achieving the highest standards for safety, value, and performance.

Enstrom kicked off 2023 by announcing we had signed DSA to serve as our dealer and service center for the Czech Republic. DSA is one of the largest flight schools in all of Europe and supports a fleet of training helicopters for the Czech Army.

Back here stateside, we were finally ready to dedicate attention to building all-new rotorcraft. Our machinists and fabricators put in weeks of hard work, and it all paid off when the first new 480B helicopter built since the acquisition took flight in January. Our test pilot said it flew great with zero issues.

HAI HELI-EXPO 2023 offered the perfect opportunity to showcase this new helicopter to the public. Aircraft enthusiasts took notice when our 480B was the first helicopter to fly into Georgia World Congress Center for the event, manned by none other than HAI president Jim Viola himself.

There at the expo, Enstrom debuted its all-glass instrument panels, which will be available on all Enstrom helicopters we build this year. We also announced the development of a new RPM governor for the piston-powered 280FX and F28F. This new governor uses a digital controller and fast-acting servo motor to accurately control RPM. Enstrom sold a dozen helicopters during HELI-EXPO.


Focused on the Future

As part of our commitment to safety, we have resumed Enstrom's bi-annual piston and turbine maintenance courses, with the latest round of courses wrapping up this month, and two more classes being offered in the fall.

April 2023 saw a significant passing of the torch at Enstrom, with President Matt Francour retiring from the company he'd dedicated nearly four decades of his life to. Matt's good friend Todd Tetzlaff has since officially taken on the position, bringing with him decades of experience in the aerospace industry. Todd has the backing of Chuck Surack, the senior management team, and Enstrom's many employees.

Todd said, as President, he's committed to both supporting existing Enstrom owners and attracting new ones through persistent innovation and outreach.

"When I look to what this next year will bring, I see a future that's bright," Todd said. "I'm so proud of everyone here, and I'm excited about what we're going to do together."

About Enstrom Helicopter Corporation : From Rudy Enstrom's early designs in 1943 to initial testing in a Michigan Quarry in 1957 to aircraft operating on six continents, Enstrom Helicopter Corporation has maintained a reputation for safety, value and performance. Based in Menominee, Michigan and proudly made in the United States, Enstrom has a rich history for design innovation. The goal is to provide helicopters to the customer's exact specification and deliver support and maintenance worldwide.
Location :

Menominee-Marinette

Enstrom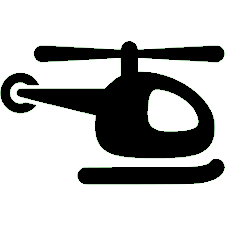 Helicopters Markets & Finance