The Bell 407GT in Colombia
Bell Helicopter, October 29, 2014 - Fort Worth, TX – Bell Helicopter, a Textron Inc. company, announces its participation in the fourth edition of Expodefensa in Bogota, Colombia from October 29-31.

Bell Helicopter will have a strong presence, featuring the Bell 407GT on static display.

"We are very excited to have the Bell 407GT at Expodefensa to connect with both our military and parapublic customers in Latin America," said Jay Ortiz, vice president of Latin American sales. "The Bell 407GT is a commercially qualified helicopter built off of the Bell 407 platform, and delivers safety, reliability and the ability to escalate force when necessary."

Expodefensa is a three day show that displays the latest developments in defense and security. Companies from around the world will present innovative products and equipment designed to provide services to international defense sectors.

"It's been an eventful October in Latin America, as we have also been highlighting the power and versatility of the Bell 412EPI in a demonstration tour throughout the region," added Ortiz. "We have seen a great response for both the Bell 412EPI and the Bell 407GT, and we are thrilled to be able to bring both helicopters to Latin America to showcase exactly what they can do."

The Bell 412EPI has been performing its Latin American demo tour since the beginning of the month and will continue demonstrations until mid-November.

"The purchase of a new Bell 407GX will significantly enhance our ability to provide the citizens of Contra Costa County with the most effective law enforcement services available, both on land and throughout the California Delta region", said Contra Costa County Sheriff David O. Livingston. "Proven reliability, first-rate customer service and unparalleled mission capability once again made this particular aircraft the right choice for the public safety mission within Contra Costa County."


Bell 407GT: The Bell 407GT is the armed version of the best-selling Bell 407GX, qualified for a range of weapons from light munitions to advanced laser-guided munitions. The state-of-the-art tactical light commercial helicopter brings together the Garmin G1000HTM flight deck with precision weapons capability. Standard specifications include a multi-sensor camera system, weapons management system, universal weapons pylons, tactical radio suite, target sight system, sliding doors for rapid egress and ingress and high-visibility windows for the cockpit and cabin.


Bell 412EPI: The Bell 412EPI improves the Bell 412EP platform with the Bell BasiX Pro™ fully integrated glass flight deck, providing critical flight information at a glance for greater situational awareness and safety. The avionics suite also includes high resolution digital maps, electronic charts and approach plates, ADS-B transponder and optional HTAWS and XM satellite links. The aircraft also incorporates the power of Pratt and Whitney's PT6T-9 Twin Pac® engines, providing 15 percent more horsepower than the standard Bell 412.

About Bell Helicopter: Bell Helicopter, a wholly owned subsidiary of Textron Inc., is an industry-leading producer of commercial and military, manned and unmanned vertical-lift aircraft and the pioneer of the revolutionary tiltrotor aircraft. Globally recognized for world-class customer service, innovation and superior quality, Bell's global workforce serves customers flying Bell aircraft in more than 120 countries.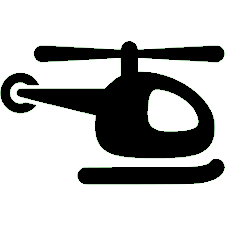 Aircraft mentioned in this article :
407GX N407GT ( Bell Helicopter )


Bell 407GT
Bell 412EPi