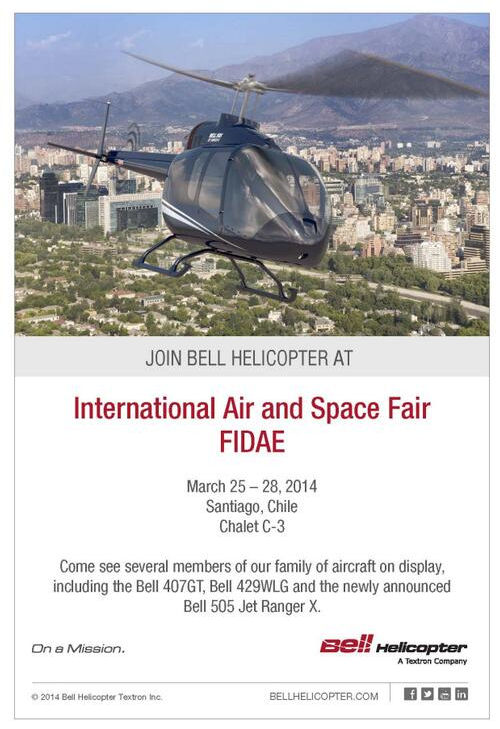 Bell Helicopter, March 21, 2014 - FORT WORTH, TEXAS – Bell Helicopter, a Textron Inc. company, has announced its show plans for the 18th edition of the International Air and Space Fair, FIDAE 2014 in Santiago, Chile, March 25-30.

The company will showcase the Bell 407GT and Bell 429WLG, both introduced in 2013, in both static display as well as via demonstration flights. The newly introduced Bell 505 Jet Ranger X™ aircraft mockup will also be displayed in a full-size law enforcement configuration.

"FIDAE is consistently the leading aerospace and defense event in Latin America," said Danny Maldonado, Bell Helicopter's executive vice president of sales and marketing. "We have been working hard to advance and modernize our commercial product line and look forward to showing the audience how these new commercial products are helping Bell Helicopter continue to change the way the world flies."

Bell Helicopter first entered the Latin America market more than 60 years ago, and today the region has a fleet size of more than 1,670 aircraft. In fact, in the last two years, more Bell helicopters were sold in Latin America than in any global region besides North America.

"Operators are looking for aircraft that provide superior performance, reliability, maneuverability and safety," Maldonado said. "Our helicopters are ideally suited to the diverse climate and geography across Latin America and offer the performance, advanced technology, enhanced situational awareness, low maintenance and high value our customers are looking for."

The newest member of Bell Helicopter's family of helicopters, the Bell 505 Jet Ranger X is a customer-driven design, blending proven systems with advanced technology and a sleek, modern design. The Bell 505 places safety, performance and affordability at its forefront. The Garmin G1000H Integrated Avionics Suite provides pilots critical flight information at a glance to maximize situational awareness. Pilot workload is further reduced by the Turbomeca Arrius 2R engine with dual channel Full Authority Digital Engine Control (FADEC). The Bell 505 features a high inertia rotor system delivering superior auto rotation capabilities. With the ideal combination of speed, range and useful load, the Jet Ranger X is designed to deliver best-in-class performance.

The Bell 407GT is the company's armed version of the best-selling Bell 407GX, qualified for a range of weapons from light munitions to advanced laser-guided munitions. The state-of-the-art tactical light commercial helicopter brings together the Garmin G1000HTM flight deck with precision weapons capability. Standard specifications include an infrared camera system, weapons management system, universal weapons pylon, tactical radio suite, target sight system, sliding doors for rapid egress and ingress on both sides and high-visibility windows and door for the cockpit.

The Bell 429WLG can land in a larger number of environments and conditions, providing operators of all mission profiles additional flexibility. Its taxiing capability is ideal for both repositioning in limited spaces and situations that require ground taxi, such as positioning closer to fixed-base operators. These benefits mean that both flight crews and passengers can save time and effort getting where they need to go. The Bell 429WLG also has reduced drag due to the loss of skids and an increased cruise speed. The Bell 429 is approved to operate at an increased gross weight of 7,500 pounds (3,402 kilograms) in several Latin American countries, including Argentina, Brazil, Chile, Ecuador, Mexico and Venezuela; while the Bell 429WLG is approved for gross weight increase in both Canada and Brazil, with other certifications currently in work.

In addition to providing customers with the products they want and need, Bell Helicopter remains focused on providing world-class support and service to its Latin America customer base. Currently, Bell has 19 independent representatives and distributors in the region and continues to grow its presence in Latin America. The company's focus on its customers is a key differentiator from the competition, as evidenced by Bell Helicopter's consistent number one ranking in Pro Pilot's service and support rankings for the 20th consecutive year.

For more than 35 years, FIDAE has brought together experts from diverse industry sectors, including civil and commercial aviation, defense, aircraft maintenance, airport support services and equipment, space technology and homeland security. The Latin American trade show works to provide the perfect environment for meetings and collaborations among professionals from the varied fields in aerospace and defense.

About Bell Helicopter: Bell Helicopter, a wholly owned subsidiary of Textron Inc., is an industry-leading producer of commercial and military, manned and unmanned vertical-lift aircraft and the pioneer of the revolutionary tiltrotor aircraft. Globally recognized for world-class customer service, innovation and superior quality, Bell's global workforce serves customers flying Bell aircraft in more than 120 countries.

Bell Helicopter