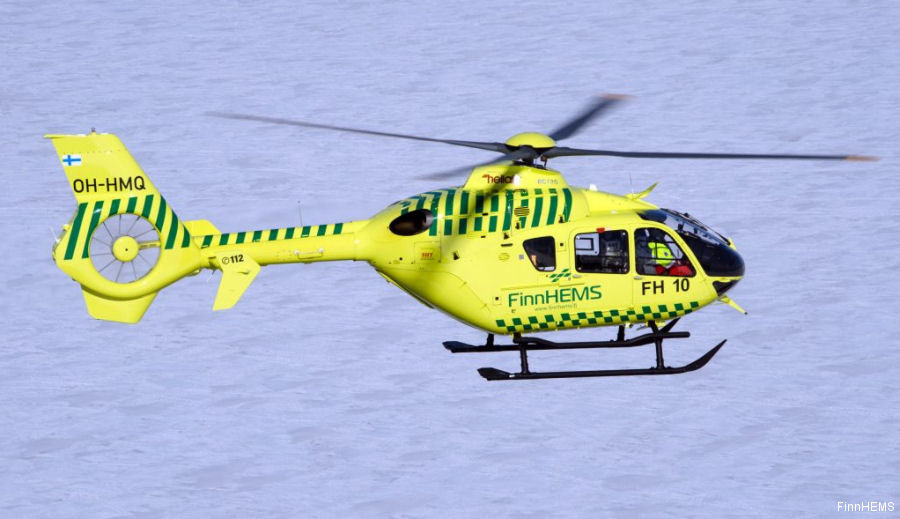 FinnHEMS, March 02, 2022
- FinnHEMS will complement its EC135 helicopter fleet in use at its southern bases to ensure uninterrupted medical helicopter service expansion next autumn.
The new base serving Ostrobothnia will open in Seinäjoki from the end of 2022. The helicopter will be acquired used by FinnHEMS.
In the future, four southern bases in Vantaa, Turku, Tampere and Seinäjoki will be operated by a total of five EC135 helicopters. Spare equipment is needed, among other things, for maintenance and in the event of possible breakdowns.
Helicopters and, in part, crews are used flexibly at various bases. The flight crew and medical personnel carried in the helicopter must be trained in each type of helicopter in use.
The tender documents are available in the Hilma public procurement notification channel. Tenders must be submitted by 31.3.2022. The procurement will be carried out as an open procedure and the procurement decision will be made next spring.
FinnHEMS originally launched a leasing tender for helicopters needed for new bases last spring. However, the acquisition was suspended because the establishment of a base in Southeast Finland in Kouvola was delayed and the acquisition of helicopters could not be carried out as such.
Flight operations of Finnish air ambulance helicopters were transferred to FinnHEMS


FinnHEMS, February 17, 2022 - The flight operations of medical helicopters were completely transferred to the state-owned company FinnHEMS on 11 February, when the service agreement between FinnHEMS and the flight operator Babcock Scandinavian AirAmbulance expired.

In the future, FinnHEMS subsidiary FinnHEMS Lentopalvelut Oy will operate nationwide HEMS flight operations at all Finnish bases, except for Åland.

FinnHEMS new flight operations organization is now operational at all six bases. The latest compliant flight crew conversion training is still underway at the northern bases.

- A major administrative change was carried out within the given deadline, on a very tight schedule. The structures of our own flight operations are now together: personnel, equipment and the operations organization with its manuals, says Jari Huhtinen , CEO of FinnHEMS .

- Work on human resources and operational development continues.

Helicopters and flight crew for FinnHEMS in stages

The Ministerial Committee on Economic Policy outlined the change in medical operations in the medical helicopter business in 2019. The goal was for FinnHEMS to perform aviation operations from 2022 and to acquire its own helicopters and flight crew for that purpose.

In the autumn of 2020, FinnHEMS acquired its southern bases as an operator subsidiary. The change, which has now been completed, merged the aviation operations in the northern region into the flight operations organization of the subsidiary FinnHEMS Lentopalvelu.

The flying personnel at the northern bases were transferred to FinnHEMS through a business transfer. FinnHEMS has agreed to lease the EC135 and H145 helicopters currently in use for the next five years as a temporary solution before its own helicopter fleet is acquired.

The actual hospital care will continue to be provided by the university hospital districts and the Lapland Hospital District.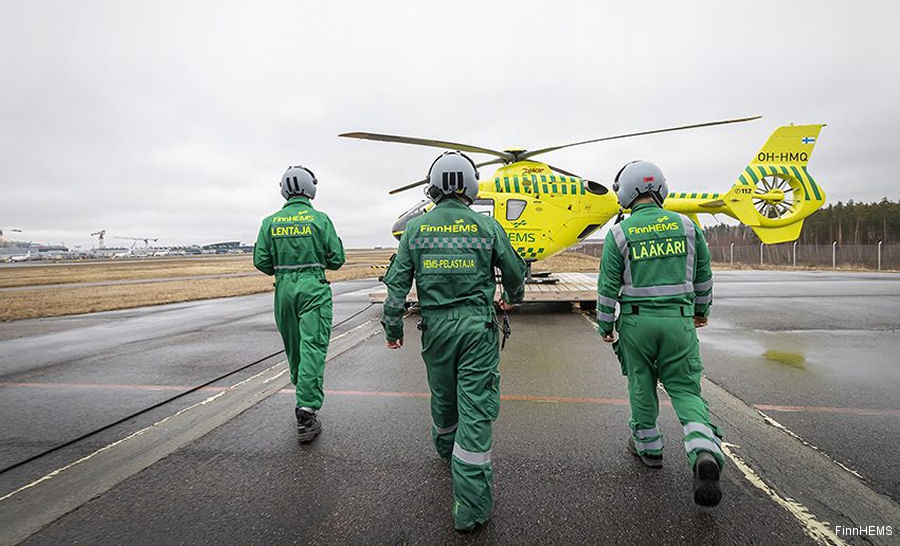 List of Air Medical Ambulance Services


FinnHEMS
EC135 in

SHT
H145 / EC145T2 in

Scandinavian AirAmbulance