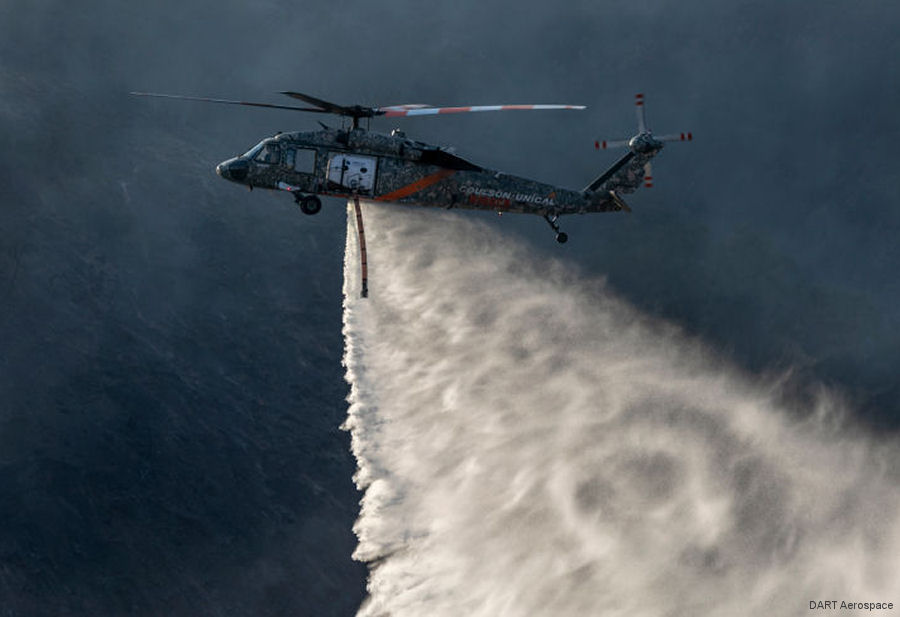 DART Aerospace, October 30, 2019
- Portland, Oregon –Simplex, a company of DART Aerospace, has received FAA approval for the Approved Models List (AML) extension of their STC SR02657SE.
This certification applies to the UH-60/S-70 Black Hawks' Simplex Model 370i Internal Fire Attack System (FAS).
This AML extension adds 11 eligible UH-60/S-70 Type Certificates (TCs) to the existing STC, bringing the total to 12 UH-60/S-70 TCs that are now approved for operation with the Simplex Model 370i FAS.
The complete AML extension includes 12 TCs from the following customers:
- ACE Aeronautics LLC,
-
BHI
H60 Helicopters LLC,
-
Billings Flying Service
,
-
Carson Helicopters
,
- High Performance Helicopters Corp.,
- Pickering Aviation Inc.,
-
PJ Helicopters Inc.
,
- Sikorsky Aircraft Corporation,
- Sixtyhawk TC LLC,
- Skydance Black Hawk Operations LLC,
-
Timberline Helicopters Inc.
,
-
Unical Aviation Inc.
The Model 370i, originally certified for installation and operation on the Timberline Helicopters Inc. TC, is the first and only FAA certified internal FAS for the Black Hawk helicopter. The system was developed primarily for restricted category civil aerial firefighting operators and requires no modifications to the aircraft structure.
Mark Zimmerman, Senior Vice-President of Business Development - Aerial Firefighting states, "With this AML amendment, the Simplex-DART team has expanded the reach of the 370i FAS to the entire fleet of known Civil Type Certified Black Hawks. More Black Hawk operators now have the ability to use their equipped helicopters with this Fire Attack System to save lives and property at risk from the escalating global wildland fire crisis."
The Model 370i is a 900-gallon internal tank system that utilizes a single dispersal door that drops water/foam through the cargo hook well. The internal tank system is made from a proprietary lightweight composite matrix that provides superior corrosion and fatigue resistance compared to metal tanks. The tank utilizes a 1000 gallon per minute hover refill system and has dual ground fill ports for increased flexibility and safety during ground filling operations.
Simplex was recently acquired by Canadian helicopter mission equipment manufacturer DART Aerospace.
About DART Aerospace: DART Aerospace is a privately held aerospace company. DART provides industry-leading design, manufacturing and market-certified solutions for the helicopter and aerospace industry. With an impressive line-up of over 850 STC's and 4,500 products, DART offers a comprehensive portfolio of: aftermarket products, accessories, spare parts and tools for civil and military operators, all major rotorcraft OEMs, completion centers and MR&O facilities.
DART's key products include: flotation systems, landing gears, interior and exterior accessories, cargo expansion, external loads, cable cutters and filters. All this, in addition to extensive engineering capabilities and manufacturing centers delivering fast time-to-market solutions with superior customer support in over 120 countries worldwide.
Sikorsky Commercial UH-60

Simplex Aerospace
State of Oregon

FAA
Federal Aviation Administration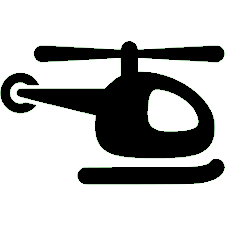 Helicopters Firefighting
900-Gallon Tank for Commercial Black Hawk Firefighter