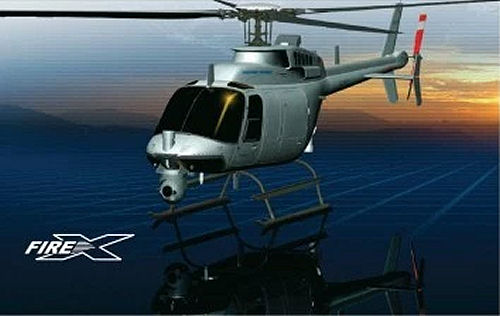 Bell Helicopter, May 03, 2010 - WASHINGTON - U.S. war fighters will be able to keep tabs on their enemies for longer periods of time, communicate more easily with their commanders, and deliver more cargo to more remote locations using the new Fire-X medium-range vertical unmanned aerial system (VUAS) unveiled today by Northrop Grumman Corporation and Bell Helicopter, a Textron Company.

The two companies have joined forces to develop and demonstrate the new rugged, high-capacity unmanned aerial system based on the four-blade, single-engine Bell 407 helicopter. First flight of Fire-X is expected by the end of 2010. The new system also represents Northrop Grumman's entry in an anticipated U.S. Navy competition in 2011 to demonstrate a new medium-range UAS.

"The Fire-X system integrates Northrop Grumman's proven unmanned systems know-how with a proven, FAA-certified helicopter airframe that's been in service since 1996," said Gene Fraser, sector vice president and general manager for the Advanced Programs and Technology division of Northrop Grumman's Aerospace Systems sector. "The result will be an affordable, fast-fielding system that delivers the maturity of the unmanned systems architecture developed by the U.S. Navy's MQ-8B Fire Scout program, while giving military services the extra UAS cargo, payload and endurance they seek."

Reporters got their first look at the new VUAS concept today in Northrop Grumman's booth at the Navy League Sea-Air-Space Exposition in National Harbor, Md.

"Bell Helicopter brings to the Fire-X development more than 50 years of experience producing and supporting U.S. military helicopters across the full rotary-wing aviation mission spectrum, including armed reconnaissance, attack, utility, and MedEvac," said Jeff Lowinger, executive vice president of engineering for Bell Helicopter. "We're also backing this new offering with Bell's unmatched global logistics support, training, and industry-leading customer service."

Fire-X will incorporate Fire Scout's modular, field-proven architecture that accommodates a variety of intelligence, surveillance and reconnaissance (ISR) and communications payloads. It also provides complementary capabilities for missions that demand larger payloads (up to 3000 pounds), longer endurance (more than 14 hours) and robust cargo hauling (up to 2646 pounds external).

Fire-X is being designed to operate with nearly any type of current or future military standards-based control segment. It will communicate as easily with shipboard controllers using the Navy's Tactical Control Station (TCS) as field commanders using the U.S. Army's field-proven One System® ground control station.

Fire-X is the latest in a long line of tactical UASs from Northrop Grumman, a leader in developing, integrating and testing unmanned systems for more than 60 years. In addition to using Fire Scout's unmanned systems architecture, it will draw on the company's systems integration and testing expertise acquired through developing targets for the Navy, the Army's MQ-5A Hunter fixed wing UAS, and the company's new line of scalable Bat™ unmanned aircraft systems.

Fire-X also takes full advantage of Northrop Grumman's proven ability to "unman" or optionally man a manned helicopter - i.e. replace the in-vehicle pilot with the appropriate avionics, software and ground control station to accurately and reliably duplicate the behavior and performance of the air vehicle.

The Bell 407 helicopter currently serves the commercial human transportation requirements of corporations, hospitals, news organizations, movie studios and law enforcement agencies worldwide, with nearly 1,000 systems in service and more than 2.5 million accumulated flight hours. Bell's customer service has been rated number one for the last 16 years running.

About Bell Helicopter: Bell Helicopter, a wholly owned subsidiary of Textron Inc., is an industry-leading producer of commercial and military, manned and unmanned vertical lift aircraft and the pioneer of the revolutionary tilt rotor aircraft. Globally recognized for world-class customer service, innovation and superior quality, Bell's global workforce serves customers flying Bell aircraft in more than 120 countries.

About Northrop Grumman Corporation: Northrop Grumman Corporation is a leading global security company whose 120,000 employees provide innovative systems, products, and solutions in aerospace, electronics, information systems, shipbuilding and technical services to government and commercial customers worldwide.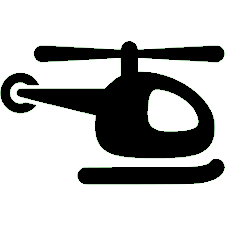 Aircraft mentioned in this article :
Fire-X N91796 ( Northrop Grumman )


Bell Fire-X