Luxaviation ACH145 at FLIBS 2019


Luxaviation, a Charter Alliance launched in 2019 to connect VIP helicopter operators around the world, displayed a VVIP ACH145 at the Airbus Corporate Helicopters (ACH) booth during the Fort Lauderdale International Boat Show FLIBS 2019, October 30-November 3

Luxaviation, November 07, 2019 - Fort Lauderdale International Boat Show, Florida, USA - Luxaviation Helicopters is attending the Fort Lauderdale International Boat Show in Florida for the first time.

The VIP helicopter charter company will have an ACH145 from its managed fleet on display throughout the show, at Airbus Corporate Helicopters' exhibition space in Super Yacht Berth 5.

Charlotte Pedersen, CEO, Luxaviation Helicopters, says: "Fort Lauderdale International Boat Show provides an excellent opportunity for us to discuss with new and existing customers how we can support them in combining their yacht experience with their helicopter needs. We are looking forward to offering advice and support for attendees on how our expertise can help them to navigate these two highly regulated fields.

"On display will be our ACH145, operated by Starspeed, the UK's most experienced helicopter operator, which joined the group in 2017. Almost half of Starspeed's fleet of 25 helicopters are able to take off and land on yachts and the ACH145 is perfectly suited to yacht operations because of its size, performance, smooth flight characteristics and modern equipment."

The ACH145 can accommodate up to nine passengers, plus one or two pilots, and has a range easily capable of covering New York City to Washington DC or London to Paris.

Luxaviation Helicopters launched its Charter Alliance in March 2019, to connect VIP helicopter charter operators around the world. Seven months on, the Alliance is now comprised of Italy-based HoverFly, as well as ExecuJet's helicopter fleet in Mexico and South Africa, Philippines-based PhilJets, Spain-based Hélity, US-based HeliFlite, Austria-based HeliAustria, France-based Azur Hélicoptère and UK-based Starspeed.


Airbus Corporate Helicopters ACH145

Airbus - From sailing across the Caribbean to flying over the peaks of Patagonia, Airbus Corporate Helicopters (ACH) have become indispensable to yacht owners worldwide.
ACH is highlighting its success in the yachting industry Oct. 30-Nov. 3 at the annual Fort Lauderdale International Boat Show, where it will display a privately owned ACH145 helicopter managed by Starspeed, part of the Luxaviation group.

"Yacht owners want safe, reliable, powerful helicopters to transport them to and from destinations around the world," said Gary Butcher, commercial director for Starspeed, which manages corporate and VIP helicopters throughout Europe and the Americas. "ACH is producing aircraft that checks all of these needs."

In recent years, the twin-engine ACH145 has emerged as the clear favorite among yacht owners, thanks to its compact footprint and spacious cabin that can comfortably carry up to nine passengers. Boasting a smooth and quiet ride, the aircraft blends impressive performance with stylish comfort.

Yacht owners are taking notice. Charlotte Pedersen, CEO of Luxaviation Helicopters said large yacht owners are increasingly looking to acquire helicopters, particularly those made by ACH. Luxaviation manages 11 helicopters onboard yachts, including seven ACH145s.

"Owning a large yacht is the ultimate freedom. You can go almost wherever you want, whenever you want," Pedersen said. "But with a helicopter onboard you are not limited at all. You can truly go wherever you want, whenever you want."

For yacht owners, that could mean soaring over traffic-tangled city streets, flying across the Caribbean Sea or landing at a secluded mountain chalet for a day of skiing.

The ACH145 is highly reliable and requires little maintenance, making it an ideal choice for such globetrotting. It excels in hot and high conditions, useful for flying in the desert or mountainous terrain. The newest version of the ACH145 adds an innovative five-bladed rotor, increasing the useful load of the helicopter while improving reliability and ride comfort. Additionally, it is IFR-certified, enabling pilots to fly the aircraft in bad weather or low visibility.

"ACH is both intuitive and ahead of the game," Pedersen said. "A helicopter should work around you, making your life easier, making travel more convenient and even opening up possibilities you had not previously thought of."

For Starspeed, the latest ACH145 is helping to redefine the yachting industry.

"Yacht owners used to just sit on their boat in the south of France or the Mediterranean. But customers today want experiences," Butcher said. "They want to travel the world, and ACH allows them to do that."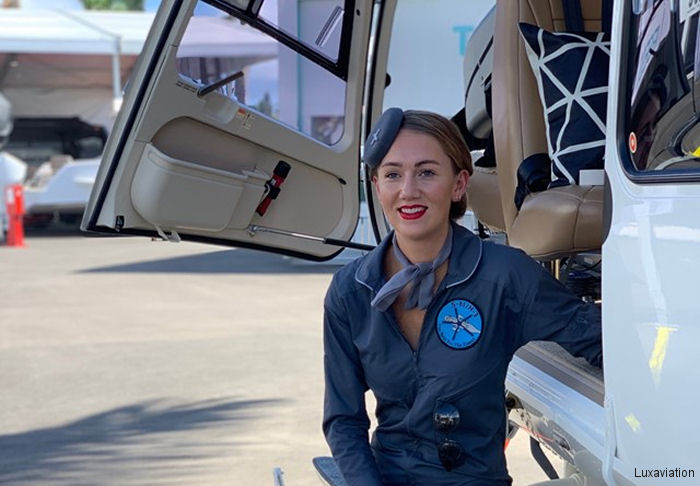 Aircraft mentioned in this article :
Airbus Helicopters H145 / EC145T2 N20VG ( Starspeed Ltd )

This article is listed in :


Luxaviation
Airbus Helicopters ACH145
ACH

Airbus Corporate Helicopters
Airbus Helicopters France

Starspeed VIP
Starspeed Ltd

Fort Lauderdale Executive