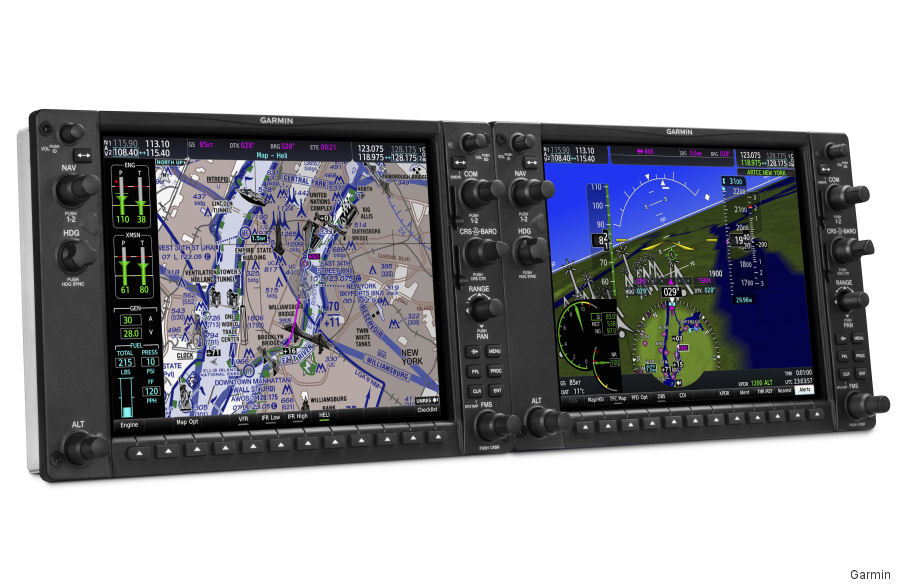 Garmin, February 22, 2018 - OLATHE, Kansas - Garmin International, Inc. a unit of Garmin Ltd., today announced the G1000H NXi, the next-generation, all-glass integrated flight deck designed specifically for the FAR Part 27 VFR helicopter market.

The G1000H NXi offers a number of new and enhanced features tailored to helicopter pilots, including Database Concierge, U.S. helicopter-specific charts, helicopter terrain awareness warning system (HTAWS) and WireAware™ wire-strike avoidance technology featured in rich, 3-D helicopter synthetic vision technology (HSVT).

It's also equipped with advanced ADS-B-in display, HSI map and visual approach capability. Powered by faster, brighter, smoother high-resolution displays, the next-generation G1000H NXi offers an extremely pilot-responsive and advanced integrated flight deck that provides pilots with critical decision-making information – flight instrumentation, navigation, communication, weather, terrain, traffic, identification, and diagnostics and maintenance computer – in a consolidated, easy to understand format.

"The G1000H NXi takes the industry's most trusted glass flight deck platform to a new, unprecedented level of performance and capability," said Carl Wolf, Garmin vice president of aviation sales and marketing. "We're humbled by the popularity and adoption of the G1000 NXi, and building on its success, we're excited to introduce the G1000H NXi that brings this innovative technology and superior feature set to the helicopter market."

The physical architecture of the G1000H NXi is similar to the earlier-generation G1000H, but thanks to the system's new dual-core processors, its speed, power and capacity for future growth is dramatically boosted. The G1000H NXi features a pilot-selectable split-screen capability that allows for two or more separate page views to be displayed simultaneously, so pilots can access more valuable decision-making information at a glance without having to flip through multiple pages in sequence. To support night operations, the G1000H NXi is also compatible with night vision goggles (NVG).

The G1000H NXi boasts many new and enhanced operational features and optional capabilities, including:

- WireAware wire-strike avoidance technology that graphically overlays the most comprehensive powerline information right on the moving map page for the U.S. as well as some locations in both Canada and Mexico.

- HTAWS with five-color display shading and audible voice callout alerts for powerlines as well as potential terrain and obstacle hazards along the flight path.

- Helicopter Route Charts are offered throughout eight U.S. metropolitan areas, including the Gulf of Mexico, and provide three-color charts that depict helicopter airways and routes, heliports with associated frequency and lighting capabilities, NAVAID information, obstructions and more. For a faster, more intuitive way of judging target trajectories and closure rates in relation to the flight path, ADS-B-enabled TargetTrend™ is available and especially ideal for picking out the real threats when in dense traffic environments.

- ADS-B-enabled TerminalTraffic for helicopters recognizes the unique operational requirements of these airframes within the airport environment and is optimized to keep "nuisance" alerts to a minimum – while maintaining pilot awareness of potential traffic conflicts. Alerts from nearby fixed-wing aircraft are minimized and abbreviated when the helicopter is hovering or performing other maneuvers unique to helicopter operations.

- Connext® cockpit connectivity with added Database Concierge and flight plan transferring with a compatible tablet or smartphone that automatically uploads and syncs databases.

- HSI mapping that puts a multifunction display (MFD) like perspective map view within the primary flight display (PFD) to help pilots focus on instrumentation scan, enabling them to better visualize nearby flight and enroute navigation features, especially when things get busy in the cockpit.

- Visual approach generates a three-degree vertical path from the threshold of the runway down to pilot-selectable minimums.

- HSVT displays an "out-of-the-window" view of the surroundings, regardless of the weather conditions. This synthetic vision seamlessly blends information about the helicopter's position with topographic databases to create and display real-time 3-D images. Land, water and sky are clearly differentiated with shading and textures that are similar to the topographical colors found on the MFD moving map. HSVT alerts pilots of potential ground hazards by displaying terrain, obstacles and powerlines which pose a threat to the aircraft.

Additional features and capabilities available with the G1000H NXi include: SiriusXM high-resolution animated weather radar imagery, verbal ATC-like TAS/TCAS spoken traffic alerts, Telligence™ voice control, global voice/text, ADS-B out and much more. The system is also capable of displaying onboard weather radar, radar altimeter, engine information and video input from compatible camera sources.

About Garmin: Garmin International Inc. is a subsidiary of Garmin Ltd. (Nasdaq: GRMN). Garmin Ltd. is incorporated in Switzerland, and its principal subsidiaries are located in the United States, Taiwan and the United Kingdom. Garmin and G1000H are registered trademarks and WireAware, TargetTrend and TerminalTraffic are trademarks of Garmin Ltd. or its subsidiaries.

Garmin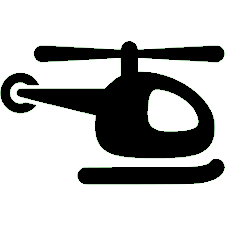 Helicopters Avionics
Bell Launches New Bell 407GXi
Garmin G1000 NXi in Frasca RTD Simulator