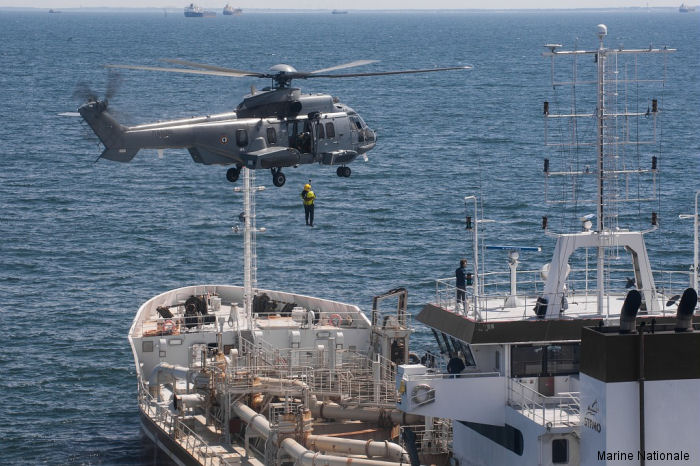 Marine Nationale, June 03, 2016 - On May 24-25 2016 the maritime prefecture of the Atlantic organized a major exercise to assist ships in distress (ANED, assistance à navire en difficulté) off Saint Nazaire and fight against maritime oil pollution (POLMAR) along the Aquitaine coast, code name: "Gascogne 2016".

This training began after a fictitious collision between two merchant ships at the Loire river mouth with a fire aboard the vessels.

The maritime prefect of the Atlantic has a helicopter Evaluation Team (EE) at the port of Nantes-Saint Nazaire and two Intervention Teams (EI) to assess the damage and isolate the disaster.

Brest firemen, which arrived first on the scene, were strengthened by a team from the Marseille firemen battalion (BMPM) which inaugurated its new capacity of national response (CAPINAV) in this exercise.

"The fight against maritime pollution is a race against time. Is about to mobilize as quickly as possible all the actors (...) capable of fighting at sea and collect the polluting agent before it reaches the coast" said Vice Admiral Emmanuel de Oliveira, Atlantic Maritime Prefect.

Off Capbreton, several fishing vessels assisted by specialized aircraft participated in the recovery of an ecological product simulating oil. The exercise continued on the Notre Dame de Capbreton beach with the help of terrestrial backup resources.

"The success of a distressed ship assistance operation depends on the quality of collaboration between services. This is why it is necessary to train regularly" said Chief Commissioner Jean-Emmanuel Perrin.

Gascogne 2016 mobilized about 400 people and fifty organisations (government, associations and private companies). For the POLMAR component of the exercise, the national Centre d'Expertises Pratiques de Lutte Antipollution (CEPPOL) coordinated the area of ​​operations with the collaboration of SASEMAR ( Spanish maritime agency) and the European Safety Maritime Agency (EMSA). "A sea pollution knows no borders, no nationality ... We are all affected", said Captain Marc Reina director of CEPPOL

The objective was to train the different government agencies with the public and private partners to coordinate their actions in case of a complex crisis like this.

Navy helicopters which participated in the exercise were a 35F Dauphin and a 32F EC225 for logistic transport and to evacuate the simulated wounded.
EC225LP in

Aéronautique Navale
32F

Flottille 32F

Aéronautique Navale

French Navy


35F

Flottille 35F
Aéronautique Navale
French Navy

Salvamento Maritimo

Maritime Safety Agency


EMSA EMSA

European Commission