GE CT7 Service for Bristow S-92 and AW189 fleets


GE and Bristow Group sign new agreements for customer support maintenance of the CT7-8A (Sikorsky S-92) and CT7-2E1 (AW189) engines of its helicopter fleet

* Bristow currently operates 67 S-92 and 18 AW189 helicopters for Search and Rescue and and Oil and Gas (O&G) services globally after the 2020 merger with Era Group


Heli-Expo 2022

GE Aviation, March 08, 2022 - DALLAS, Texas – GE and Bristow Group Inc. have signed 10-year TrueChoice Flight Hour agreements for Bristow's CT7-8A powered Sikorsky S-92 fleet and its CT7-2E1 powered Leonardo AW189 fleet.

This consolidates the multiple TrueChoice agreements held by Bristow Group following its June 2020 merger with Era Group into just two, long-term agreements.

Bristow currently operates 67 S-92 and 18 AW189 helicopters for a variety of missions, including its UK Search and Rescue (SAR) contract and Oil & Gas (O&G) and SAR services globally. GE and Bristow have a long-standing relationship for CT7 engine support.

"We're honored to extend our great relationship with Bristow through these TrueChoice agreements," said Elissa Lee, GE's CT7 Programs Director. "We continually strive to offer our customers simple, flexible options to support a diverse set of missions. These agreements with Bristow are a great example."

"By consolidating these agreements, we can bring greater efficiency in managing our worldwide fleet of S-92s and AW189s while ensuring we provide a safe, reliable fleet of helicopters for our customers," said Stuart Stavley, Senior Vice President, Global Fleet Management for Bristow. "As the world's largest operator of the S-92 and AW189, our decades-long partnership with GE has contributed to Bristow being the leader in providing innovative and sustainable vertical flight solutions from offshore energy transport to challenging search and rescue missions."

The 2,500-shaft-horsepower-class CT7-8A and the 2,000-shaft-horsepower-class CT7-2E1 engines are leaders in GE's successful T700/CT7 family of turboshaft and turboprop engines, powering 25 types of helicopters and fixed-wing aircraft with more than 130 customers, both commercial and military, in more than 50 countries.

As with all of GE's engines, both the CT7-8A and the CT7-2E1 can run on approved Sustainable Aviation Fuel (SAF) blends to reduce lifecycle CO2 emissions. GE is heavily involved in the qualifying and testing of approved SAF blends.

About GE: GE (NYSE:GE) rises to the challenge of building a world that works. For more than 125 years, GE has invented the future of industry, and today the company's dedicated team, leading technology, and global reach and capabilities help the world work more efficiently, reliably, and safely. GE's people are diverse and dedicated, operating with the highest level of integrity and focus to fulfill GE's mission and deliver for its customers.

About Bristow Group: Bristow Group Inc. (NYSE: VTOL) is the leading global provider of innovative and sustainable vertical flight solutions. Bristow primarily provides aviation services to a broad base of major integrated, national and independent offshore energy companies. Bristow provides commercial search and rescue (SAR) services in several countries and public sector SAR services in the United Kingdom (U.K.) on behalf of the Maritime & Coastguard Agency (MCA).

Additionally, the Company offers ad hoc helicopter and fixed wing transportation services. Bristow currently has customers in Australia, Brazil, Canada, Chile, Colombia, Guyana, India, Mexico, Nigeria, Norway, Spain, Suriname, Trinidad, the U.K. and the U.S. To learn more, visit our website at www.bristowgroup.com.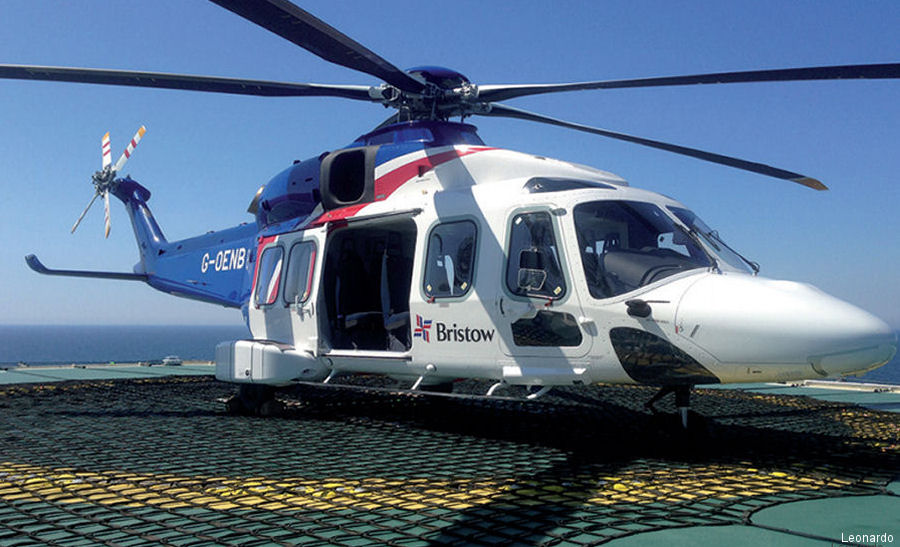 Bristow AW189

This article is listed in :
Sikorsky S-92 in

Bristow US
AgustaWestland AW189 in

Bristow
General Electric CT7-2E1
General Electric CT7-8A