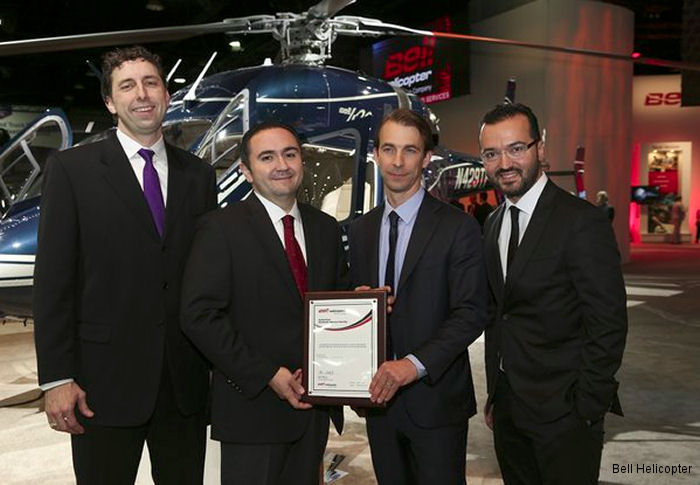 Bell Helicopter, March 11, 2016 - Fort Worth, Texas – Bell Helicopter, a Textron Inc. company, announced today that Genel Havacılık A.Ş. is nearing completion of its application to become appointed as a Bell Helicopter Authorized Customer Service Facility (CSF) in Turkey.

"Bringing on Genel Havacılık as an authorized CSF reinforces our commitment to enhancing the regional support customers need to continue their operations," said Jakub Hoda, Bell Helicopter's vice president of Europe. "Genel Havacılık is a long-time Bell aircraft operator and has a history of providing exceptional customer service. They are a perfect fit to join the Bell Helicopter CSF network in Europe."

Genel Havacılık, located in Turkey, is a pioneer in business aviation with more than 30 years of experience in fixed/rotary wing aircraft operations and maintenance. Genel Havacılık is an EASA and Turkish DGCA Approved Aircraft & Helicopter Maintenance & Repair Organization.

Today the company is run by two brothers - Ali & Omer Sulyak. Mr. Ali Sulyak is a B407 type rated pilot and Chairman of the company. Genel Havacılık currently holds Turkish Directorate of Civil Aviation approval for line and base maintenance for the Bell 407 (since 2013) and the Bell 206 (since 2003). In addition, Genel Havacılık is actively pursuing acquiring maintenance approvals for the Bell 429 and Bell 430.

"Genel Havacılık has a long history with Bell Helicopter," said Ali Sulyak, Chairman, Genel Havacılık. "We are looking forward to continued collaboration with Bell Helicopter and the prospect of becoming an authorized Bell Helicopter Customer Service Facility in 2016."

Bell Helicopter has experienced incredible growth in Turkey in the past few years - capturing more than 50 percent of the total commercial market share. Turkey has the largest Bell 429 fleet in Europe or Asia with opportunities for continued growth.

Bell Helicopter provides its customers with local support in every corner of the world and has the largest support network in the industry with more than 100 Authorized Customer Service Facilities in 34 countries. Ranked number one in customer support by Professional Pilot magazine for 22 consecutive years, Bell Helicopter is committed to having resources where customers operate to speed up delivery of service and support, and give customers access to service professionals that are easy to reach, know the operating environment and understand their needs.

"At Bell Helicopter, we know the importance of maintaining the readiness of our customers' aircraft - that is why we've established an industry leading aftermarket support network. As we continue to grow, we will listen to our customers and ensure that their aircraft are mission ready anywhere on the globe," said Neil Jones, manager of the Bell Helicopter Customer Service Facility Network.

About Bell Helicopter: Bell Helicopter, a wholly owned subsidiary of Textron Inc. (NYSE:TXT), is an industry-leading producer of commercial and military, manned and unmanned vertical-lift aircraft and the pioneer of the revolutionary tiltrotor aircraft. Globally recognized for world-class customer service, innovation and superior quality, Bell's global workforce serves customers flying Bell aircraft in more than 120 countries.

Bell Helicopter

Turkey