Helicopters in German Flood Relief Efforts


Airbus NH90, H135, H145 and H155 helicopter provided emergency assistance during recent floods in the German regions of North Rhine Westphalia and Rhineland Palatinate.

Airbus Helicopters, November 22, 2021 - Images of devastation and flooding…helicopters dropping winches to rescue people from the roofs of their houses.

This is what life looked like during July for many in the German regions of North Rhine Westphalia and Rhineland Palatinate.

When these areas experienced flooding that became one of Germany's greatest natural disasters, the helicopter often was the only means to help those trapped by water. Accordingly, rotorcraft were in constant use – saving people when ground forces could not reach affected areas by land or boat.

Many organisations deployed their helicopters to help people in need, including the federal and state police forces, the Bundeswehr armed forces, as well as rescue organisations such as the DRF Luftrettung air medical services, its daughter company NHC Northern Helicopter and ADAC Air Rescue.


A diverse helicopter fleet to the rescue

The Bundeswehr, for example, deployed rotary-wing resources that included three H145s and two H145Ms, along with four NH90s. In total, these helicopters logged 300-plus flight hours, saving more than 250 lives and transporting urgently needed material weighing in excess of 65 tonnes – from food and drinkable water to sanitary materials.

The crews of ADAC Air Rescue – a non-profit organisation that operates more than 37 helicopter emergency medical services (HEMS) bases across Germany – completed over 200 rescue flights. Up to six helicopters were deployed to the disaster area, lifting up many people by hoist or winch.

A rescue helicopter named "Christoph 23 Bravo" flew 36 missions in the first few hours to rescue people trapped by water on roofs and other places. "No ADAC rescue helicopter has ever flown so many winch missions in a row on a single day since ADAC Luftrettung was founded," said ADAC Luftrettung's Managing Director Frédéric Bruder. "What the crews have told us about their missions moved and affected us all very much."

Private German operator HTM Helicopters deployed three H135s to scout and map the flooded areas with a specialised camera system in cooperation with the German Aerospace Centre (DLR), providing emergency service providers on the ground with an updated map of the region that took flooding into account.

Björn Schröder, a pilot of the German offshore operator NHC Northern Helicopter, has seen many missions during his career (which began in the German Armed Forces, and has brought him to operate helicopters in the North and Baltic Sea). During the flooding, Schröder and his crew on an H155 were called to evacuate a hospital that included a retirement home isolated by the Erftstadt floods – flying in coordination with a Bundeswehr NH90.

"Normally we use our helicopters to save technicians that had an accident on an offshore windfarm or bring patients from one of the hospitals of the German islands to the mainland hospitals," explained Schröder, who has been with NHC Northern Helicopter since 2015. "This time, we had to save mostly elderly people, many of them 80 years and older."

Whenever they were waiting while the NH90 was picking up the elderly and hospital patients, Schröder and his crew – consisting of a second pilot, one hoist operator and a paramedic – scanned the area to save people who had climbed onto the roofs of their homes and waited for help.

Hoisting a baby into the H155 helicopter while overflying Erftstadt – one of the cities most impacted by the flooding – is something he will never forget. "When the people got off our helicopter on a nearby football field, you could see in their faces that they were happy to be safe."

All together, NHC Northern Helicopter and its parent company DRF Luftrettung performed more than 35 hoist missions in the region with their H155 and two from the H145 family.
ADAC air ambulance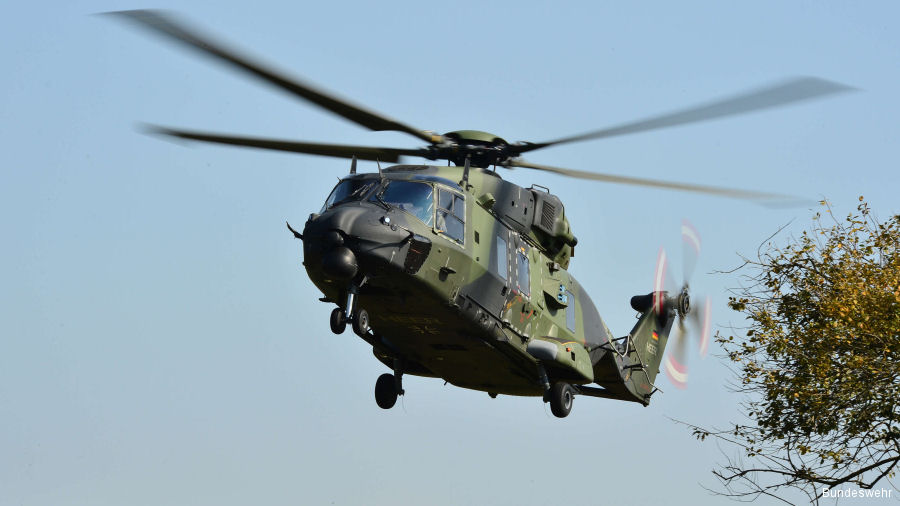 Bundeswehr NH90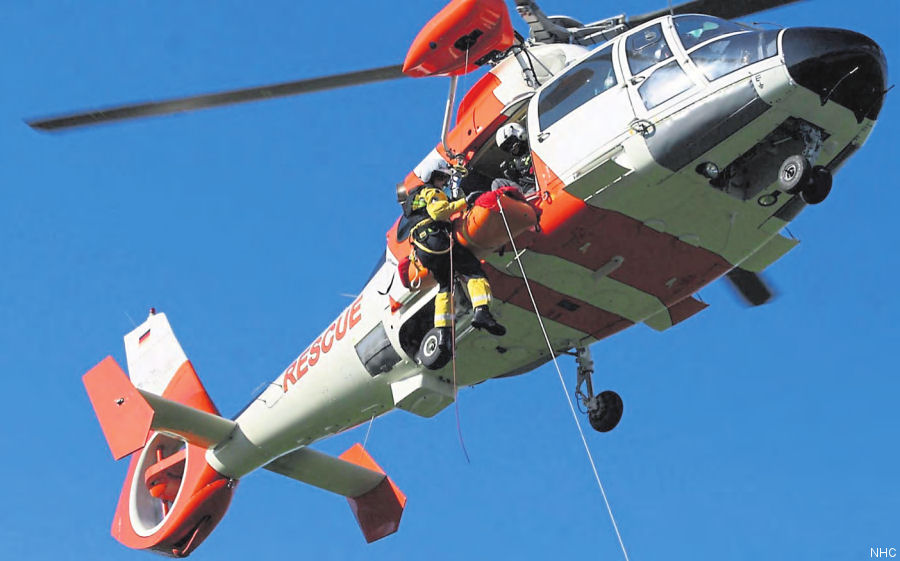 NHC AS365

This article is listed in :


German Air Ambulances
NH Industries NH90 TTH in

Heeresflieger
Airbus Helicopters H145 / EC145T2 in

ADAC Luftrettung
AS365 / EC155 in

Northern HeliCopter GmbH