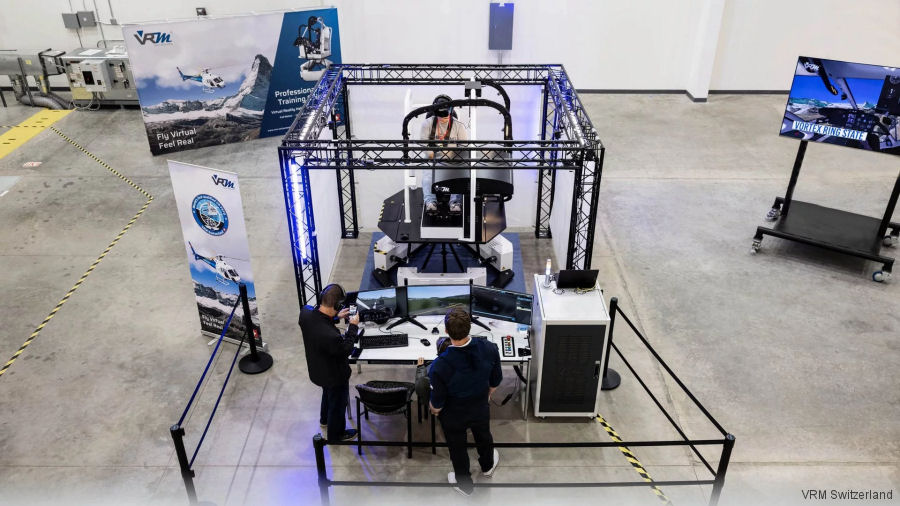 VRM Switzerland, May 26, 2022
- VRM Switzerland and Norway's largest inland helicopter company Helitrans qualify under EASA regulation the first VR FTD3. Helitrans will use the simulator for pilot training and checking.
"For VRM Switzerland it is a milestone to open the door for flight schools and operators to train and execute checks on a VR FTD3. Because our technology provides the pilot with the important 3D visual references and the feel of the helicopter. On top of the required FTD3 standard, our system is based on an electrically driven high dynamic motion system which enables the pilot even to feel where the skids are touching the ground. Normal and emergency procedures can be trained realistically and without risk, even such which cannot be trained in the real helicopter." says Fabi Riesen, CEO of VRM Switzerland
"The entire involved team of Helitrans, Norway's largest domestic helicopter operator, is proud to be the first company worldwide to operate a qualified Virtual Reality FTD Level 3. This certificate of EASA confirms our decision to invest in this new technology which will be paramount in increasing the safety level." Ole Christian Melhus, CEO of Helitrans says.
Helitrans has already invested in two VRM Switzerland training devices that will be set up as a part of a new independent flight school providing training for pilots of Helitrans as well as of other Scandinavian helicopter operators to increase the general flight safety.
Flight Simulation Training Device Organisation
"VRM Switzerland has built up a competent and efficient own Flight Simulation Training Device Organisation and has been a part of the entire process. The VRM Switzerland team now takes over the administrative and technical work to operate the devices which frees us to focus on our core competencies." he adds.
"This system allows us to execute training and checks on a simulator at a high standard without any adaption time. Pilots on all experience levels can profit to enhance their competencies." Einar Viken, Training Manager underlines.
Melhus, coming from the airline industry, has first-hand witnessed the effect of safety focused and structured simulator training, and perceive how VR training can benefit the industry of inland helicopter services in the same manner.
"I am extremely thrilled to be part of the paradigm shift the innovative and sophisticated training concept VRM Switzerland is now launching, through high resolution 3D visual representation combined with full flight equivalent motion, enabling the rotorcraft segment to further build a strong training and safety culture, reducing incident and accident rates towards airline standards.", Ole Christian Melhus adds.
About Helitrans : Helitrans is Norway's largest inland helicopter company with close to 100 employees, operating 23 helicopters within a range of special operations and have 9 bases spread out from the south to north above the arctic circle. Helitrans AS was founded in 1990.
VRM Switzerland and Airbus Helicopters cooperate and qualify under EASA regulations the world's first H125 Virtual Reality Flight Training Device Level 3


EASA, VRM Switzerland and Airbus Helicopters open the door to new standards in helicopter pilot training by qualifying an Airbus Helicopters H125 flight training device (FTD) Level 3 with Virtual Reality (VR) technology at Helitrans in Norway.

This training device is approved by Airbus Helicopters and enables pilots to fly and feel the H125 with a level of fidelity very close to the real helicopter in all phases of flight and during emergency situations. The simulator will be used for pilot training and checking and will provide training credits.

"VRM Switzerland has further enhanced its innovative VR technology that was first qualified in 2021 for a different aircraft. Backed by Airbus Helicopters' expertise, the newly qualified H125 simulator meets FTD Level 3 requirements and achieves a very high representativity level. An in-house developed electrically driven high-dynamic motion platform and our full replica cockpit layout in combination with the VRM pose-tracking system, allow the pilot to operate the helicopter like real. The VR system with 3D vision and high-resolution sceneries rounds up the full- body immersion. A novelty is the common tablet with stored checklists and other documents which is fully integrated in the virtual world. This allows the pilot to operate a real tablet in VR for the first time ever," says Fabi Riesen, CEO of VRM Switzerland.

Francesco Gaetani, Acting Head of Air Crew & Medical Department at EASA says: "The H125 FTD approval represents a milestone for the use for virtual reality in devices from FNPTs to FTDs. EASA has carefully investigated the capabilities and effects of this combination of VR and motion systems for helicopter training. EASA is confident that such types of new technologies will bring added value to training organisations in terms of cost and flight safety. As these devices are utilising new technologies not foreseen in existing regulatory requirements, special conditions for the approval had to be developed, ensuring an equivalent level of safety. During this process, EASA and the industry effectively collaborated to establish a sound qualification basis for the H125 FTD."

David Solar, Head of General Aviation and VTOL department at EASA, emphasises: "The EASA and Rotorcraft Industry commitment and objective back in 2018 when endorsing the Rotorcraft Safety roadmap was to have visible and concrete results within five years. The VRM H125 FTD qualification is one of the tangible outcomes of the Rotorcraft Safety Roadmap, paving the way for more affordable and potentially more versatile training devices that can be used for enhancing overall rotorcraft safety. It also shows that collaboration between a regulator and within industry is the best way to get all stakeholders to move forward."

VRM Switzerland and Airbus partnership

VRM Switzerland and Airbus Helicopters signed a commercial partnership agreement during the 2022 Heli Expo in Dallas, Texas, for the commercialization of the simulator. In the frame of this agreement, both companies will cooperate to deploy the device worldwide and identify new areas of development for other helicopters and missions.

"With this type of simulator, you can put the pilot in operational situations which would be very risky in real flight but which bring a significant added value to training. It is true for emergency procedures but also for scenarios like flying in weather conditions that gradually deteriorate. This partnership is aligned with the EASA Rotorcraft Safety roadmap, one of the main objectives being to enable the development of more affordable training devices for helicopters," says Gilles Bruniaux, Head of Product Safety at Airbus Helicopters.

"When we first met VRM Switzerland, we instantly recognized the great potential of the simulator and its added value in the training environment. Today with FTD level 3 EASA qualification, a new step has been reached, with simulator hours that will bring credits in training. Such an innovative means will bring so many benefits to our customers by enhancing safety, affordability and flexibility," says Sabrina Barbera, Head of Training and Flight Ops.

"The H125 training solution allows recurrent programmes to be run more effectively. Today operators execute, as per regulation, manoeuvre-based proficiency checks mostly on real helicopters. With this simulator, pilots can learn more purposefully in scenario-based trainings completely without carbon emissions. The device is approved for proficiency checks, type ratings according to EASA part FCL, and parts of an instrument rating. With this technology, Evidence Based Training (EBT) concepts can be implemented," Fabi Riesen comments.

About VRM Switzerland : VRM Switzerland is the leading manufacturer of VR helicopter simulators, which has also qualified the first VR training device as a type-specific Robinson R22 FNPT II under EASA regulation. The company consists of an innovative team of 30 passionate engineers, highly specialized developers and dedicated aviation experts. All mechanical designs and electronic circuits are designed and coordinated in-house. Another strength of the team is its proximity to flight schools and operators.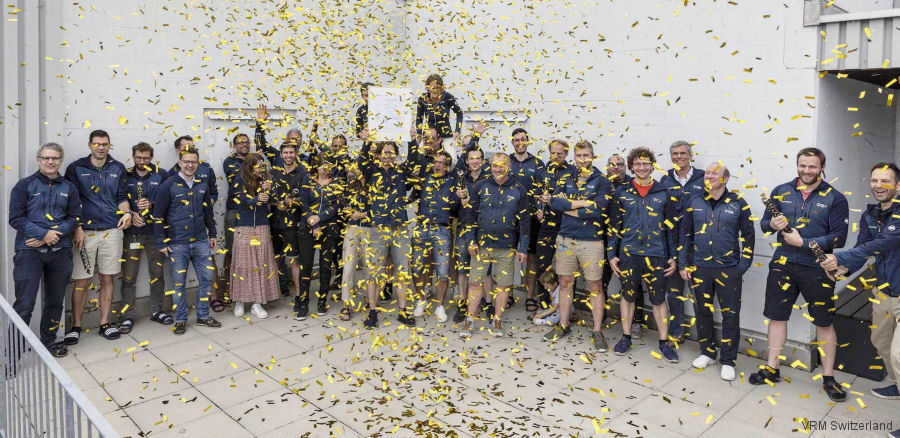 VRM Switzerland team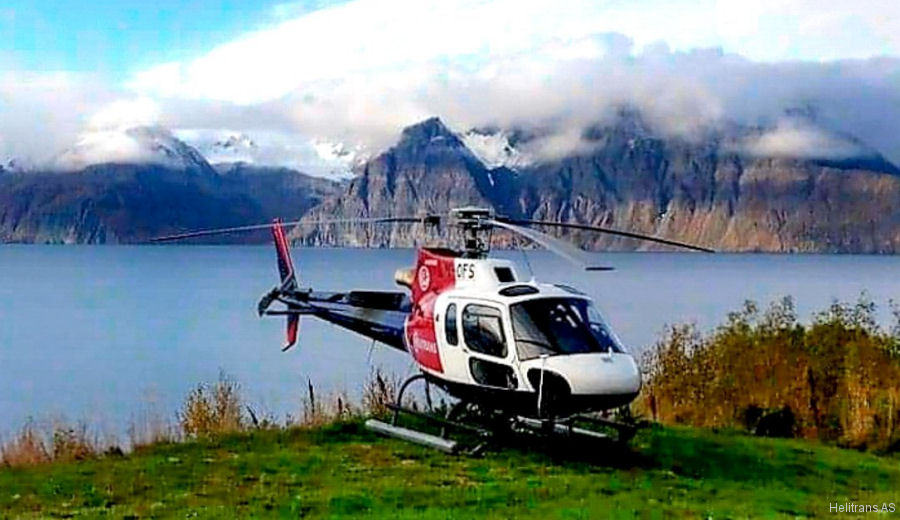 Helitrans is Norway's largest inland helicopter company with 23 helicopters
H125 in

Helitrans AS
H125 in

Loft Dynamics
EASA
European Commission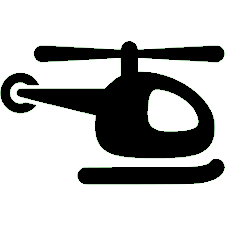 Helicopters Flight School - Training Civilian